To the both the uninitiated and the expert, cricket can sometimes prove to be a mysterious sport.
From rain rules to reverse swing, the sport's history is littered with confusing aspects, its uniqueness undoubtedly a part of the game's appeal.
Now however it has perhaps its greatest ever riddle, and one more difficult to explain than the exact conditions required for a cricket ball to swing.
The latest mystery to beset the sport is not even an on field matter, but rather why American businessman and famous bad hairdo Donald Trump is following former Australian batsman Damien Martyn on Twitter.
Trump is extremely picky with who he follows on the social media platform, with only 47 men and women 'lucky' enough to receive his patronage, making his decision with Martyn all the more bizarre.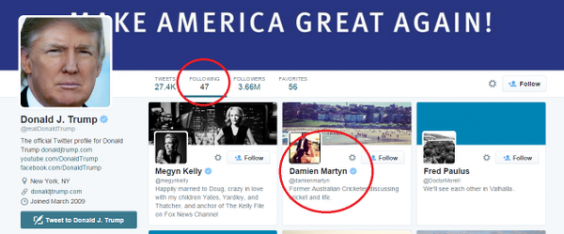 The former Aussie middle order stalwart seems as confused by the turn of events as everyone else.
I know..... https://t.co/Hiai1F00pv

— Damien Martyn (@damienmartyn) August 9, 2015
So, @realDonaldTrump follows 47 people on Twitter, one of them is Damien Martyn...the former Australian batsman Damien Martyn. #WTF

— Freddie Wilde (@fwildecricket) August 9, 2015
For now the mystery remains unexplained, perhaps Trump is a secret cricket fan with a strange penchant for the great Australian team of the 90s/00s, maybe he is a fan of Martyn's columns in The Independent – who knows.
Any suggestions welcome...
Reuse content