Its sun-baked surface is the unlikely terrain that spawned a Tour de France champion.In the heart of the Rift Valley, last year's Tour winner Chris Froome began his love affair with cycling: with its freedom,  and with the simplicity of the lifestyle. It is the place he says shaped him into the rider he is today.
Further north up the Rift Valley lies the home of Kenyan Riders, the nation's leading professional team. However, these happen to be riders in mourning. The team's star athlete and its heartbeat, John Njoroge, was killed after a head-on collision with a car while racing in the Philippines in October.
Froome and Njoroge had met and bonded on the Tour winner's visit to the team's headquarters last year in the aftermath of his victory. Froome has helped, via Twitter, to raise awareness (morethansport.org/partner/kenyanriders) and money for a $20,000 target to help Njoroge's wife and child cope without a husband  and father.
Simon Blake, one of the team's coaches, recalls the moment the pair came face to face: "I remember Njoroge brought his bike along and took his [Froome's] hand and placed it on his handlebars because he wanted a bit of yellow on his bike. Everyone was laughing."
It was Blake who had to break the news of Njoroge's death to his riders on the Tour of Machakos. In Kenya it is rare to see a man cry but that day the tears flowed.
Emmanuel Killy was one of those riders, disbelieving of the news until he saw the body for himself. "When I came here everybody else told me: this is the man to follow," he said. "He was the heart of the team and even now we are trying to repair it but everyone wants to ride on for  his memory."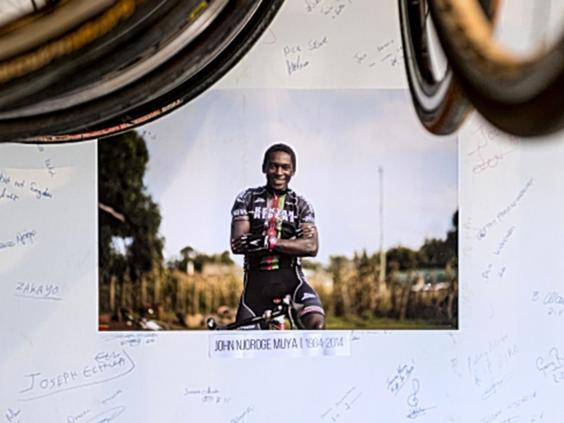 Team leader, 30-year-old Samwel Mwangi, even now expects his friend to appear as he wipes off his bike's dust following a training ride.
"It's sad to think someone you have just been riding with is gone and we will never see him again. But his spirit is with us. After a week, we said 'if he was here he'd like us  to continue'."
Froome remains an inspiration for the riders. The 23-year-old Killy recalls: "It was amazing seeing the best in the world here. He told me 'you can do it, like me'. He came from Kenya too and won the Tour de France. He was an inspiration."
Here it is more about a marginal existence than marginal gains. The team rely on an unlikely benefactor in Singaporean photographer Nicholas Leung, who has plunged £150,000 of his own money into the team.
On what seems like a row of former stables stands the team's headquarters. Riders live in tiny box rooms, training there, and Mariah Carey's "A hero lies in you" blares out from a small radio as Nixon the mechanic tinkers with the team's bikes in a side room, the only decorations on the wall posters of Mark Cavendish and Njoroge. And their true hero is Njoroge rather than Froome or Cavendish.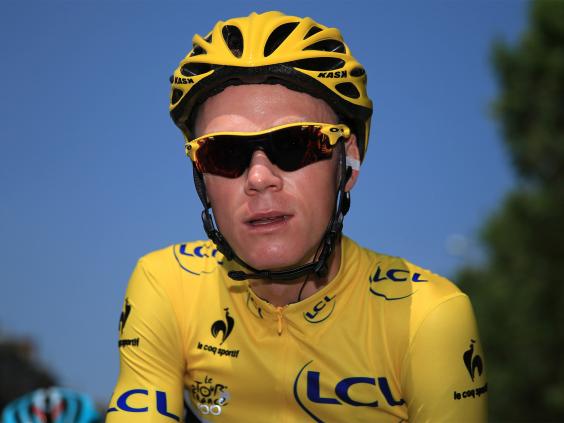 It is nine years since the first glimmers of the project began in Iten, known as the home of champions for the long-distance running Olympic gold medallists it has spawned.
The thinking was that if training at 8,000 feet could produce runners of that calibre, the translation to cycling would be similar. The problem is virtually everyone runs from an early age in the area, while bicycles are a rarity, usually a tool for work.
Kenyan Riders' base has a constant reminder of what sporting success can bring - it is set behind the hotel owned by ex-marathon world-record holder Wilson Kipsang. While Kipsang has got rich on his road success, these riders earn about £70 to £115 a month, sharing their surroundings with grazing sheep and a roughly-made BMX track on which children ride  makeshift bikes.
"I used to think it was this perfect translation," explains Leung, "but I'm now getting this African education that's very humbling. We need to start younger."
Previously, riders were asked to join up: those with bikes that were milk carriers or had their own bicycle taxi service. One rider, Salem Kemboi, who used to sell firewood, was brought in after keeping up with the team on a training rider on a basic Black Mamba bike with no brakes, only slowing himself by using his bare feet against rubber. Now they are looking towards Tanzania as well to broaden the talent pool.
For Leung, who first watched the Tour in the days of Bernard Hinault and Laurent Fignon, this started as a pipe dream in December 2005. He flew back from the Singapore Marathon with a host of long-distance runners and followed them home.
"I was wondering why I never saw a black guy in the peloton. I saw these Kenyans running marathons everywhere in the world, they ought to be good on a bike. After a while I thought no one's doing anything about it, I've made some good money, let's do it."
He calls it his "classic midlife crisis" and the goal remains the same - to get a team to the Tour de France. Kenyan Riders are some way off from that but their owner says "in 10 years time this  will happen".