Sir Bradley Wiggins did something he had never done before in his career. He stopped.
There were suddenly no more peaks to climb. He had become the first Englishman to win the Tour de France. The BBC Sports Personality of the Year award was sitting in his living room and he would stare at it wondering how his name could appear on the same trophy as his two heroes, Bobby Moore and the great British cyclist Tommy Simpson, who died on the Tour in 1967.
He had won Olympic gold in front of Hampton Court Palace; he had rung the bell to begin the Games opening ceremony. He had, on the advice of his grandmother, accepted a knighthood and published a well-received autobiography.
During the miracle year of 2012 he discovered, much as Sir Chris Hoy did after the Beijing Olympics, that there was a limit to where he could go without being stopped for a photograph.
An accident that saw him knocked off his bike and taken to hospital in Preston with a fractured finger and rib gave him time to pause. He withdrew from the subsequent Tour de France and after being left out of the Sky team for this year's edition said he would not even watch the Grand Départ in Yorkshire.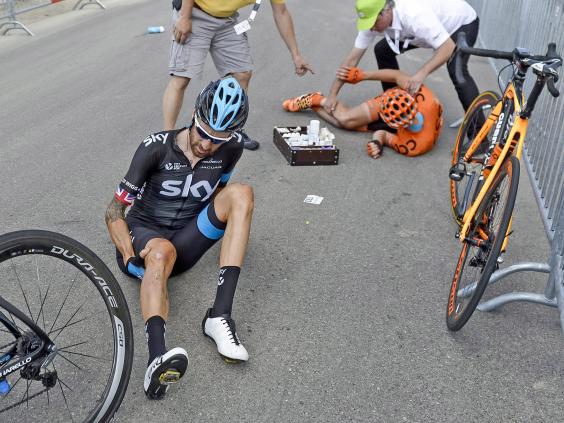 Now Wiggins is back where he began, on the track, where he has not been since the 2008 Olympics, at which he successfully defended the individual pursuit gold he won in Athens.
Some among the England team preparing for Glasgow, like Jason Kenny and Laura Trott, have wondered aloud how big a deal the Commonwealth Games are. This is a very big deal.
"I remember the first day he turned up," says Ed Clancy, who was Wiggins' team-pursuit partner in Beijing. "There's us guys, Burkey [Steve Burke] is Olympic champion, Andy Tennant's been there but Brad is still a celebrity to us. When he walked in that first day we thought that we hadn't seen him for a while and since then he has won the Tour and whatnot. He's a big deal these days. I didn't want to say anything stupid – you test the water, see how things are. But he's dead cool, just like he always was."
The team that Wiggins is returning to is not as buoyant as the one that broke up after the London Olympics. The World Championships in Colombia were not a success. Britain finished fourth, between Australia and New Zealand, who will be coming to Glasgow. The women won the team pursuit and Joanna Rowsell took gold in the individual pursuit but, between them, the men did not collect a single medal.
"In my mind we over-trained for the Worlds," says Clancy. "We worked too hard if anything and went there completely burned out. I will argue that to the bitter end. We were tired and it was unfair that a few of the guys got that stick. So Brad coming back is a big boost to the team. It's another strong guy and we need him."
Teams generally need a mentor. When Jess Varnish broke into the Great Britain team there was Chris Hoy and Victoria Pendleton, whose poster had been on her bedroom wall in Worcestershire. Hoy, for obvious reasons, will not be available to the England team at the velodrome in Glasgow's East End that bears his name. Pendleton retired straight after the London Olympics.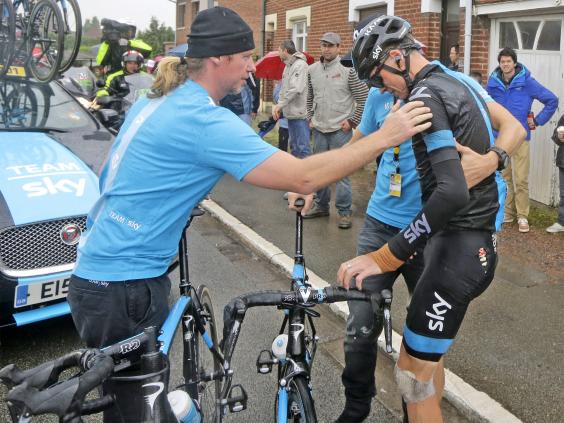 "It is nice to have people around you who have been through a few things," says Varnish. "I spoke about that with Jody Cundy [who like Varnish was disqualified in London]. He obviously had massive disappointments at the Paralympics so he could relate to this. We had Chris out with us in Colombia during the World Championship. When I got fourth in the individual sprint, I was gutted, raging. I said to Chris: 'Have you ever got fourth before?' and he said: 'Er... no?' I thought: 'Just say yes!' A few days later he texted me saying he did once get fourth, so that was OK.
"It is hard getting perspective when you're an elite sportsman, especially when you're in a training camp. You train all day and then sit on your bed when you go back to your room. If you are quite a – I won't say intelligent person – but if you like stimulation and think about what's going on, you can get quite bored.
"Sitting on a hotel bed is more tiring than almost anything you do. You need to have other stuff going on to be able to switch off."
Wiggins has in one sense switched off. For a sportsman to reach his goals can be a deflating experience.
A couple of weeks after becoming the world's highest Test run-scorer, Geoff Boycott found himself on the golf course at Calcutta's Tollygunge Club, while at Eden Gardens his team-mates were struggling to win the fourth Test. Boycott was physically unwell but his former captain Mike Brearley detected something deeper, writing that "the web of ambitions and insecurities that held him together seemed to have dissolved the moment he passed Gary Sobers's record". Boycott quit India, pitched up on the rebel tour to South Africa and never played for England again.
"Brad's here for the Commonwealth Games to test it a bit," said Clancy. "He is a bit unsure whether he is going to commit to this winter on the track but certainly next winter [2015-16] he is a track rider right through.
"He hadn't touched a track since 2008, though he did one World Cup in 2011. He just wants some confirmation that he has still got it on the track; that he can still be a big player in the team pursuit. The way he's riding at the moment, it looks like that's the case ."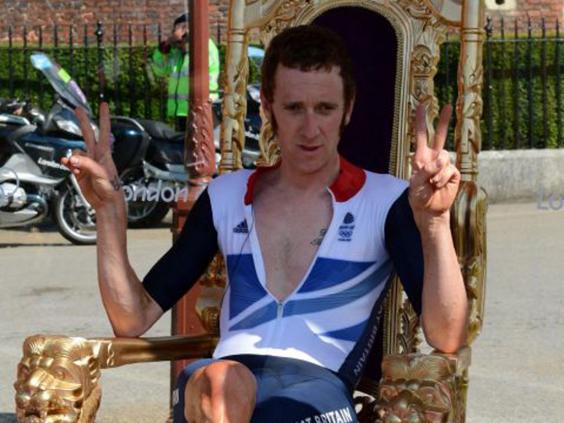 For some in the England team, Wiggins is a source of funds as well as inspiration; he is paying towards Trott and Rowsell's salaries at the Wiggle-Honda cycling team. "Sure, he has an aura about him. He has Olympic gold medals, he has won the Tour de France, he is 34, so he's not even that old. He was one of my big motivators," said Rowsell. "I began cycling in 2004 and knew nothing about the sport. I remember watching him in the individual pursuit at the Athens Olympics and feeling that I liked the look of that one.
"I went to my first training camp, got on a bike and they must have thought they had the wrong girl because I turned up in trainers and tracksuit bottoms. I had no cycling shoes and I immediately fell off. I was a complete, complete beginner. It has been a long road from there to here."
Reuse content