Persistent as the question marks surrounding  Chris Froome's contention for a second Tour de France win this summer have been, a stunning victory on the toughest stage of the Critérium du Dauphiné has surely done much to end the doubts – and at exactly the right time.
His breakaway victory finished off a near faultless performance by Team Sky over the Alpine stage's three first category climbs, Froome producing a late, powerful attack a little under two kilometres from the mountain-top finish of Saint-Gervais/Mont Blanc.
When it comes to climbing, Froome's windmillesque pedalling style, his shoulders bobbing, is not pretty to watch. But the sustained, high speed uphill accelerations that the Kenyan-born Briton produces have already proved devastatingly effective on climbs as prestigious and difficult as the Mont Ventoux en route to victory in the 2013 Tour. And here, albeit on a lesser-known Alpine climb, he did it again.
Froome crossed the finish line 17 seconds clear of American Tejay Van Garderen, his most tenacious pursuer, who took the overall lead. But Sky's hard work on the previous two climbs, coupled with Froome's double attack – his first, 4km from the line, dropped everybody bar Van Garderen – had already left some prestigious talent in their wake.
On the second last climb, the terrifyingly steep Côte des Amerands, the ferocious pace set down by Sky's British national champion, Pete Kennaugh, proved too much for Vincenzo Nibali, the 2014 Tour de France winner and overnight Dauphiné leader, to handle.
After Kennaugh swung off at the foot of the final ascent, Sky's Dutch climber, Wout Poels, added to the woe of Froome's rivals. Both 2013 World Champion Rui Costa, the winner of Friday's mountainous stage, and Alejandro Valverde, the world No 1, cracked under  the pressure. When Froome launched out of the pack, only Van Garderen was able to follow – and only until Froome chose to go clear for his third triumph of the season.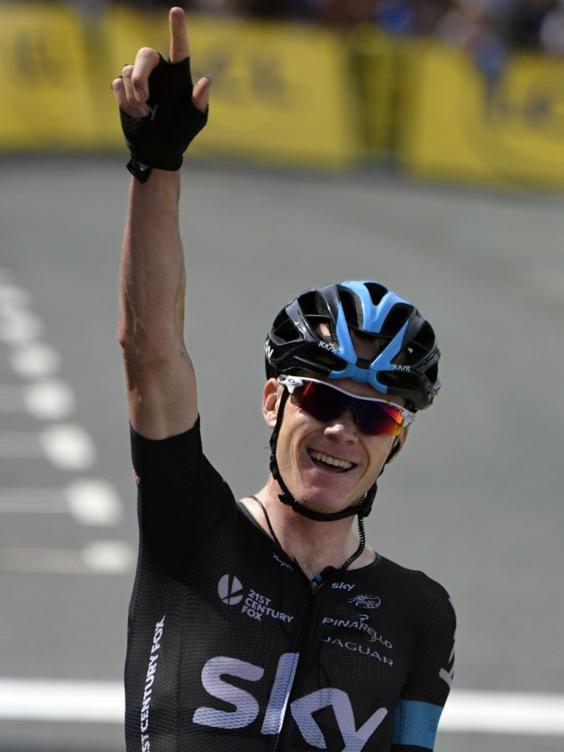 "It's a really good show of where I'm at," Froome said. "It was important for me to win here even if my form is not at its best yet. The beauty of stage races is the progression through the days. But it won't be an easy race again tomorrow."
Froome's win has provided much-needed solidity to Sky's mixed bag of performances last week. After an opening stage win for Kennaugh, a disappointing team time trial followed on Wednesday as Sky finished sixth. Froome's third place on Thursday tempered pessimism, but on Friday, Froome's attempt at damage limitation was not too effective as he slid from third to seventh overall when two of his top rivals, Nibali and Valverde, went on the attack. On Saturday, though, the cycling shoe was back on the other foot.
It has been a similarly uneven season for Froome. He started with a win over arch rival Alberto Contador in the Tour of Andalucia, but there followed a series of below-average results. Saturday's win is the first real sign that he is approaching top form for July, and it could not have come in a better place, with the Critérium du Dauphiné considered the Tour's major dress rehearsal.
Rewind 12 months and Froome's all-round performance here was very different. Having taken stage wins both in the prologue and the first uphill finish, Froome crashed badly on stage six and 24 hours later was clearly up against the ropes. He could  finally manage no better than 12th place overall before crashing out of the Tour de France.
This time round, however, it looks good for Froome, though taking omens from the Critérium du Dauphiné cannot be too extensive. Neither of Froome's key rivals – Colombian Nairo Quintana a hugely talented climber who finished second in his maiden Tour de France in 2013, and Contador,the dominant force in Grand Tour racing since 2007 and the winner of May's Giro d'Italia – were present here, for one thing.
A three-week Tour is a very different kettle of fish, too, to an eight-day race, however tough it may be.
But for those looking for confirmation that Froome will be at the very least in contention this summer, Saturday's ride amply provided it. How high such performances will take the 30-year-old when faced with the Tour is a question that will be answered only in July. But the precedents, given that Froome won here in 2013 before triumphing in the Tour, as did Sir Bradley Wiggins in 2012, are very good indeed.
Hot in July: Tour contenders
Chris Froome
Following an uneven spring, he looks to be heading back towards his 2013 Tour-winning form. But will it continue?
Alberto Contador
Victory in the Giro d'Italia, his seventh Grand Tour win, shows that, at 32, he is not yet over the hill and will be Froome's most difficult rival this July.
Nairo Quintana
Defeated Contador this spring in one of Italy's top stage races, Tirreno-Adriatico, the 2014 Giro d'Italia winner has been flying under the radar since.
Vincenzo Nibali
The defending Tour champion's rollercoaster ride this week makes it hard to predict his chances in July.
Reuse content