Seven years ago, when Mark Cavendish rode his first ever Tour de France, his one chance to win a stage in the United Kingdom bit the dust when he crashed. At the time, following his accident on the way to Canterbury from the Grand Depart in London, his sense of regret could not have been more intense. It was, he said, "probably my only chance ever to win a Tour stage on British soil".
Fast forward seven years and this summer Cavendish, now with 25 Tour stage wins in his saddlebag, has a chance to put the record straight in Harrogate on 5 July, when the Tour de France kicks off in Yorkshire.
"I don't think people yet realise how massive it's going to be this summer," Cavendish tells The Independent during a break in training in the coastal resort of Calpe, Spain, last week as he and his Omega Pharma-Quick Step team-mates prepare for the long season ahead.
"In 2007, cycling wasn't even popular in the UK and it was absolutely incredible, the best Grand Depart there's ever been. This year's its going to be spectacular.
"And who'd have thought that for the second time in my career they'd be starting the Tour in Britain?"
For Cavendish, that one day starting in Leeds and finishing in Harrogate is "going to be what my whole season is built around. If I had to choose one stage of the 21 in the Tour, that's got to be it.
"It's my mum's home town, it's designed for a sprint, I haven't yet worn the maillot jaune [the Tour leader's jersey, which would fall automatically on his shoulders should he be victorious] and I want to do it." Furthermore, as he points out, "If I'm going well that day, I'll go well in the whole Tour."
As if the Tour was not a big enough draw for Cavendish, this summer the Manxman is also looking to take a second gold in the Commonwealth Games for his native Isle of Man: last time, in 2006, was on the track, in the scratch race, this time it would be on the road.
"I'm super-motivated for that, too," he continues of the race on the streets of Glasgow. "It's on the course where I won the British National Championships in 2013, and the Isle of Man has an incredibly strong team.
"I love doing it because it's with all my mates, the guys I grew up with, we've been bashing around since we were juniors.
"There's me, [Team Sky rider] Pete Kennaugh, Mark Christian who was with Sean Kelly's team and now he's with Raleigh, Andrew Roche who rode the Commie Games in India, Joe Kelly too.
"It's not that often you can get to represent the Isle of Man. I'm British and proud to be, but it's nice because I get to be racing with guys I've raced with my whole life."
But before the Games and the Tour, there is another chance for Cavendish to shine close to home in one of cycling's top events – the Giro d'Italia. Italy's biggest stage race begins, like the Tour, with a foreign excursion this year: in Belfast on 9 May and then with two more stages on Irish soil.
Although it is uncertain whether he will enter the Giro, in which he took the points jersey last year, Britain's first ever success in that category, Cavendish points out, it is probably the closest one of cycling's three Grand Tours – of Italy, France, and Spain – will come to the Isle of Man.
"I don't know yet whether I'm doing it, first I'll see what my form is like in a couple of months, but it's on very similar terrain and similar weather to the Isle of Man," Cavendish reflects.
Now in his eighth year as a professional, Cavendish is one of the ongoing key reasons why cycling has lost its "minority interest" label and enjoyed a huge run of success in Britain. While he does not spend enough time on the mainland UK to judge what that change has implied for the nation's cyclists as a whole, what he likes about it is "more than people hanging out of cars and recognising me when I'm training, it's people now recognising what I've achieved. People say 'well done for so-and-so.' That shows they get it."
For now, though, a final decision on the Giro and its three stages in Belfast, Armagh and Dublin will have to wait: beyond the summer's challenges, Cavendish only knows for certain he will take part in two early-season races, the Tour of San Luis in Argentina, which started on Monday, and then the Tour of Dubai early next month.
This question mark is no way a sign that a rider as consistently hungry for victory is sitting back, though. With 109 career wins, a world championships title and a minimum of two stage victories in every Tour de France since 2008, at 28 Cavendish has already achieved almost everything he set out to do in cycling – and which, as you might expect from a former bank clerk, he wrote down on a list even before he turned pro.
Of the original boxes left to tick, "really there's only an Olympic medal. There was [leading Belgian one-day race] Gent-Wevelgem, but I'd have to base my entire season around trying to win that now they've changed the route" and made it much hillier, prejudicing Cavendish's chances.
That is not the only hurdle he is facing to complete his long-term list of objectives. As for Olympic gold – where he was foiled in 2008 and again in 2012 – he still has two alternatives, the road and the track. Neither option is yet ruled out, although Cavendish is not happy about a reduction in his chances of returning to the velodrome thanks to a change last year in the selection procedure rules for track riders.
"The road depends very much on the course they [the 2016 Rio organisers] choose, there's a flat option and a hilly one, we'll see which they finally go for.
"But [cycling's governing body] the UCI have put in this qualification system that makes it pretty much impossible for road riders going to the track, even though a trackie or a mountain biker can start the road race."
As Cavendish explains it, qualification for the Olympic track events is still via the world championships and the track world cups, as was always the case. But for riders to qualify for those world cups, the new regulations now oblige them to take part in smaller, national-level track events, which logistically Cavendish says "when you're a professional road rider is pretty much impossible to do".
Rio, however, is in the mid-term future. For now, Cavendish has his eyes on one goal and one goal alone that is much closer to home, in Harrogate.
"I want to win wherever I race, the team's invested a lot in me," he says. "But if there's one race that I can win in 2014, then that would be it."
Cavendish relies on Holm boy for victory
Win or lose at Harrogate this summer, there is no doubt who will be in the Omega Pharma-Quick Step team car masterminding the overall strategy: Brian Holm, Cavendish's close friend – he was joint best man at Cavendish's wedding last year – and his sports director in his team.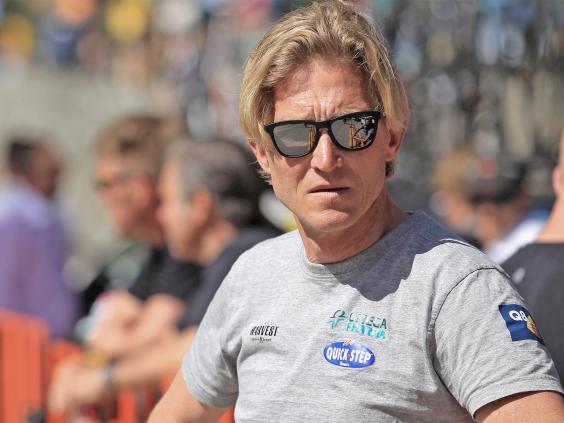 Barring the Briton's year at Sky, Holm has been directing Cavendish since 2007 "and I remember discussing for hours whether we should take him, a first-year pro, to the Tour that year," he says.
"He would only have done 10 or 11 stages before we pulled him out, but imagine a young kid like that winning in the UK, it would have been a brilliant story. He was young and nervous but I still believe without that crash he could have done it."
Regardless of the final result in Harrogate on 5 July – "we're either going to be a big winner or get a big kick in the arse" is how the Dane puts its – Holm feels that an opening Tour de France stage that favours Cavendish's chances is a highly appropriate homage to cycling's top sprinter.
"He's the guy who started the rise in interest in cycling in Britain in these last years [with his four Tour stage wins in 2008] and this is a recognition of that," he says.
Reuse content