Identifying the low point in the relationship between Sky's two Tour de France winners, Sir Bradley Wiggins and Chris Froome, isn't hard: it came when Froome made an unauthorised attack on an Alpine stage in the 2012 Tour, leaving Wiggins, the race leader, potentially vulnerable and, according to the team's then sports director, Sean Yates, so upset he sent a text message that night saying: "Maybe it would be better for everyone if I went home."
And the high point? Those who've enjoyed the bumps, turns and twists of the Froome-Wiggins rivalry saga will be disappointed to learn, it seems to be now. In fact, it's got to the point where Wiggins – looking more relaxed than he has for years – will be heading to this year's Tour ready to work for Froome, accepting that Froome is Sky's top dog – something he struggled to admit last year before missing the Tour through injury – and with his own ambitions in other areas.
As we chat at his team hotel in the southern Spanish town of Jaen during the Tour of Andalucia late last month it is the first time he has gone into such detail about how he sees his new role. "Froome's got the mantle [of leadership] now which is good," the 33-year-old says, "but I've still got unfinished business with the Tour.
"It'll be nice to go back, as nice as it is that my last Tour at the moment was the one that I won. I want to do something else at the Tour, whether it's a great ride for Chris or the chance to win another time trial there. With it starting in the UK, too, it's going to be a celebration of where British cycling has come from and I want to be part of that."
Wiggins says he only needs to "lose a bit of bark" to be back in solid race form, but what exactly does he see as his role for Froome this summer, then? "In the case of the Tour, I see myself in that train," he says referring to the batch of dark-clad Team Sky riders who will be defending Froome before he launches his final attack, "with Richie [Porte] and whoever else it is, being one of the last guys there and to be there when it matters.
"There were a couple of times last year when Chris was really isolated and I want to be in a position that I can be there [in support] when that happens.
"But you can't underestimate how good you have to be to do that job as well, it's not something I'm taking for granted. To do myself justice and the team and Chris justice, as an ex-winner of the race, it's not about making up the numbers and giving a few pulls here and there. I think you have to get me there and [I have to] do the job as well as Richie did last year."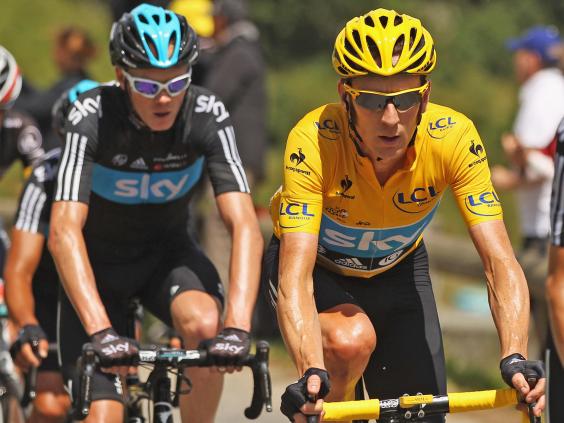 The change of Wiggins' attitude is marked from this time last year. He is visibly more chilled out, in a much better place and seemingly happier now that he has accepted his position with Team Sky.
"I wasn't handling being Tour champion very well," he admits, "all that Lance stuff [the Armstrong doping confessions] had kicked off and I didn't want to be in that position," he says. "It's just different now.
"It's really liberating not being in the position of constantly being asked 'can you win the Tour?'"
Much has been made of the differences between Wiggins and Froome, but he points to the similarities: "We've both got that singlemindedness, that ability to focus on your work and do everything before [racing] that's required – the training, the whole programme, buying into the whole time-trialling package. We both really believe in it."
The pair could not have had a more dissimilar 2013, though, with Wiggins abandoning the Giro d'Italia, then missing out on the Tour de France as Froome took on and won almost every stage race he took part in. The Londoner only found top form in the autumn, with his Tour of Britain victory and his silver in the World Championships time trial.
For 2014, Wiggins is careful to specify that his pre-Tour goals – the Paris-Roubaix Classic over the cobbles and the Tour of California in May – will not clash with Froome's. "Chris's Tour build-up is going to be the same as last year, doing the [Critérium du] Dauphiné in June, so I don't want to tread on anyone's toes and say I want to win another Dauphiné. Cali fitted in, no one else [in the team] wanted it."
Then comes July, and given the number of questions that Sky have had to field on the subject of doping over the last two years, Wiggins feels he will have another role there: handling some of the pressure that Froome will once again be subject to because, he predicts, there will be few changes in the current claustrophobic levels of cynicism.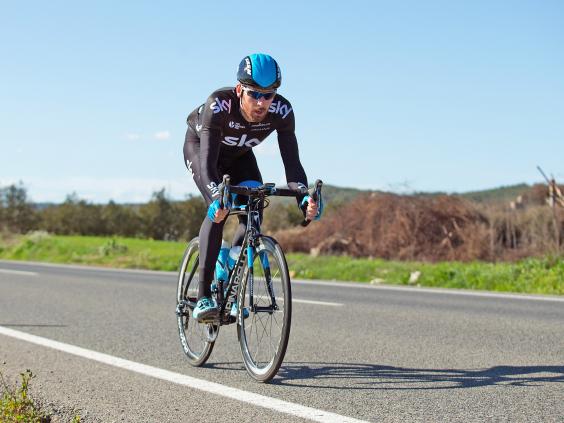 "He got so much crap," Wiggins says. "His performances were so dominant but they were also genuine. I know everyone says that we were all lied to by Lance [Armstrong] but the testing wasn't as scrupulous back then. You'd have to be mad to do it [dope] in this day and age, maybe a bit psychopathic."
However, he is under no illusions that the tide of public opinion is still very difficult to turn. "That's the stage cycling is in at the moment and I don't know if the cynicism and suspicion is going to get worse. Maybe for the next few years that is what we have to expect."
As for Tour tension on the bike, Wiggins predicts that it will start at a maximum level in the opening stages through Yorkshire, which he compares to when the race kicked off in the Belgian Ardennes two years ago.
"That's where it's going to be worse, to be honest. I remember what Belgium [in 2012] was like, it was up and down, up and down, lots of little roads finishing up in Liège somewhere. Everybody's going to want to get their photos, Cav [Mark Cavendish] is going to want to take yellow, everyone will want to be in the front. They are going to be the toughest stages, the ones where most crashes will happen."
Off the bike Wiggins is as keen on his music as ever – three years ago he was learning to play blues legend Robert Johnson tracks – and he is taking his guitar on some bike races again. "I don't have it here," he says, "but in Mallorca at our training camp, I had my Gibson Hummingbird [acoustic]. I'm currently playing a bit of everything I hear although The Stone Roses and the live Doors albums are currently top of my list."
In terms of looking further down the road, earlier this week British Cycling's head coach, Shane Sutton, said that it would be useful if Wiggins would confirm that he would make a return to the velodrome for the final leg of his career, culminating at the Olympics in Rio de Janeiro in 2016. Wiggins all but does that.
"I'll be 36, chasing that fifth Olympic gold, more track than road, I think," he says and adds that he would have to turn more to the track in 2015. "It's going to have to to be if I want to do that," he says. "I always said I'd like to finish it off where I started, going full circle, from team pursuit to Madison to winning the Tour." The 2016 Olympics, he says, "for sure will be my last. It'd be my fifth".
There is no chance, he says, of him imitating the American Chris Horner, who became cycling's oldest Grand Tour winner at the Tour of Spain last year aged 41, and who is still racing. "I saw him at [the Tour of] Mallorca [last month] and I thought, 'please God, don't ever let me get like that'," he says, half-jokingly – although there is no denying Horner's tenacity.
You get the sense, though, that in many ways whatever Wiggins achieves from here on in – be it a first British win in Paris-Roubaix or California this spring, the Tour time trial this summer, victory in the World Championships time trial in September (another target) or Rio in 2016, Wiggins knows his defining moment is behind him.
"Just that year: 2012. I kind of knew at the end of that Olympic time trial when they were interviewing me in Hampton Court, I never thought it was going to get any better than that," he says.
"At the time we were walking the moment, from winning [the Tour time trial] in Chartres, then doing the lead-out for Cav on the Champs Elysées – a British winner of the Tour leading out a British World Champion on the Champs Elysées – and then nine days later winning the Olympic gold medal..." He puffs out his cheeks.
"I don't mind admitting some sportsmen have a defining moment in their career – everyone has it, whatever the walk of life – musicians with certain albums they've made, sportsmen or businessmen, whatever – and those two weeks are mine.
"I might go on and do other things but nothing will ever beat what it meant in that couple of weeks." Seeing how close he can get, though, will be one of the more intriguing sports stories of the year – and beyond.
Wiggo's world: Sir Bradley speaks
* "I've still got unfinished business with the Tour"
* "It's really liberating not being in the position of constantly being asked 'can you win the Tour?'"
* "Everyone has a defining moment in their career – sportsmen, musicians, businessmen – and those few weeks in 2012 was mine"
* "You'd have to be mad to do it [dope] in this day and age, maybe a bit psychopathic"
* "I wasn't handling being Tour champion very well. All that Lance stuff [doping admissions] had kicked off and I didn't want to be in that position"