Recent weeks have witnessed a steadily increasing number of sweaty, puffing, Lycra-clad wanabees coming to pit themselves against the gruelling ascent at Holme Moss – the Pennine hill which is being hailed as Yorkshire's answer to the notorious death climb of Mont Ventoux.
Whilst the remote stretch of Peak District Tarmac is for now the playground of the amateurs, they must get ready to pull over for the professionals. Next Sunday it will be the turn of Chris Froome, Alberto Contador and others to grind their way up the brutish 4.7km of winding hairpins before a terrifying high-speed drop down towards Sheffield on the second day of the Tour de France.
Pausing to gather his breath at the summit today – the second steepest ascent of the tour outside the Alps - was Martin Long, a 39-year-old IT support specialist from Dewsbury, West Yorkshire, currently in training with colleagues for a charity ride along the length of the Yorkshire hill stage.
As well as ruminating on the superhuman fitness levels of the pro riders, Mr Long was struck by the extraordinary impact that the race was having on the county and its people.
"The amount of folk you see out now on their bike is amazing," he said. "There will definitely be a massive pick-up even down my street. I saw my neighbour out on a bike for the first time ever," he added.
Cyclists are perhaps a little biased, but all along the 400km course which snakes through God's Own County's most thrilling landscapes, the imminent prospect of the peloton's arrival – even without the presence of Sir Bradley Wiggins, who is not competing - has painted a yellow swathe of excitement.
More than one million people are expected to line the route each day to take part in the world's biggest free sporting event after it is officially waved off by Prince William, the Duchess of Cambridge and Prince Harry at Harewood House on Saturday.
Every town and village after that is clad in yellow bunting as communities prepare to celebrate with street parties and festivals. In a spontaneous show of solidarity, hundreds of yellow-painted bicycles have been chained to lampposts, hung from trees, shops, or houses in a two-wheeled sign of welcome.
At Holme Moss, normally a lonely and windswept spot, preparations have been made to accommodate 60,000 fans to view the long slog uphill. Hundreds more will be at other key spots including the steepest part of the whole UK course - an 800m suburban street in Sheffield that has been nicknamed "Col de Wincobank" for its heart-pumping 11.2 per cent gradient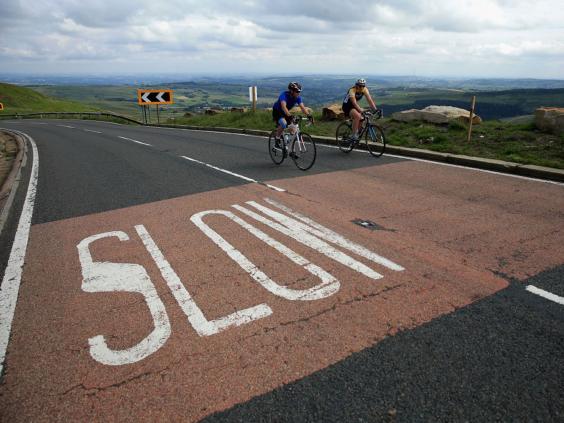 Few other than the aficionados of international cycling – a once minority sport now dominated by British athletes and growing in mass appeal – could have anticipated the impact that staging the Grand Depart would have in Yorkshire.
The man that brought home the prize is Gary Verity, chief executive of the local tourism authority Welcome to Yorkshire, whose audacious proposal pitted him against not just the UK's officially sanctioned Edinburgh bid but also Barcelona, Florence, Vienna, Amsterdam and Berlin.
Unexpected success saw relations between Leeds and Whitehall dramatically sour. British Cycling and the DCMS had hoped to host the opening in Scotland – a politically sensitive project that would have coincided with the Commonwealth Games and the independence referendum. 
Yet Yorkshire's victory, argues Mr Verity, is the biggest and most tangible legacy so far of London 2012. "If it wasn't for the Olympics and the way it was organised it would have made our job a lot harder," he explains
Much has been copied from 2012. There is to be an opening ceremony, a 100-day cultural festival, hundreds of "Tourmakers" modelled on the Games' popular volunteers, as well as much talk of legacy and economic boost.
"We spent a lot of time studying the Tour de France and understanding the exam question and working out what they required. Understanding the history and heritage and going back to its roots.
"We understood that Yorkshire had the topography and the landscape. We have big hills, small hills, wide roads, small roads and we had great cities such as Leeds, York and Sheffield which could host the starts and finishes," Mr Verity said.
But it also needed money to stage an event that will cut across 17 local authorities and six different police force areas. The Government eventually agreed to chip in £10m to UK Sport to make Mr Verity's dream a reality and since then he has been invited to address the Cabinet in a sign that bygones are bygones. "The Prime Minister and the Deputy Prime Minister have been hugely supportive of this event and immediately saw the opportunity," he said.
Of other ministerial relations he says simply: "You would have to ask them that question."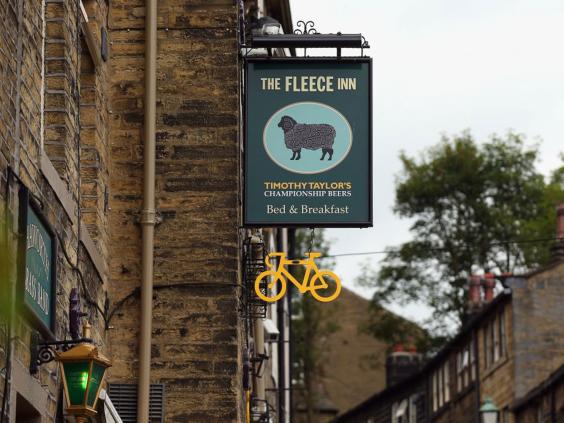 The UK has gone a long way since it first hosted the Tour. In 1974 riders made repeated laps of the newly completed Plymouth bypass in an event bankrolled by Brittany artichoke growers. It was by all accounts a dismal farce.
The 2007 staging of the Grand Depart in London however is believed to have helped fuel the capital's cycling revolution.
There are similar hopes for Yorkshire which intends to make itself Europe's cycling capital. It is also promising to be the first place in the world where all children will have access to a bicycle.
In the meantime there is the small matter of the economic rewards. Tourism is already the third biggest industry in Yorkshire reaping an annual £7bn for the regional economy and supporting 250,000 jobs. It is hoped the impact of the Tour will add a further £3bn each year.
"This is being taken live on TV in 190 countries around the world for five hours next Saturday and another five hours on Sunday. We have a 10-hour global TV advert for Yorkshire. There are plenty of people out there who don't know just how beautiful and diverse Yorkshire is," said Mr Verity.
Meanwhile village of Holme, West Yorkshire the local community of 70 households has organised itself into a community association for the first time to coordinate festivities.
The landlady of The Fleece Inn Shirley Amesbury said no one could recall anything quite like it: "People are really buzzing. No one could appreciate at first how big it was going to be," she said. "A new cycle club has opened in Holmfirth that is all due to this phenomenon.
"It will bring long term benefit to us and is a massive, massive scoop for West Yorkshire. The farmers and landowners are happy because the pot holes have been fixed and the dry stone walls repaired. The tour has brought the village together. It is going to be super," she said.
Pennines or Alps: Which are tougher?
Blubberhouses:
Length: 2.8 km
Elevation gain: 131 m
Average gradient: 5.5%
Holme Moss
Length: 4.7 km
Elevation gain: 341 m
Average gradient: 7.2%
Jenkin Road
Length: 0.8 km
Elevation gain: 94 m
Average gradient: 11.2%
Mont Ventoux
Length 21.1km
Elevation gain: 1,616m
Average gradient 7.6%
L'Alpe d'Huez
Length 13.8km
Elevation gain: 1,027m
Average gradient 9.9%
Col du Tourmalet
Length 17.1km
Elevation gain: 1,168
Average gradient 7.3%
Reuse content