European football has seldom brought out the best in Manchester City but it has been a stage on which their goalkeeper has shone. On Tuesday night, Arsenal had picked their second-choice keeper and lost disastrously to Olympiakos. Twenty-four hours later, Manuel Pellegrini could have kept faith with Willy Caballero, who had been in goal for Manchester City's last two matches. Had City's manager done so, he would have lost this game. 
Hart not only saved a first-half penalty, he provided an exhibition in the tough, brutal art of goalkeeping that gave Manchester City a platform from which they snatched an improbable victory. Pellegrini would argue that it was not undeserved. Borussia Mönchengladbach may have had the most obvious chances but City had the majority of possession and finished the game the stronger. 
Their goals were strange ones. The first should have been given to Martin Demichelis, was initially awarded to Nicolas Otamendi, who thrashed home a clearance that had gone beyond the line, and was finally given as an own-goal by Andreas Christensen – off whom Otamendi's shot had deflected. 
Then in the last minute of regular time, Sergio Aguero was tripped in the box, just as an hour before Mönchengladbach's forward Raffael had been in City's. Aguero, like Raffael, opted to take it himself. The Brazilian had his saved, the Argentine scored. 
Borussia's players looked exhausted and dumbfounded. They had given everything on their return to the European elite. The referee's name was Turpin but they had been robbed by a man called Hart.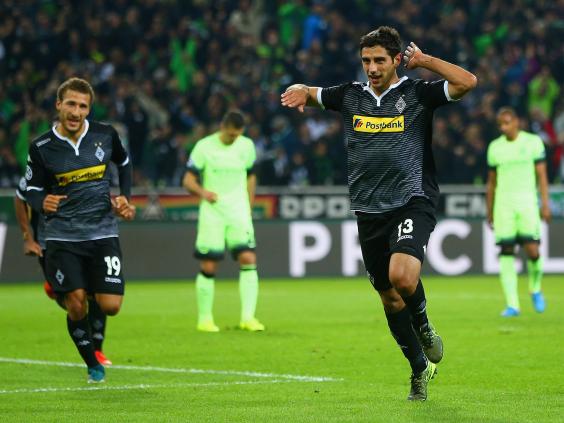 For the German side this was not so much a football match as a celebration. They had not competed for the European Cup since 1978 when their great foes, Liverpool, knocked them out in the semi-finals. They were a hip club then, much as Borussia Dortmund were to become under Jürgen Klopp a generation later, defying the power and money of Bayern Munich. One was represented by the cool, imperial figure of Franz Beckenbauer, the other by the flash and brilliance of Günther Netzer, who drove Ferraris and ran a nightclub called Lover's Lane. 
As Dortmund were to discover, the pressure of having to go toe to toe with a behemoth like Bayern eventually wears a club down and Mönchengladbach became, like Nottingham Forest, their nearest English equivalent, just another club. They are more than that now and though their old stadium, the Bokelberg, is now a housing estate, they were determined to celebrate their return. They did so by turning the stadium into a vast mosaic, and they did so with their football. 
The match was astonishingly, thrillingly open and developed into a personal duel between Raffael and Hart. The Brazilian is now 30 and has been around the block in Switzerland, Germany and Ukraine but he has plenty of running left in him.
The key incident in the first half was his penalty. Without Vincent Kompany, the Manchester City defence looked fraught with uncertainty and, running at the Argentine pairing of Martin Demichelis and Nicolas Otamendi, Raffael seemed to launch himself over the latter's outstretched leg.
It looked less of a penalty than the one that referee Clément Turpin turned down when Fernandinho brought down Lars Stindl – booking the midfielder for what in no way resembled a dive. Hart is a hard man and now he made Raffael wait, going behind his goal for a swig of water and busying himself by scrunching up the thrown-away cards that had made up the mosaics. The penalty was not a good one and Hart saved it.
This was not the first time City's keeper had come to their rescue in the Champions League. Against Dortmund and Barcelona he had prevented almost total embarrassment and although Sergio Aguero in particular had plenty of chances of his own, Hart kept City alive. 
Just after the half-hour Raffael was through again. City were playing in shirts the colour of pistachio ice cream and sometimes their defence had shown the resilience of a sorbet left out in the Indian summer in which the Rhineland has been bathing.
In a similar move, with green shirts retreating in front of him, Raffael slipped Patrick Herrmann through and, with the midfielder driving at him from an angle, Hart spread himself brilliantly. A minute after the restart, he did so again – inevitably denying his Brazilian sparring partner.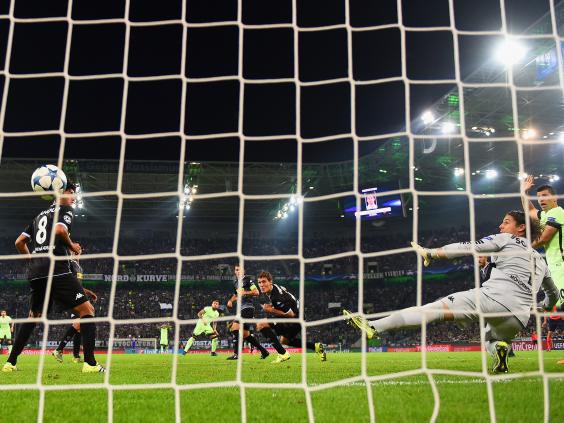 Ten minutes later came another German attack, a pull-back from Julian Korb and a shot from Stindl on the penalty spot. This time not even Hart had an answer. 
None of this should suggest City were hemmed in. In fact they had more of the ball than Mönchengladbach and might have been ahead in the opening exchanges when a wonderful series of passes from Aleksandar Kolarov and Raheem Sterling saw Aguero sliding in from close range. 
For most goalkeepers this would be a fatal sight but the shot struck Yann Sommer's leg and bounced to safety. Twice more, Aguero would have Sommer's goal in his sights and twice more he would miss. Even for a Manchester City side whose forward line cost £166m, this was threatening to become another European night with a familiar feel.
It was a defender who cost £4m, Demichelis, who laid on the equaliser as he met Kevin de Bruyne's corner with his knee. Korb hooked it clear, though it seemed to have gone over the line. Otamendi hit the clearance, which was deflected in off Christensen.
Reuse content