A football manager in Bosnia and Herzegovina has been sacked via the club's Facebook page.
FK Drina Zvornik announced on the social network that they had terminated the contract of coach Vladica Petrovic, only for the 44-year-old to comment 'Thanks for letting me know' underneath the post.
Zvornik currently sit bottom of the Bosnian Premier League table after ten games, having won two and lost the other eight. Last Saturday's home defeat to lowly Velez proved to be the final straw and they became the league's fifth club to sack their manager so far this season.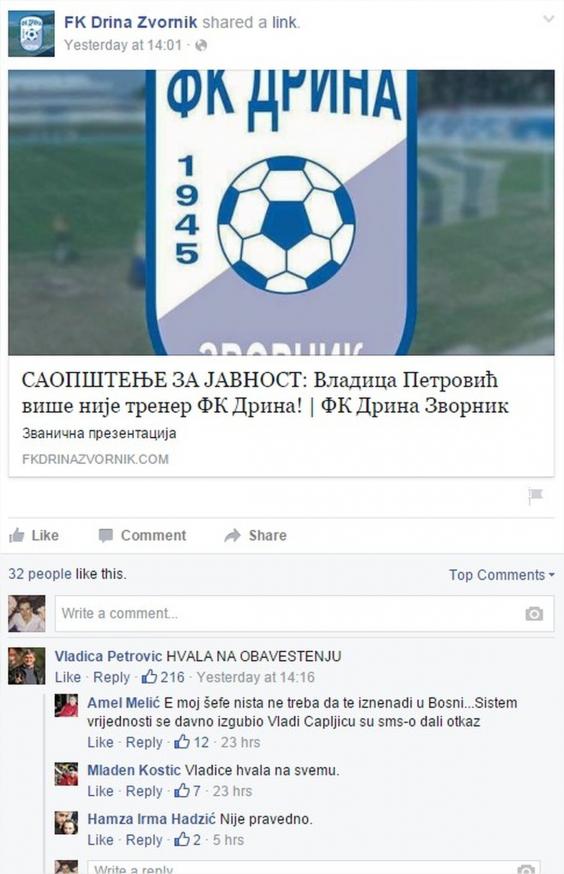 Petrovic, who was only appointed in July of this year, earned thousands of 'likes' for his tongue-in-cheek but good natured response and it seems as though it had provided some comfort as he searches for a new role.
"They really fired me via Facebook," Petrovic told Goal.com.
"When I got to the profile, I saw their notice, so I thanked them for it, as more of a laugh. I did not know that my comments would get so many likes."
"I'd rather that people were writing about me for some success with the team, but thanks to this unexpected popularity, I have spokne to some friends who I had long since lost contact with."
The post has since been deleted by the club.
Reuse content