With two minutes left, Arsenal were losing, desperately trying to keep it at 1-0 and wondering whether they would even reach the last-16 of this year's Champions League. Moments later, they had won 2-1.
It was the most unexpected, unlikely and, frankly, undeserved comeback of the season. But goals from Kieran Gibbs and Lukas Podolski – their first of the season, in both cases – gave them three crucial points. Now, victory in the return fixture in two weeks' time will likely see Arsenal through.
It all turned into a thrilling 65 birthday celebration for Arsene Wenger but it could and should have been very different. "I know by experience that the last five minutes in the Champions League, the nerves play a part," Wenger said afterwards. "We had to get into those five minutes without conceding the second goal."
Arsenal did keep it at 1-0, but only by a matter of inches. Anderlecht had been getting better and stronger as the match went on, and threatened to take the game away from Arsenal after Andy Najar headed them into the lead with 19 minutes left. That goal came after Dennis Praet, the game's outstanding player, had drifted wide and played a perfect cross in from the right, which Najar met after escaping from Nacho Monreal.
Anderlecht 1 Arsenal 2 player ratings
Anderlecht 1 Arsenal 2 player ratings
1/12 Arsenal: Emiliano Martinez

Made some decent saves and looked confident coming out to deal with through balls. Could not be faulted for the goal. 6/10

2/12 Calum Chambers

Beaten on a few occasions by the pacy Gohi Bi Cyriac but did excellently to set up Kieran Gibbs's equaliser with strong run and cross. 6

3/12 Per Mertesacker

Lost his way towards the end as Arsenal became stretched looking for goals after falling behind. 5

4/12 Nacho Monreal

Didn't look entirely comfortable at centre-back, and received a booking after just eight minutes. 5

5/12 Kieran Gibbs

Reigned in his attacking instincts for much of the game but popped up with wonderfully-taken late goal. 6

6/12 Mathieu Flamini

Patrolled the midfield with his usual tenacity and kept the ball sensibly for the most part. Substituted for the final 15 minutes. 5

7/12 Jack Wilshere

Tried to make things happen in the middle of the park but found himself shackled for long periods and made way seven minutes before the end. 5

8/12 Santi Cazorla

Worked hard but missed good chance with low effort early in the second half and lost the ball on a few occasions. 5

9/12 Aaron Ramsey

Didn't look fully fit and struggled to get into the game. Surprising he was allowed to stay on for the whole 90 minutes. 5

10/12 Alexis Sanchez

Worked hard but missed good chance with low effort early in the second half and lost the ball on a few occasions. 7

11/12 Danny Welbeck

Took up some good positions with intelligent darts in behind the hosts' defence but couldn't make telling contribution. 5

12/12 Best of the bench: Lukas Podolski

The German predator was only on the pitch for the final seven minutes but he scored the winner from close range with typical aplomb. 6
Wenger responded by throwing on Joel Campbell, Alex Oxlade-Chamberlain and Lukas Podolski and while the gamble eventually thrillingly worked, it could have ended very differently. Soon after Najar's goal, Praet danced into the Arsenal box again and rolled a pass back to Anthony Vanden Borre, whose miskicked shot ballooned onto the post. Najar then drove the rebound into the side netting.
Arsenal were there to be killed off, and Anderlecht continued to push. Matias Suarez came on and nearly scored the second with his first touch, going through on goal but miscontrolling and allowing Emiliano Martinez to gather safely, albeit at the second attempt. The next counter-attack led to Najar feeding Steven Defour outside him, and his powerful shot forced Martinez into another save, which he did hold.
That was with three minutes to go and when Praet was withdrawn to a well-deserved standing ovation, it felt like the start of the celebrations at a raucous Stade Constant vanden Stock, which was about to see its young team claim one of European football's biggest scalps. In fact, the mad drama of this cold night had not even begun.
Arsenal had no option but to throw everyone forward, and so Calum Chambers charged down the right and curled a perfect cross all the way to Kieran Gibbs, dashing forward on the opposite side. He volleyed the ball beautifully with the inside of his left foot, driving it into the far bottom corner, for his first goal in 14 months.
The mood collapsed, Anderlecht's dream was over and Arsenal, released from fear, gleefully attacked again. This time it was Gibbs, on the opposite side, who broke with the ball and his cross fell to Sanchez in the box. He could not find an angle to shoot, so hooked the ball back in and it fell to Lukas Podolski who is, if not much else, good at finishing with his left foot from close range. The ball flew into the roof of the net, Arsenal were 2-1 up and that was that.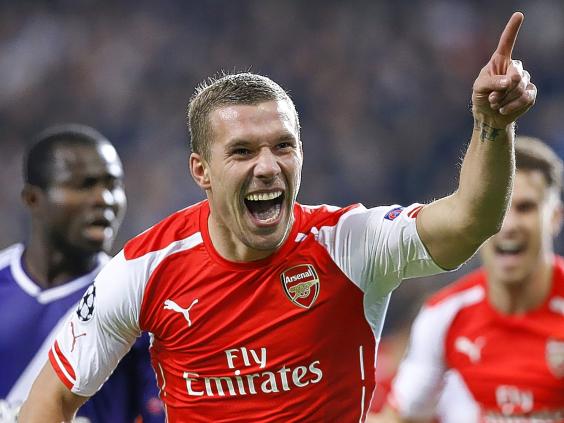 Wenger, of course, was delighted. "We took all the risks and in the end, it paid off," he said. "It did not look obvious, that is for sure."
All that did appear obvious, as Arsenal sailed close to defeat, was that this is still a team with flaws in almost every department. It had been an even game for the first hour or so – tight in the first half, more open in the second – but when Anderlecht started to turn it on, Arsenal had little answer. Injuries and lack of options forced Wenger to pick Emi Martinez in goal and Nacho Monreal at centre-back. Martinez did little wrong but Monreal looked out of place again, struggling with the pace of Zoro Cyriac and losing Najar for Anderlecht's goal. In midfield, Aaron Ramsey, in his first start after a hamstring injury, was not always up with the pace of the game while Mathieu Flamini, again, was out of his depth. Arsenal's best two players were Alexis Sanchez and Santi Cazorla, who did at least force saves from Silvio Proto early in the second half. But even then, in what was probably their best spell of possession, they did not look like a side playing with much fluency or confidence. They pushed further and further looking for an opener that never came, and it was Anderlecht who played the most effective, incisive football. Until the final two minutes.
Reuse content