Arsenal have suffered a lot of disappointing nights in the Champions League over the years, but they sunk to a new low against Monaco tonight.
Instead of being able to dream of causing a surprise by going all the way to the final in Berlin in June, Arsenal look like they will be on the receiving end of an embarrassing upset themselves.
Alex Oxlade-Chamberlain's late curled effort briefly gave some much needed hope of a miraculous turnaround in three weeks, only for Arsenal to incredibly gift a third goal to Yannick Ferreira-Carrasco.
It should be noted that Monaco had scored just four times in the group stage, yet they almost doubled that tally in one match.
Arsenal 1 Monaco 3 player ratings
Arsenal 1 Monaco 3 player ratings
1/20 David Ospina - 6/10

Diffiicult to overly criticise him for Monaco's opener. Kondogbia's shot took a wicked deflection that left him with no chance. Pulled off a good save to prevent Berbatov scoring a third.

GETTY IMAGES

2/20 Hector Bellerin - 5

Not his best game in an Arsenal shirt. When he did go forward he lost possession and Martial, who he was meant to be marking, too often beat the right-back to the byline. Good run and cross

GETTY IMAGES

3/20 Laurent Koscielny - 6

Didn't have to do much to register a better performance than Mertesacker. He was effectively Arsenal's rock when the German defender wandered into positions he wasn't quick enough to return from.

GETTY IMAGES

4/20 Kieran Gibbs - 6

Arsenal's most dangerous player in the opening minutes of the match. Toure, at right-back for Monaco, found it very difficult to keep up with the rapid left-back.

GETTY IMAGES

5/20 Francis Coquelin - 6

Alongside Cazorla in the two deep midfield roles again. He was a little exposed when the Spaniard decided to charge forward but the French midfielder never looked troubled. Substituted for Oxlade-Chamberlain in second as Arsenal chased the game.

GETTY IMAGES

6/20 Santi Cazorla - 6

Took advantage of space in the middle to surge forward from his role of deep-lying playmaker. Stifled in the second half as the opposition read what he was going to do effectively.

GETTY IMAGES

7/20 Mesut Ozil - 5

Too slow to progress play. The German midfielder was booed by the Arsenal on a night where he really should have done much more to unlock the Monaco defence.

GETTY IMAGES

8/20 Danny Welbeck - 6

Very sharp in the first half but failed to carry out his defensive duties well enough. Indeed it was Welbeck who gave the ball away that led to Monaco's opener. Caught out a few times in the second half.

GETTY IMAGES

9/20 Olivier Giroud - 4

Missed a very, very easy chance from close range in the second half. Posed relatively little threat to the Monaco defence. He was subbed for Walcott on 59 minutes.

GETTY IMAGES

10/20 Best off the bencj: Alex Oxlade Chamberlain - 7

Immediate impact when he came on for Coquelin with 20 minutes to go. It was his late strike that gave his given his side a glimmer of hope going into the second leg.

Getty Images

11/20 Danijel Subasic - 7

Outstanding performance from the goalkeeper. His quick thinking helped his side stay in the lead on a number of occasions. Very quick to close down Walcott in second half. Distribution very good too.

12/20 Almamy Toure - 6

In the first half he found himself overrun by Gibbs but was given some respite in the second half as Arsenal attacked Monaco's left side.

13/20 Wallace - 6

A very assured performance. He frustrated Giroud while also organising his defence with precision.

14/20 Aymen Abdennour - 6

Allowed the Arsenal attack to bypass him too often. He seemed to panic when the French striker got anywhere near the Monaco penalty area.

15/20 Elderson - 6

Playing at left-back, the Brazilian found himself out of position on so many occasions. For most of the night he was either dallying with the ball too far into the Arsenal half or chasing the heels of Welbeck.

16/20 Nabil Dirar - 6

Not as effective as Martial on the left but seemed confident when in control of the ball and always looked forward for the out ball.

17/20 Joao Moutinho - 7

One of Monaco's brighter players. He regularly dropped deep in midfield to start attacking moves. Assisted Kondogbia for Monaco's opener.

18/20 Anthony Martial - 7

Utilised his pace effectively on the left side of the Monaco attack. He took advantage of Mertesacker's bad positioning to assist Berbatov for his side's second goal.

19/20 Dimitar Berbatov - 7

Booed by the Arsenal fans because of his former connection with Spurs, but he was to have the last laugh when he smashed past Ospina in the Arsenal goal to send Monaco 2-0 up

20/20 Yannick Ferreira-Carrasco - 7

What an impact he made when he replaced Berbatov with 15 minutes remaining. His pace, coupled with quick thinking, gave Gibbs hell at left-back. Ferreira-Carrasco added Monaco's third in stoppage time.
Rather than getting closer to getting his hands on European football's greatest prize, manager Arsene Wenger looks further away than ever.
This was supposed to be the season where their fortunes in the last 16, let alone the competition, would change for the better.
A place in the last eight had eluded them since 2010, yet there had always been the excuse of meeting some of Europe's finest in Bayern Munich (twice), Barcelona and AC Milan.
But this time the draw had been far more kind. A match-up with Monaco, a team that had seen prize assets James Rodriguez, Radamel Falcao (on loan) and Emmanuel Riviere leave last summer.
The visitors, who currently sit fourth in the French League, were also weakened by injury problems to several key players and it looked like Arsenal had a fairly easy task to establish a healthy advantage in the first leg.
Granted Monaco arrived at Emirates Stadium boasting a mean defensive record. In the group stage they kept five clean sheets and recently went 832 minutes without letting in a goal in the French League.
Still it was a side that had ageing Dimitar Berbatov leading the line, a player that failed to shine at Manchester United after starring at Tottenham.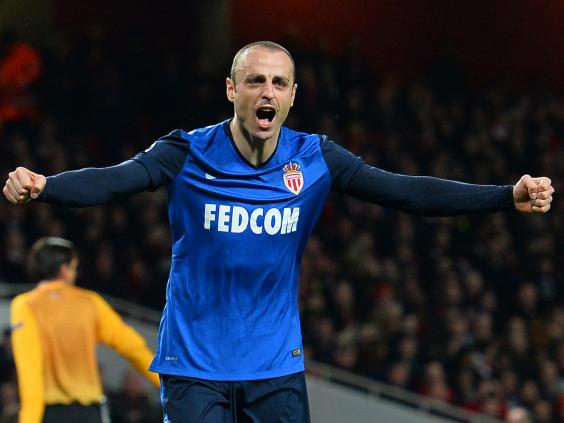 Perhaps Arsene Wenger's men came into the encounter thinking their place in the next round was already assured. There had to be some explanation for such a lethargic performance.
It didn't help that main striker Olivier Giroud had a game to forget on the biggest stage of them all.
A minute before Geoffrey Kondogbia's deflected shot opened the scoring for the away side, Giroud skied the first of many great opportunities over the bar.
Worse was to come after the break, with three chances sent high, wide and not very handsome from the six yard box.
He punched the turf in frustration, but his feelings of angst was nothing compared to the anger being directed to the players from the stands.
To make matters worse, Arsenal fell for the obvious European sucker punch - Monaco breaking into vast empty space and it was Berbatov, of all people, who took great delight in finding the net.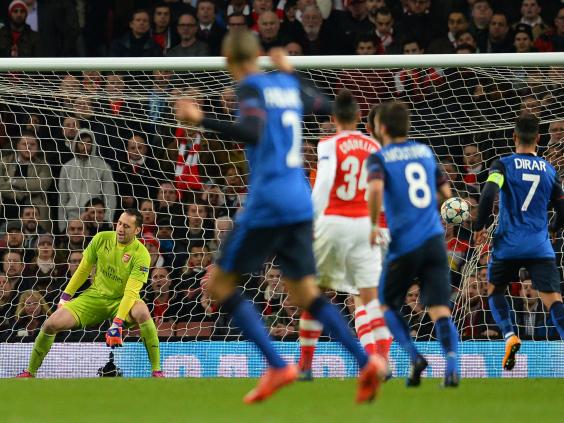 A similar lack of discipline was exposed for the crucial third goal in injury time, just moments after Oxlade-Chamberlain had briefly lifted spirits.
The final whistle brought boos from around the ground, apart from the tiny pocket of Monaco fans.
The final words of the announcer said at the end 'a very good night from Arsenal' - it was anything but.
Reuse content