Kondogbia comes of age to run the show
If this was a night for players to show how they could cope with responsibility and pressure, few did better than Geoffrey Kondogbia. He is just 22 years old but he had to glue Monaco's midfield together, in the absence of suspended linchpin, Jérémy Toulalan.
Kondogbia might have wilted but instead delivered a performance of impressive authority, protecting the two stand-in centre-backs, tracking the runs of Alexis Sanchez and Mesut Özil and using his athleticism to cause problems at the other end.
Of course, Kondogbia's opening goal was fortunate. Had it not hit Per Mertesacker it would likely have been saved. But it was to Kondogbia's credit that he made the run, showed for the ball, and took the shot. That itself was more audacity and initiative than Arsenal showed for much of the evening.
Giroud sleepwalks into a nightmare up front
The one weakness of Olivier Giroud's time at Arsenal, the biggest difference between him and the very best, is that he did not score in the big games. This was a chance for him to dispel that notion. Instead he reinforced it emphatically, with a performance that would have been implausible even as a nightmare.
Giroud missed three chances in the first half and three sitters in the second half, and was withdrawn after only an hour. His final minutes on the pitch were difficult to watch: he miskicked from close range at the near post, directed a free-header from a free-kick over the bar and, for the coup de grâce, skied a close-range rebound after Alexis Sanchez's shot was saved.
Arsenal 1 Monaco 3 player ratings
Arsenal 1 Monaco 3 player ratings
1/20 David Ospina - 6/10

Diffiicult to overly criticise him for Monaco's opener. Kondogbia's shot took a wicked deflection that left him with no chance. Pulled off a good save to prevent Berbatov scoring a third.

GETTY IMAGES

2/20 Hector Bellerin - 5

Not his best game in an Arsenal shirt. When he did go forward he lost possession and Martial, who he was meant to be marking, too often beat the right-back to the byline. Good run and cross

GETTY IMAGES

3/20 Laurent Koscielny - 6

Didn't have to do much to register a better performance than Mertesacker. He was effectively Arsenal's rock when the German defender wandered into positions he wasn't quick enough to return from.

GETTY IMAGES

4/20 Kieran Gibbs - 6

Arsenal's most dangerous player in the opening minutes of the match. Toure, at right-back for Monaco, found it very difficult to keep up with the rapid left-back.

GETTY IMAGES

5/20 Francis Coquelin - 6

Alongside Cazorla in the two deep midfield roles again. He was a little exposed when the Spaniard decided to charge forward but the French midfielder never looked troubled. Substituted for Oxlade-Chamberlain in second as Arsenal chased the game.

GETTY IMAGES

6/20 Santi Cazorla - 6

Took advantage of space in the middle to surge forward from his role of deep-lying playmaker. Stifled in the second half as the opposition read what he was going to do effectively.

GETTY IMAGES

7/20 Mesut Ozil - 5

Too slow to progress play. The German midfielder was booed by the Arsenal on a night where he really should have done much more to unlock the Monaco defence.

GETTY IMAGES

8/20 Danny Welbeck - 6

Very sharp in the first half but failed to carry out his defensive duties well enough. Indeed it was Welbeck who gave the ball away that led to Monaco's opener. Caught out a few times in the second half.

GETTY IMAGES

9/20 Olivier Giroud - 4

Missed a very, very easy chance from close range in the second half. Posed relatively little threat to the Monaco defence. He was subbed for Walcott on 59 minutes.

GETTY IMAGES

10/20 Best off the bencj: Alex Oxlade Chamberlain - 7

Immediate impact when he came on for Coquelin with 20 minutes to go. It was his late strike that gave his given his side a glimmer of hope going into the second leg.

Getty Images

11/20 Danijel Subasic - 7

Outstanding performance from the goalkeeper. His quick thinking helped his side stay in the lead on a number of occasions. Very quick to close down Walcott in second half. Distribution very good too.

12/20 Almamy Toure - 6

In the first half he found himself overrun by Gibbs but was given some respite in the second half as Arsenal attacked Monaco's left side.

13/20 Wallace - 6

A very assured performance. He frustrated Giroud while also organising his defence with precision.

14/20 Aymen Abdennour - 6

Allowed the Arsenal attack to bypass him too often. He seemed to panic when the French striker got anywhere near the Monaco penalty area.

15/20 Elderson - 6

Playing at left-back, the Brazilian found himself out of position on so many occasions. For most of the night he was either dallying with the ball too far into the Arsenal half or chasing the heels of Welbeck.

16/20 Nabil Dirar - 6

Not as effective as Martial on the left but seemed confident when in control of the ball and always looked forward for the out ball.

17/20 Joao Moutinho - 7

One of Monaco's brighter players. He regularly dropped deep in midfield to start attacking moves. Assisted Kondogbia for Monaco's opener.

18/20 Anthony Martial - 7

Utilised his pace effectively on the left side of the Monaco attack. He took advantage of Mertesacker's bad positioning to assist Berbatov for his side's second goal.

19/20 Dimitar Berbatov - 7

Booed by the Arsenal fans because of his former connection with Spurs, but he was to have the last laugh when he smashed past Ospina in the Arsenal goal to send Monaco 2-0 up

20/20 Yannick Ferreira-Carrasco - 7

What an impact he made when he replaced Berbatov with 15 minutes remaining. His pace, coupled with quick thinking, gave Gibbs hell at left-back. Ferreira-Carrasco added Monaco's third in stoppage time.
Welbeck miss sets tone for Arsenal's night to forget Even in an 180-minute
European tie, the momentum can shift decisively at the very start. Only 90 seconds had gone when Danny Welbeck span Elderson, ran through on goal, but shot over the bar. In the fifth minute Welbeck was about to score but Aymen Abdennour beat him to it. Had Arsenal got a goal from either of those it would have been a very different evening.
In that sense this was reminiscent of the equivalent fixture from last year. They had started briskly against Bayern Munich, one year and one week ago, but Özil missed a penalty after eight minutes. That was effectively it for Arsenal in that tie, as they lost belief, lost their goalkeeper and eventually lost 2-0. This Monaco side are nowhere near the level of Pep Guardiola's team, but the deflationary effect of an early miss is the same.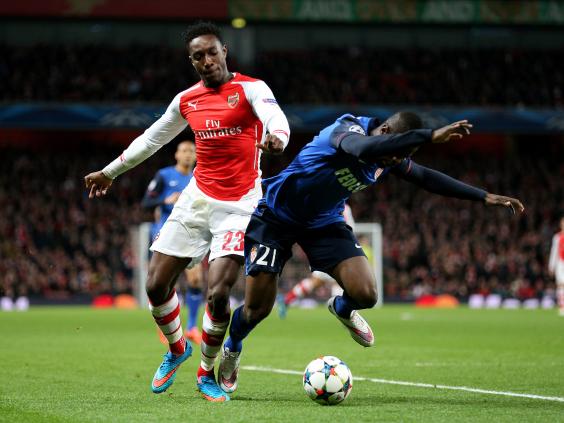 The old problems resurface ... with a vengeance
While the famous 2-0 win at Manchester City last month has been held up as transformative, in terms of Arsenal's big-game mentality , the evidence since is starting to suggest otherwise. Not only are City now remarkably permeable at home, but the old Arsenal problems, about taking the game to the top teams, seem to have returned.
At White Hart Lane in the derby with Spurs, Arsenal scored early but were then pinned back. Here, they completely blew it.  From 1-0 down this was salvageable but the second-half performance was one of a side unable to cope with the mental demands of the contest: panicking with the ball, open at the back, knocking themselves out of Europe when they had such a good chance.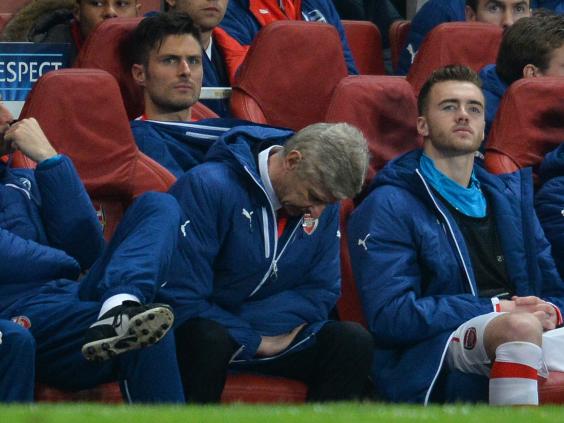 Just what have Wenger's men learnt in recent years?
An awful lot is made of "European experience" but this is a competition that Arsenal have been playing in for 17 years, in a knockout stage that they almost always reach. While Monaco did lose the Champions League final in 2004, they have not played a knockout game in it for the last 10 years. Yet last night they schooled Arsenal. For all the fears that they would park the yacht, they were always dangerous on the break, waiting for their opportunities, ruthless in attack. It made you wonder what Arsenal had learnt in the last few years, except for how to collapse under the lights, under pressure.