It really is the hope that kills you and nobody knows how to snatch it away quite like Lionel Messi and Barcelona.
For 70 minutes of this Champions League round of 16 first-leg tie, Arsenal held their own and traded punches with the best team on the planet.
Arsène Wenger's players overcame their early apprehension and developed the belief that they could even claim a crucial and unexpected advantage ahead of the return game in Catalonia.
But despite Messi having one of his quieter nights, the magical Argentine walked off the pitch with two goals and Barcelona's passport to the quarter-finals in his hands following a typically beautiful – and brutal – display of his killer instinct.
You have to feel for Arsenal, but when you are up against the very best, there are no answers to brief flashes of genius and they must now brace themselves for yet another exit from the Champions League before the real business kicks in.
For Arsenal to have any hope of staying alive in this tie ahead of the second leg in the Nou Camp next month, Wenger's players simply had to display the tactical discipline which was crucial to their 2-0 group stage victory against Bayern Munich at the Emirates last October.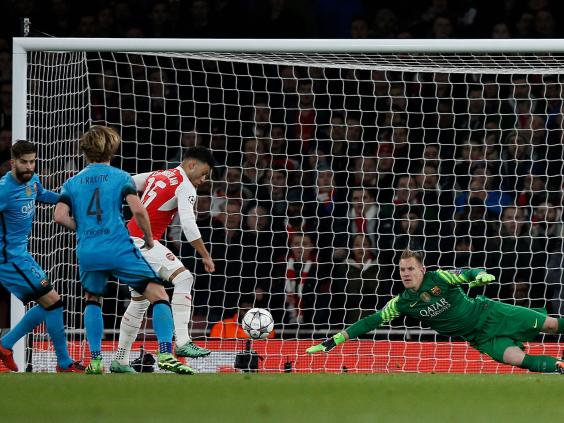 This was not an occasion for the carefree football that Arsenal are capable of producing to devastating effect against domestic opponents and those supporters inside the stadium also had to buy into the more passive approach.
As the clock ticked past 15 minutes, statistics showing that Arsenal had enjoyed just 30 per cent of possession emphasised the unique challenge they faced against Luis Enrique's team, but the numbers also highlighted the Wenger game plan.
Whenever Barcelona had the ball – which was fairly regularly – nine red shirts dropped back behind the ball, with only centre-forward Olivier Giroud remaining free to occupy centre-halves  Gerard Pique and Javier Mascherano.
It was not quite as defensive as Chelsea's backs-to-the-wall semi-final triumph against Barcelona in the 2012 semi-final, but Arsenal were certainly making life difficult for Messi and Co.
As Wenger had insisted prior to the game, Arsenal had to find the "right balance between being audacious and defensively strong", but that was easier said than done.
Barcelona may have lacked bite with the ball for much of the first half, but they certainly knew how to keep hold of it and starve Arsenal of possession. As a consequence, the home side were forced to make the most of their sporadic counter-attacks and forays into Marc-André ter Stegen's area.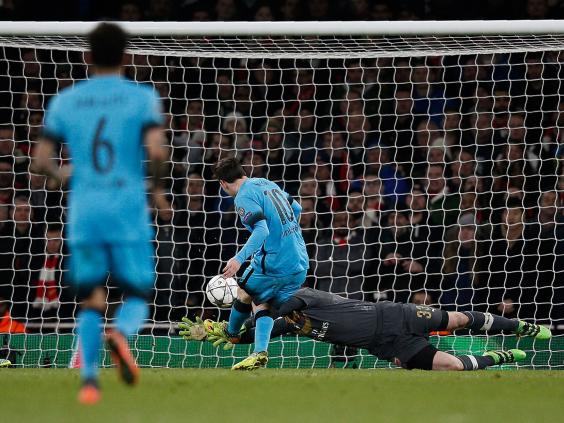 Facing a team that had been unbeaten in 32 games, stretching back to a defeat against Sevilla in October, Arsenal initially snatched at their chances, perhaps not believing that they had actually worked a sight of goal.
Aaron Ramsey saw a scuffed shot blocked by Mascherano, with Pique going on to snuff out a Mesut Özil shot before Alex Oxlade-Chamberlain shinned a close-range effort into the arms of Ter Stegen on 22 minutes.
Later, Pique seemingly got himself deliberately booked with a challenge on Danny Welbeck which sees him miss the second leg and have his slate wiped clean for the quarter-finals.
But while Arsenal were struggling to turn water into wine with their half-chances, Petr Cech was enjoying a relatively quiet first half at the other end. The former Chelsea goalkeeper went into this game defending the enviable distinction of having never conceded a goal against Messi in six encounters.
It would be pushing it to described Cech as some kind of Messi-kryptonite, but the Arsenal keeper had little to worry about from the Argentine in the opening period.
The closest Messi came to testing Cech was after 35 minutes when, after earning a free-kick on the edge of the penalty area following a collision with Laurent Koscielny, he aimed his shot low and into the feet of Giroud in the wall.
It summed up Messi's early contribution and Luis Suarez fared little better – heading wide in stoppage time having done little else prior to that.
As the second half began, Arsenal clearly felt that this game could be there for the taking and Özil and Alexis Sanchez upped the tempo. 
It was becoming an equal battle, although the threat of Messi, Suarez and Neymar on the counter hung like a cloak over the game. Between them, the so-called MSN triumvirate had scored 91 goals in all competitions ahead of this first leg, but none of them had brought their  A-game to the Emirates.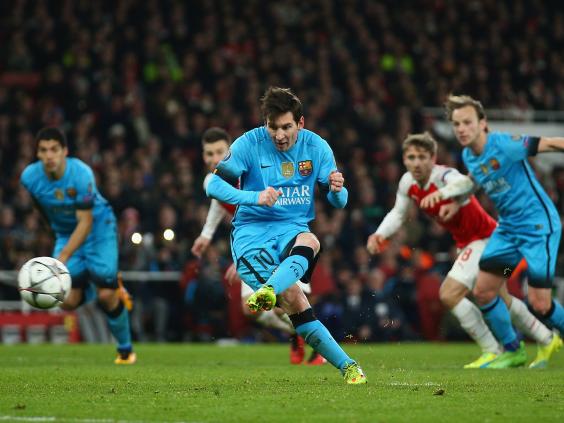 Neymar looked the sharpest and would have scored the opener on 49 minutes but for the outstretched leg of Cech. Neymar then almost created an opening for Dani Alves, only to take one touch too many before working the opening. It was the same story moments later when Alves, Messi and Neymar combined, only for Per Mertesacker to cut out the Brazilian forward's square ball.
Barcelona were guilty of overplaying, attempting to walk the ball into the net, and Arsenal were able to ride the storm and test the European champions at the other end.
Özil's cross to Giroud saw the Frenchman's shot blocked by Mascherano before Giroud forced a stunning save from Ter Stegen seconds later with a towering header.
Having seen Suarez flash a shot across goal, Arsenal began to creak and the opening goal came on 71 minutes after a breathtaking counter by Suarez, Neymar and Messi.
Messi's finish, having taken a touch before beating Cech for the first time, was neat and tidy, but Neymar's pass was exquisite – an unselfish display of awareness to tee up his team-mate.
Arsenal now had to either stick or twist, but they were unable to see the game out with a 1-0 deficit that would have given them a slither of hope in the Nou Camp.
A rash challenge by substitute Mathieu Flamini on Messi left referee Cuneyt Cakir with no option but to point the spot. Messi stepped up and scored to send hope heading for the exits with every other heartbroken Arsenal supporter.