It was the ultimate form of punishment for Manuel Pellegrini that he should have seen from the stands, in full perspective, the dreadful size of the task he faces in accomplishing the feat of creating a football team in Barcelona's image.
He seemed to shield his eyes from the pitch in the seconds after Lionel Messi – a player who made a whole heap of nonsense last night out of all the talk of his diminishing influence – had exposed with the decisive first goal the folly of Manchester City's failure to build a defence to match the attacking dimension.
But this was a game which revealed a gulf all over the pitch and asks questions about how far Pellegrini has actually taken City, despite the initial evidence that he had created something quite brilliant.
The night ended with two goals in the last two minutes and high controversy – Pablo Zabaleta was dismissed for dissent directed at the referee, who refused City a borderline penalty on a night which damaged the name of French officials as much as the first leg did for the Swedes.
But nothing should obscure a gulf in class epitomised by Messi, whose 67th Champions League goal, scored in the 67th minute, takes him only four short of Raul's record.
There was, of course, a measure of disbelief among those with longer memories that they were really here. It was 15 years ago today that City lost 2-1 at Maine Road against Oldham in the Third Division. They have travelled a very long way and there was some circumspection and deference about the City starting line-up, in which James Milner added some muscularity on the left side to help Aleksandar Kolarov cope with Neymar.
Barcelona 2 Manchester City 1: Player Ratings
Barcelona 2 Manchester City 1: Player Ratings
1/23 Victor Valdes 6

Made a good saves to deny Dzeko and Nasri but had a relatively quiet night besides those chances. Solid display all round

Getty Images

2/23 Dani Alves 7

Not he's usual out and out attacking from full-back but provided good support. Overran slightly by City's left side at 0-0 but coped well on the whole. Came to life in final few minutes, like in the first leg, to kill off city with a composed finish

AP

3/23 Gerard Pique 6

Played Aguero off the park completely in the first half. Had more to do when Dzeko came on but still looked in control for the most part.

Getty Images

4/23 Javier Mascherano 6

Dealt with most that came he's way and never look rushed. Fine on the ball but was a little slow at times

AP

5/23 Jordi Alba 6

Useful going forward without given City too many problems and dealt well in defensive work. Played nice ball but adjudged offside for Neymar's disallowed goal. Looked more threating after Barcelona went ahead

AP

6/23 Sergio Busquets 7

Kept City at bay in front for Barcelona's back four. Didn't produce his usual overacting after tackles which was nice to see. Passed well and kept ball expertly

AP

7/23 Xavi Hernandez 8

Could have opened the scoring in first half but shot straight at Hart. Passed neatly and precisely as ever in dominant display at the heart of mid field

EPA

8/23 Cesc Fabregas 6 (Sergi, 86)

Caused all sorts of problems for Lescott with poked through ball for Messi's opener. Decent, if unspectacular, display but fine passing and ball control throughout

Getty Images

9/23 Andres Iniesta 6

Injured in fair tackle by Zabaleta and looked a little jaded afterwards but passed with masterful ease and in total control throughout

Getty Images

10/23 Neymar 8 (Sanchez, 80)

Had goal disallowed, effort cleared off the line and shot just wide in a stylish display from the Brazilian. Produced less of the histrionics that can plague his game at times and looked effective and dangerous throughout until being replaced with ten minutes remaining

Getty Images

11/23 Lionel Messi 9

Star man once again for the little genius. Had Lescott's number all night and produce several moments for superb skill. Hit post with dazzling run and shot that fully deserved a goal. Opened the scoring soon after though and quite rightly, with a lovely chipped finish to kill off City, composed and never looked like missing

Getty Images

12/23 Joe Hart 5

A couple of nervy moments and rode his luck at times but that is to be expected against such calibre of opposition. Had no chance with Messi's superb finish for the goal and made a couple of decent saves. Concentration and positioning could be questioned for second goal

EPA

13/23 Pablo Zabaleta 4

Sent off after taken protests too far after City were denied what looked like a certain penalty. Long night for the full back ended early with a lot arm waving and hand gesturing at the referee. Could have scored but sliced wide on a tough night

Getty Images

14/23 Joleon Lescott 5

Not the first player to have a difficult night against Messi, nor will he be the last. Lucky to get away with not conceding a penalty early on and completely bamboozled with the through ball for the goal. Made some strong tackles and interceptions to keep City in it but had a long night trying to deal with the Argentine star

Getty Images

15/23 Vincent Kompany 8

Made several last ditched tackles and powerful blocks. Defended manfully throughout and fully deserved his late tapped in goal. City's best player on the night by far

Getty Images

16/23 Aleksandar Kolarov 6

Linked up with Milner and overlapped well down the left for the most part. Steady in defensive but found Neymar tough to deal with at times

AP

17/23 Fernandinho 5

Defended earnestly and cleared Neymar's effort off the line with score still at 0-0. Put in a good shift but helpless to stop Barcelona's dominance

AP

18/23 Yaya Toure 6

Was powerful and direct for the first half hour and look City's best player early on but faded as game went on under the pressure from the home side

Getty Images

19/23 David Silva 5 (Negredo, 72)

Found chances hard to come by but produced lovely back heeled flick to set up Nasri who should have scored. Found space before half time on edge of Barca's box but shot high and wide when should have done better

Getty Images

20/23 Samir Nasri 4 (Jesus Navas, 74)

Had City's best chance of the first half but shot straight at Valdes, should have done better. Tough night with chances and touches few and far apart

EPA

21/23 James Milner 6

Put in an honest and hardworking performance, as ever, but lacked the composure or real quality to harm Barcelona in the final third. Defended well and linked up effectively with Kolarov

Getty Images

22/23 Sergio Aguero 2 (Dzeko, 45)

Replaced at half time by Dzeko after hardly touching the ball in first half. Not really he's fault, task set to him was not his forte, but failed to make an impact on any levels

Getty Images

23/23 Best off the bench - Edin Dzeko 6

Did more in a minute than Aguero did in whole of first half but tame effort saved. Good chance with looping header drew a fine save from Valdes. Was brought down in the box in what looked a certain penalty but not given

GETTY IMAGES
That device barely made an impression. The observation conjured by Zabaleta in Spain's El Pais daily paper was that rugby-tackling Messi was a solution to apply le frenas (the brake) to the Catalans, but that an army of others would still pick up the threat from where he lay.
That's how it was when City went about their work. So much for "high tension" as that paper put it on Wednesday morning. Messi set about Joleon Lescott in a way that made you fear for his state of mind, as the home side's confident, clinical play reduced Vincent Kompany's confident talk of how "nothing is better than chasing a lost cause" to what it was: just words.
Three of City's players – Fernandinho, Zabaleta and Kolarov – found themselves booked and walking a tightrope before even half an hour had been played. And though the crowd had its usual influence on officialdom, City were given a huge stoke of fortune when Lescott planted a mistimed right foot into the Argentine's legs as he barrelled around the fringe of City's area. The only surprise was that Barcelona did not demand the penalty they were due far more effusively.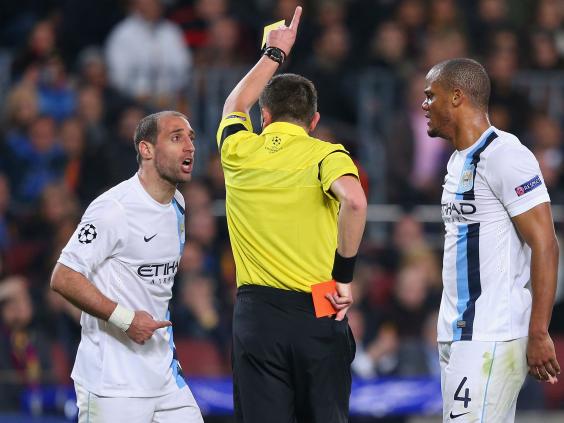 It was not the only rescue provided by the French referee Stéphane Lannoy. An overlapping Jordi Alba was wrongly judged to be offside when he received Cesc Fabregas's rolled pass and levelled it for Neymar to tap in a goal which should certainly have counted. It was Tita Martino's players finding the new gear which City had needed to salvage the 2-0 aggregate that weighed against them.
Lescott had the occasional moment against Messi – the two clean challenges will probably be forgotten amid the collective memory of carnage today – but the Argentine cut the Englishman away, just as Neymar did Kolarov. And City's need to keep shipping water meant they could barely attend to the small matter of scoring two goals – or even the breakthrough strike they so badly needed.
Sergio Aguero was deeply isolated and only David Silva managed to deliver to the Catalans a hint of what they had dealt to City. A divine flick with the back of his heel to divert Yaya Touré's clipped pass into Samir Nasri's line of fire was City's stand-out moment of the first half.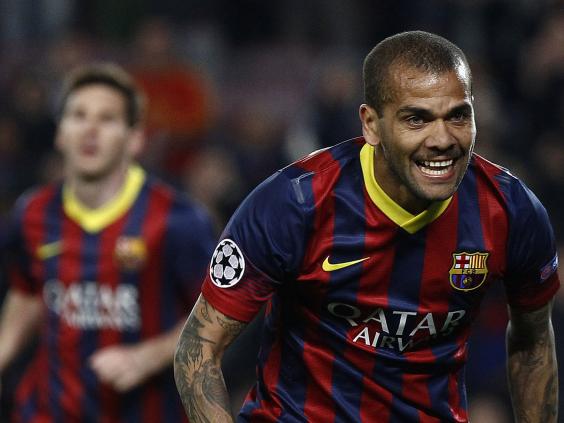 It was a lack of pace which also hindered the visiting team. The pace of Jesus Navas feeding Alvaro Negredo would have been a more potent threat than City's narrow game here, in which Silva was seeking to run the ball through Barcelona. The suspended Pellegrini, tucked in next to sporting director Txiki Begiristain as this grim spectacle unfolded, did not hesitate to act at the interval, bringing on Edin Dzeko in the second half for an Aguero whose contribution had been next to nothing.
The Bosnian's impact was instantaneous. He shaped a header from a Kolarov cross to force a very sharp save from Victor Valdes, and Zabaleta's skewed shot from space on the right-hand side of the area, after another Kolarov cross had been tamely cleared, finally created some of the palpitations City had been looking to establish.
But that hope was pitifully short-lived because Messi had never drifted away. He continued to pick away at the fabric of Lescott – cutting back past him and leaving him chasing his shadow across the area before placing a left-foot shot against the base of Joe Hart's right post. Then came the strike which confirmed the night's increasingly inevitable outcome. Fabregas simply ran the ball between Lescott's legs six minutes past the hour and watched Messi collect and place it in the net.
Zabaleta's dimissal came amid his fury that Gerard Pique's clumsy penalty box challenge on Dzeko had gone unpunished – a marginal call – though City did equalise when Dzeko headed down Milner's corner to Kompany – just onside – as he steered it in. Lescott, standing beside him and offside, did not affect the phase of play.
There was still time for Xavi, Iniesta and Alexis Sanchez to lace passes which set up Dani Alves's sweeping, winning goal. For Alves, remonstrating with the supporters who have questioned his ability, the goal was an act of vindication. For Pellegrini, it was a final, punishing assertion of the long road that lies ahead.