In the moments before the free-kick that saw Sergi Roberto complete "the miracle" - as Gerard Pique put it - the entire Barcelona bench and subs like Ivan Rakitic were right up on the sideline, actively willing the win.
To watch this, just as Neymar stepped up for his second decisive set-piece of the night, was to watch live human theatre. It's rare that life so publicly offers up moments like this, where intense emotion is so naked. It's even rare for sport, then, to offer up releases like what followed. The Nou Camp erupted, in a way that even Luis Enrique - who has now spent 11 years there as a player and manager - admitted he had never seen before.
The players were at that moment one with the fans, having just put six past Paris Saint-Germain. Pique admitted that he was going to do exactly what the fans were, too: "right now, I'm going to party". It was pandemonium, glorious chaos, call it what you want.
Barcelona vs PSG player ratings
Barcelona vs PSG player ratings
1/22 Marc-Andre ter Stegen - 6 out of 10

Was rarely tested on an evening when all the action was taking further place up the pitch. Did his job when called upon.

Getty

2/22 Gerard Piqué - 7

Defiant and resilient throughout, displaying composure at the back and technical ability on the ball too.

Getty Images

3/22 Javier Mascherano - 7

Gave his all. Showed his intent from the start, putting in a series of important challenges and blocks.

AFP/Getty Images

4/22 Samuel Umtiti - 7

Dominant in the air and dominated in his battles with Cavani.

Getty Images

5/22 Rafinha - 6

Dangerous in drifting in from the flank and excellent in finding the right space but some of his deliveries were off the mark. Nonetheless, proved to be a nuisance for much of the night.

Getty

6/22 Sergio Busquets - 6

It was a scrappy and frantic night for the Spaniard. His challenges were mistimed and his passes misjudged but his energy was still invaluable in Barcelona's pressing game.

Getty Images

7/22 Ivan Rakitic - 7

A bundle of enegery throughout. His challenges were vital in breaking up PSG's forward game but almost cost Barcelona the game in allowing Kurzawa to set up Cavani for his away goal.

Getty Images

8/22 Andres Iniesta - 7

Pulled the strings for much of the, playing passes left, right and centre, and wasn't afriad to try his luck from outside the box. Dwindled in influence as the game wore on.

AFP/Getty Images

9/22 Lionel Messi - 7

Here, there, everywhere. It was another trademark performance from the Argentine but on this occasion he wasn't the man who Barcelona turned to.

AFP/Getty Images

10/22 Luis Suárez - 7

Showcased the best of his poaching abilities to snatch Barcelona's first goal and proved to be a menace for the entire 95 minutes.

AFP/Getty Images

11/22 Neymar - 9

Absolutely sensational. Was instrinsic to Barcelona's late fightback, scoring their first fourth and fifth goal before setting up Sergi Roberto's winner with an exquisite assist.

Getty

12/22 Kevin Trapp - 5

Poor decision-making handed Barca their first and failed to effectively deal with Iniesta's back-pass for the second.

AFP/Getty Images

13/22 Thomas Meunier - 4

His ill-timed foul on Neymar handed Barca their first penalty and third goal. Let down by sloppy mistakes.

AFP/Getty Images

14/22 Marquinhos - 4

Should have done much better for Barcelona's second, failing to assert himself against Iniesta inside his own box. It was night to forget in all for him.

AFP/Getty Images

15/22 Thiago Silva - 6

As ever, Silva was PSG's warrior. But although he rarely shirked a challenge even he was suspectible to lapses in concentration tonight and poor decision-making.

Getty Images

16/22 Layvin Kurzawa - 4

His disastrous attempt at a goal-line clearance handed Barcelona their second and he clearly struggled against Rafinha's pace and trickery. Impressive assist for Cavani's goal but, in all, the occasion appeared to get to him.

AFP/Getty Images

17/22 Adrien Rabiot - 5

Failed to deal with Barcelona's high-intense approach and incessant press.

AFP/Getty Images

18/22 Marco Verratti - 6

Started well but grew increasingly timid and quiet as the game wore on. Conceded a number of unnecessary challenges.

AFP/Getty Images

19/22 Blaise Matuidi - 4

Little of note to say. Looked overwhelmed at times.

Getty Images

20/22 Lucas Moura - 5

Kept himself busy in the first half but was repeatedly targeted by Barcelona's enforcers and struggled to shine as a result.

AFP/Getty Images

21/22 Edinson Cavani - 6

Did what was asked of him in expertly clinching PSG's vital away goal. Should have converted an early second-half chance though. Let down by his team-mates.

Getty Images

22/22 Julian Draxler - 5

Another player who failed to live up to the big occasion.

AFP/Getty Images
Amid all the happy struggles to put exactly what happened into appropriate words, and all the cheers, there was one lament - albeit delivered with a smile.
Luis Enrique said it was a pity that they still actually had to go and play a quarter-finals, and then a semi-finals and final if they don't get through. That was the thing. The sensational nature of this victory meant that it fired the same emotions as actually winning the trophy, but they are still some way off that.
It is perhaps the only reason why this game is not quite up there with the 2005 final or 1999 showpiece in this very stadium, say, as its epic events did not have the same epic resolution. At least not yet.
In truth, though, this was really an occasion that stands on its own. It was a sporting occasion so rich, where every moment was imbued with so much tension and emotion, that it barely requires that extra context.
"It's a historic feat that has never happened before," Pique accurately surmised, before saying it surpassed previous Barca comebacks like the 3-0 to 3-3 and win a penalties against Gothenburg to go through to the 1985-86 final, or the last-minute winners to send them through against Kaiserslautern and Chelsea in 1992 and 2009 respectively. "Gothenburg wasn't this big, nor [Andres] the Iniesta goal nor [Jose Maria] Bakero's in Kaiserslautern. This is the greatest. There is no comparison."
There is certainly no comparison in the history of any of football's elite competitions, either, let alone Barca's. None of them - not the World Cup, not the Euros, not the European Cup and Champions League before this - have seen a comeback as great as this, and not at a level of football as high as this, even if you might not have guessed that from the calamitous way that PSG collapsed.
It says even more, however, that it wasn't even completely about the comeback alone. None of them have seen a game of this pulsating pattern.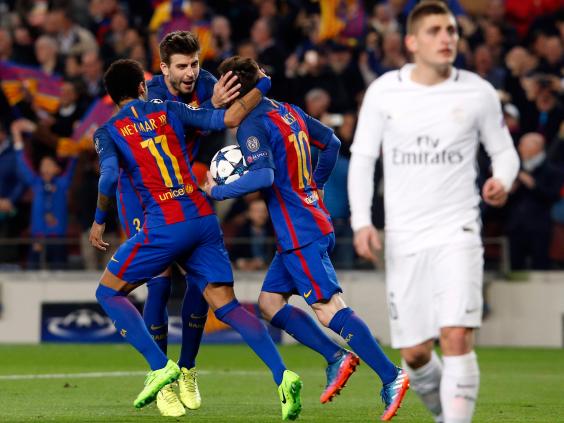 It already would have been utterly amazing and unprecedented, for example, for Barca to just recover from it by getting to 4-0 - something they seemed on the brink of. But for them to then concede an away goal, and seemingly have all their momentum and hope killed and then come back in a different way, was a level beyond. It's actually remarkable to think that, for about 25 minutes after Edinson Cavani's strike, the game was actually rather dead. In that sense, Barca almost had two very different comebacks.
Then consider some of the details that are almost mere sidelines and subplots, because of how seismic the last seven minutes of football were. Barca actually thrashed one of Europe's finest sides by a score of 6-1. On any other night, that alone would be the stand-out fact.
Then there were the multiple ways PSG bottled it, and not just with the utter panic so regularly seen in their defence. Cavani and Angel Di Maria missed two massive chances to finish it all at 3-1. Had either gone in, there would simply be no debate about those admittedly dubious big late decisions.
In terms of the theatre of it all, though, that and the antics of both Suarez and Neymar actually only added to the game as an occasion.
Just look at what ran through it and drove it: the determined intensity of Barcelona from the off; the obvious nervousness of PSG's supposedly accomplished expensive stars; the errors and goals that brought; the sublime touches and play of Andres Iniesta, Sergio Busquets and Neymar; the agonising misses of the French champions' South Americans; the quality of strikes like Neymar's free-kick; the psychodrama of how these key moments so significantly altered the tone and thrust of the match; the tactical gambits by both managers; the context of a Cantera product like Sergi Roberto scoring; the emotion of all of that and then of course the tension that so fully charged all of this.
It's remarkable that a game that started at 4-0 to one side never once felt anything like a dead rubber. Indeed, because of the fact Suarez scored so early - and what it revealed about both sides, as regard the intent of Barca and insecurity of PSG - this game was so suffocatingly tense right from the off. It was a gloriously enjoyable tension, at least for anyone watching on.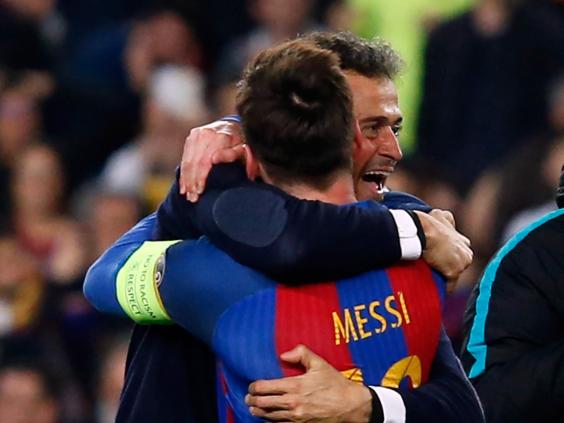 "There was a spectacular start," Luis Enrique said. "There was only one match with more tension that I've been involved in, and that was when I was a player."
He declined to mention what that was, but everyone knew it was Luis Figo's first back at Camp Nou after signing for Real Madrid in 2000.
Barca have moved on to much better things since then, and have probably overtaken Real Madrid as the club most associated with the modern Champions League; as the standard-bearers.
The story of Barcelona's incredible comeback
The story of Barcelona's incredible comeback
1/13

Barcelona's night got off to the best possible start with Luis Suarez scoring in the 3rd minute.

Getty

2/13

Excellent improvisation from Andres Iniesta caused Layvin Kurzawa to convert the ball into his own net.

Getty

3/13

After the half-time interval, Lionel Messi put his name on the scoresheet from the penalty spot.

Getty

4/13

However, when Edinson Cavani grabbed a vital away goal for the visitors, Barca's hopes looked lost.

Getty

5/13

Cavani could not hide his emotion after scoring the goal which, at that point, had looked to have ended Barcelona's hopes of qualifying.

Getty

6/13

Three minutes from time, Neymar struck back with a splendid free-kick which beat Kevin Trapp at his near post.

Getty

7/13

Into stoppage time, and after Marquinhos' foul, Neymar converted Barcelona's second penalty of the night.

Getty

8/13

In the final minute of added on time, Neymar's lofted pass found Sergi Roberto in the box.

Getty

9/13

The 25-year-old lifted the ball over Trapp and into the far corner to complete the Champions League's greatest-ever comeback.

Getty

10/13

Sergi Roberto was duly mobbed by his teammates, as scenes of pandemonium spread around the Nou Camp.

Getty

11/13

Unai Emery, meanwhile, could not look.

Getty

12/13

As our chief football writer Miguel Delaney wrote, the night was one of the sublime, the ridiculous, and the historic.

Getty

13/13

Barcelona progress into the quarter-finals, along with Bayern Munich, Real Madrid and Borussia Dortmund.

Getty
That has been helped by nights like this, nights like Andres Iniesta's goal at Stamford Bridge.
There is a story in Barcelona that that 2009 victory over Chelsea saw birth rates shoot up 40 weeks later. Pique appeared to make cheeky reference to this, when revelling in this win, and reflecting how much it meant."We need to start hiring midwives," the centre-half said. "A lot of love is going to be made tonight."
Luis Enrique's version of "football, bloody hell" was a bit more innocent. "I can only imagine what it must be like for a child coming to the Camp Nou tonight, because an adult would never forget it," the Barca coach said. "This is a crazy, unique sport."
This was a crazy, unique match, and that description does not begin to do it justice. It was supposed to be the end of an era. It was instead a game for the ages.