You could say that Luis Enrique was being fanciful, even delusional, except we've already seen something even more incredible before.
Just as on the eve of his team's 6-1 comeback against Paris Saint-Germain, the Barcelona manager was talking with an impressively assured matter-of-factness about how another "miracle" could rather logically take place ahead of his side's Champions League quarter-final second leg against Juventus.
The scenario he put forward for how the game could pan out, as the Spanish champions seek to overturn a 3-0 deficit, was once again entirely plausible.
The story of Barcelona's incredible comeback against PSG
The story of Barcelona's incredible comeback against PSG
1/13

Barcelona's night got off to the best possible start with Luis Suarez scoring in the 3rd minute.

Getty

2/13

Excellent improvisation from Andres Iniesta caused Layvin Kurzawa to convert the ball into his own net.

Getty

3/13

After the half-time interval, Lionel Messi put his name on the scoresheet from the penalty spot.

Getty

4/13

However, when Edinson Cavani grabbed a vital away goal for the visitors, Barca's hopes looked lost.

Getty

5/13

Cavani could not hide his emotion after scoring the goal which, at that point, had looked to have ended Barcelona's hopes of qualifying.

Getty

6/13

Three minutes from time, Neymar struck back with a splendid free-kick which beat Kevin Trapp at his near post.

Getty

7/13

Into stoppage time, and after Marquinhos' foul, Neymar converted Barcelona's second penalty of the night.

Getty

8/13

In the final minute of added on time, Neymar's lofted pass found Sergi Roberto in the box.

Getty

9/13

The 25-year-old lifted the ball over Trapp and into the far corner to complete the Champions League's greatest-ever comeback.

Getty

10/13

Sergi Roberto was duly mobbed by his teammates, as scenes of pandemonium spread around the Nou Camp.

Getty

11/13

Unai Emery, meanwhile, could not look.

Getty

12/13

As our chief football writer Miguel Delaney wrote, the night was one of the sublime, the ridiculous, and the historic.

Getty

13/13

Barcelona progress into the quarter-finals, along with Bayern Munich, Real Madrid and Borussia Dortmund.

Getty
"The tie can turn around," Luis Enrique said. "If we score the first in the first minute, the second is scored by the stadium, and the third falls by itself."
Then it's up for grabs, as easy as that.
It won't be that easy, of course, but the Barca manager did touch on something that was perfectly illustrated by the PSG game, and is just as important as his side's greater application from the energising knowledge they have done something like this before: the effect of "momentum" in such games, and how its psychological state is influenced by any goals.
If Barca score one early goal, after all, the match is suddenly not about an epic and barely comprehensible comeback. It becomes much more distilled, much more intense. It instead becomes about Juventus holding their nerve in a cauldron that only gets hotter with every home attack.
That was a challenge PSG spectacularly failed.
The other side of that beyond Barca first having to breach that brilliant defence, however, is that Juventus are not PSG. They are much stronger, both in terms of how cohesive they are as a team collective and in mentality.
If Barca do get that early goal, it is impossible to imagine a defence featuring Giorgio Chiellini and Leo Bonucci pathetically panicking in the way the French champions did. They just have that sturdiness and reliability PSG never did, as perfectly evidenced by Bonucci's challenge on Luis Suarez in the first leg, or the manner that Chiellini so defiantly punched the air after another crucial block.
And yet, the oddity of that match was that Barca were far from at their best but still created the better chances and could actually have turned around the 3-0 deficit on the night. They had enough high-quality chances. Suarez on his own could have made this a much nervier second leg for Juve, given that he could so easily have made it 3-2.
If Barca can improve on that even a little, it can genuinely go a long way, and make this a long night for Juve.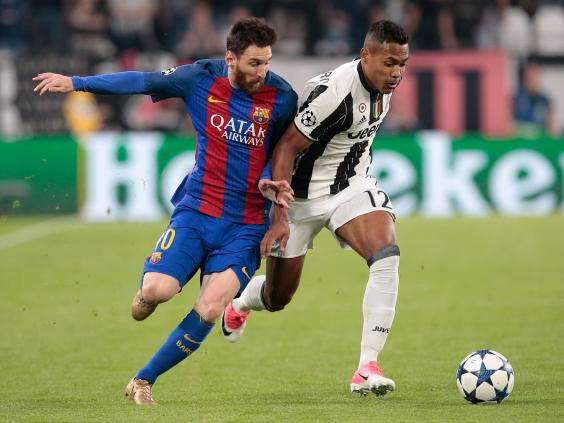 Then there was the ominous form of Leo Messi. He didn't score in Turin, and was far from perfect, but some of his more productive moves - like that pass for Andres Iniesta - suggested a player in the determined mindset to make up for recent drop; to rectify a few wrongs.
It also remains one of the fundamental truths in European football, since he remains one of its finest individual forces: if Messi is properly on it, then all bets are off. Almost anything is possible. He is the sort of player that can make a resounding win over a rival suddenly seem so routine, albeit through the Argentine doing the extraordinary for everyone else. Everyone from Real Madrid to Bayern Munich can testify to that.
The problem for Messi and the rest of the Barca attack is that, even if they are on it, the wonder will be whether the same can be said of their defence. Juve and especially Paulo Dybala found it so easy to get at. The Catalans just seem highly unlikely to keep a clean sheet, as Luis Enrique effectively admitted.
Juventus vs Barcelona player ratings
Juventus vs Barcelona player ratings
1/22 Gianluigi Buffon - 8 out of 10

39 and as good as ever. Denied Andrés Iniesta in the first-half with a superb close-range stop.

AFP/Getty

2/22 Dani Alves - 8 out of 10

An imperious performance against his old team. Strong going forward and solid at the back. Could have done better with an injury-time chance, though.

Getty

3/22 Leonardo Bonucci - 7 out of 10

Fantastic at the back alongside Chiellini and confident bringing the ball out from the back.

Getty

4/22 Giorgio Chiellini - 8 out of 10

A rock in defence and a threat going forward to boot. Monstered Mascherano at the backpost to score his side's third.

Getty

5/22 Alex Sandro - 8 out of 10

Sandro's first-half stats: 100% of tackles won, 100% of aerial duels won, 100% of take-ons completed. Immense.

Getty

6/22 Miralem Pjanic - 7 out of 10

A threat driving forward but also so strong when the opposition are in possession. His positional play is superb.

AFP/Getty

7/22 Sami Khedira - 7 out of 10

Unfortunate to be booked and his passing wasn't as good as it usually is. But still a strong performance.

Getty

8/22 Juan Cuadrado - 7 out of 10

A constant nuisance on the wing although his tendency to cut inside after beating his man is frustrating.

Getty

9/22 Paulo Dybala - 9 out of 10

Outstanding. Scored two sublime first-time goals and evidenced why he is one of Europe's most in demand players.

AFP/Getty

10/22 Mario Mandzukic - 7 out of 10

Got under the skin of the opposition and dominated Sergi Roberto down the wing.

Getty

11/22 Gonzalo Higuain - 6 out of 10

Not his finest game. Missed two presentable opportunities although he did link up well with Dybala.

Getty

12/22 Marc-Andre Ter Stegen - 6 out of 10

Not at fault for any of Juventus' goals. But twice parried the ball back into danger when he would have been better turning it around the post for a corner.

AFP/Getty

13/22 Gerard Pique - 6 out of 10

Failed to make a single tackle all match.

AFP/Getty

14/22 Samuel Umtiti - 6 out of 10

Made a number of important clearances although was caught in possession at the start of the second-half.

Getty

15/22 Jeremy Mathieu - 5 out of 10

Arguably Barcelona's poorest player. Successfully targeted by the Juventus attack.

Getty

16/22 Javier Mascherano - 5 out of 10

Failed to mark Chiellini from a corner, which directly led to the third Juventus goal.

Getty

17/22 Sergi Roberto - 6 out of 10

Struggled against Mandzukic. Dani Alves would have done a far better job...

Getty

18/22 Andres Iniesta - 6 out of 10

Spurned Barcelona's best chance of the match. Tired late on.

AFP/Getty

19/22 Ivan Rakitic - 6 out of 10

Largely anonymous. His passing left a lot to be desired.

AFP/Getty

20/22 Lionel Messi - 7 out of 10

Playing in a deeper position, tried in vain to set up one of his team-mates. Played one of the passes of the season to set up Iniesta, whose shot was saved.

AFP/Getty

21/22 Luis Suarez - 6 out of 10

A difficult night for Suarez, who battled hard but lacked his usual quality in the penalty area.

AFP/Getty

22/22 Neymar - 5 out of 10

Needed a big performance after his mindless red-card against Malaga. Didn't deliver.

AFP/Getty
"Our objective is to score five goals in case they score as well."
At the very least, Sergio Busquets is back, and that does completely change how commanding Barca are behind the midfield. The hope for them is that their attack can be on such focused form that they pin Juve back so they can barely get near Andre ter Stegen's goal because, even allowing for momentum and psychological swings in such matches, properly hammering a side like Juve by more than four goals is very different to even just getting the three against them to go level.
This is going to require a different level, probably even to what happened against PSG.
As incredible as brilliant as that comeback was, it was still something of a freak occasion, amplified by how fragile the French were.
Barca have to be even better than that night, to pull off a comeback that isn't fundamentally as big, but still looks so much more difficult. That's the stark reality, but may need almost-deluded belief to pull off.
Reuse content