Some on the Paris Saint-Germain side readily admitted it. In their dressing room, there were tears.
That's completely understandable, even if so much of this scarcely believable game was not. One of the most relevant reasons for this sensational Barcelona comeback was that the French champions just psychologically collapsed. There is one stat from that that is almost as stunning as the game. PSG completed just four passes between the 85th minute and the final whistle, and three of those were from kick-offs after conceding the decisive goals. They fell apart.
One of the most relevant outcomes of that, though, is what it will do to the team and maybe the club.
The story of Barcelona's incredible comeback against PSG
The story of Barcelona's incredible comeback against PSG
1/13

Barcelona's night got off to the best possible start with Luis Suarez scoring in the 3rd minute.

Getty

2/13

Excellent improvisation from Andres Iniesta caused Layvin Kurzawa to convert the ball into his own net.

Getty

3/13

After the half-time interval, Lionel Messi put his name on the scoresheet from the penalty spot.

Getty

4/13

However, when Edinson Cavani grabbed a vital away goal for the visitors, Barca's hopes looked lost.

Getty

5/13

Cavani could not hide his emotion after scoring the goal which, at that point, had looked to have ended Barcelona's hopes of qualifying.

Getty

6/13

Three minutes from time, Neymar struck back with a splendid free-kick which beat Kevin Trapp at his near post.

Getty

7/13

Into stoppage time, and after Marquinhos' foul, Neymar converted Barcelona's second penalty of the night.

Getty

8/13

In the final minute of added on time, Neymar's lofted pass found Sergi Roberto in the box.

Getty

9/13

The 25-year-old lifted the ball over Trapp and into the far corner to complete the Champions League's greatest-ever comeback.

Getty

10/13

Sergi Roberto was duly mobbed by his teammates, as scenes of pandemonium spread around the Nou Camp.

Getty

11/13

Unai Emery, meanwhile, could not look.

Getty

12/13

As our chief football writer Miguel Delaney wrote, the night was one of the sublime, the ridiculous, and the historic.

Getty

13/13

Barcelona progress into the quarter-finals, along with Bayern Munich, Real Madrid and Borussia Dortmund.

Getty
This was supposed to be a transformative night for PSG, and it might well prove so, just not in the way they could have ever imagined. Far from finally taking the next step against one of Europe's super clubs, they regressed, failing to reach the quarter-finals for the first time since 2012. That, however, is a mere trivial detail in what could end up a deeply traumatic night. "It's difficult to cope with," Thiago Silva said.
It is not just that they were knocked out, or even that Barca completed the comeback so talked about before the game. It was that they recovered from the initial onslaught and actually scored the goal that should have put them in the last eight. Instead, it only heightened the feeling of utter failure, because it made the collapse all the more pronounced and exquisite. It was a humiliation.
It also makes this one of those results that leaves a stain on a club that is almost impossible to live down, in the same way that Atletico Madrid's last-minute defeat in the 2014 Champions League final became so newly emblematic of their old neuroses as a club. PSG could now have an even greater neurosis about this competition. Far from announcing themselves as part of the European elite, they ensured that their very name will now always be associated with being on the calamitous side of amazing comebacks. It was that bad, and they face the danger of becoming that bad a joke.
Already so obsessed with winning the Champions League, PSG now desperately have to win it to cleanse themselves of this horror show; to give themselves the kind of memory that actually trumps this.
They have never looked further away, and that will make it all the more traumatic, because they had thought themselves so close. Now, more introspection is required. They have to think about what they do differently.
They will probably do what most clubs do in such situations, mind: sack the manager, even if at the end of the season.
Unai Emery was oddly calm and composed after the game, not looking in any way devastated in the manner you might expect, but that might be because he has already accepted his fate. He was also quite gracious. Although Emery pointedly mentioned how "refereeing decisions went against us", it wasn't like he was using it as an excuse.
Then again, how can you excuse that? Even if the Barcelona penalties were as dubious as those here, you can't really complain about that when the most basic instruction before the game - a Champions League knock-out no less - is 'just don't lose by five'.
"We lost everything in the closing minutes," Emery admitted.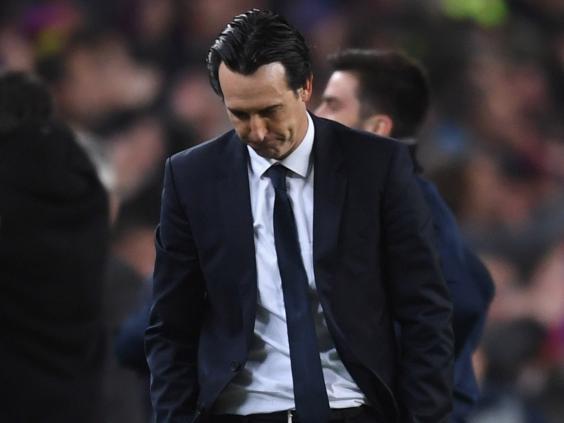 If it now seems certain that he will lose his job, it's tough not to wonder what this will do for some of the players. This should have been the night that Edinson Cavani banished so many complaints about how many big chances he missed, given that he scored what should been the big goal to make it 3-1, only to then squander a much easier chance at 3-2.
You'd wonder how Angel Di Maria would have reacted to that. A former Real Madrid player, he made a shushing gesture to the crowd when Cavani scored.
There was only disquiet when he was through on goal at 4-1, but the Argentine missed in a way arguably worse than Cavani. He could have killed the game, but only did further damage to his reputation.
Barcelona vs PSG player ratings
Barcelona vs PSG player ratings
1/22 Marc-Andre ter Stegen - 6 out of 10

Was rarely tested on an evening when all the action was taking further place up the pitch. Did his job when called upon.

Getty

2/22 Gerard Piqué - 7

Defiant and resilient throughout, displaying composure at the back and technical ability on the ball too.

Getty Images

3/22 Javier Mascherano - 7

Gave his all. Showed his intent from the start, putting in a series of important challenges and blocks.

AFP/Getty Images

4/22 Samuel Umtiti - 7

Dominant in the air and dominated in his battles with Cavani.

Getty Images

5/22 Rafinha - 6

Dangerous in drifting in from the flank and excellent in finding the right space but some of his deliveries were off the mark. Nonetheless, proved to be a nuisance for much of the night.

Getty

6/22 Sergio Busquets - 6

It was a scrappy and frantic night for the Spaniard. His challenges were mistimed and his passes misjudged but his energy was still invaluable in Barcelona's pressing game.

Getty Images

7/22 Ivan Rakitic - 7

A bundle of enegery throughout. His challenges were vital in breaking up PSG's forward game but almost cost Barcelona the game in allowing Kurzawa to set up Cavani for his away goal.

Getty Images

8/22 Andres Iniesta - 7

Pulled the strings for much of the, playing passes left, right and centre, and wasn't afriad to try his luck from outside the box. Dwindled in influence as the game wore on.

AFP/Getty Images

9/22 Lionel Messi - 7

Here, there, everywhere. It was another trademark performance from the Argentine but on this occasion he wasn't the man who Barcelona turned to.

AFP/Getty Images

10/22 Luis Suárez - 7

Showcased the best of his poaching abilities to snatch Barcelona's first goal and proved to be a menace for the entire 95 minutes.

AFP/Getty Images

11/22 Neymar - 9

Absolutely sensational. Was instrinsic to Barcelona's late fightback, scoring their first fourth and fifth goal before setting up Sergi Roberto's winner with an exquisite assist.

Getty

12/22 Kevin Trapp - 5

Poor decision-making handed Barca their first and failed to effectively deal with Iniesta's back-pass for the second.

AFP/Getty Images

13/22 Thomas Meunier - 4

His ill-timed foul on Neymar handed Barca their first penalty and third goal. Let down by sloppy mistakes.

AFP/Getty Images

14/22 Marquinhos - 4

Should have done much better for Barcelona's second, failing to assert himself against Iniesta inside his own box. It was night to forget in all for him.

AFP/Getty Images

15/22 Thiago Silva - 6

As ever, Silva was PSG's warrior. But although he rarely shirked a challenge even he was suspectible to lapses in concentration tonight and poor decision-making.

Getty Images

16/22 Layvin Kurzawa - 4

His disastrous attempt at a goal-line clearance handed Barcelona their second and he clearly struggled against Rafinha's pace and trickery. Impressive assist for Cavani's goal but, in all, the occasion appeared to get to him.

AFP/Getty Images

17/22 Adrien Rabiot - 5

Failed to deal with Barcelona's high-intense approach and incessant press.

AFP/Getty Images

18/22 Marco Verratti - 6

Started well but grew increasingly timid and quiet as the game wore on. Conceded a number of unnecessary challenges.

AFP/Getty Images

19/22 Blaise Matuidi - 4

Little of note to say. Looked overwhelmed at times.

Getty Images

20/22 Lucas Moura - 5

Kept himself busy in the first half but was repeatedly targeted by Barcelona's enforcers and struggled to shine as a result.

AFP/Getty Images

21/22 Edinson Cavani - 6

Did what was asked of him in expertly clinching PSG's vital away goal. Should have converted an early second-half chance though. Let down by his team-mates.

Getty Images

22/22 Julian Draxler - 5

Another player who failed to live up to the big occasion.

AFP/Getty Images
That, however, was just one of many moments when PSG players lost their heads and thereby their composure. The tone and pattern was set so early in the game with that first Luis Suarez goal, given that it came about largely because of the utter panic in their box as much as the Barca striker's hunger. It did not bode well, and they continued to make so many nervous mistakes.
"We didn't play today," Silva admitted, having had a personal nightmare. "We were on the pitch, but we didn't do anything we prepared."
They could barely say anything either.
"Those five minutes, I can't find an explanation," Marco Verratti stated of how the game ended, a grand finale for Barcelona and everyone else, a very public execution for this club, their players and probably their manager.
"It's a negative experience for me and for the club," Emery said with considerable understatement. "We need to learn from it."
They need to do much more than that. And first, they just need to recover from it. That is likely going to take a long time, as those tears illustrate.
Reuse content