Barcelona completed one of the most sensational comebacks in the history of football by beating Paris Saint-Germain 6-1 to reach the Champions League quarterfinals on Wednesday, scoring the decisive goal of a 6-5 victory on aggregate in the fifth minute of stoppage time. 
Sergi Roberto's dramatic late goal sent the Nou Camp into hysteria and made Barcelona the first team ever to overturn a 4-0 first-leg defeat since the Champions League format started in the 1992-93 season. 
PSG seemed certain to go through after Edinson Cavani scored a valuable away goal following Barcelona's opening salvo of three goals. But Barcelona rallied and left the French champions stunned.
Barcelona vs PSG player ratings
Barcelona vs PSG player ratings
1/22 Marc-Andre ter Stegen - 6 out of 10

Was rarely tested on an evening when all the action was taking further place up the pitch. Did his job when called upon.

Getty

2/22 Gerard Piqué - 7

Defiant and resilient throughout, displaying composure at the back and technical ability on the ball too.

Getty Images

3/22 Javier Mascherano - 7

Gave his all. Showed his intent from the start, putting in a series of important challenges and blocks.

AFP/Getty Images

4/22 Samuel Umtiti - 7

Dominant in the air and dominated in his battles with Cavani.

Getty Images

5/22 Rafinha - 6

Dangerous in drifting in from the flank and excellent in finding the right space but some of his deliveries were off the mark. Nonetheless, proved to be a nuisance for much of the night.

Getty

6/22 Sergio Busquets - 6

It was a scrappy and frantic night for the Spaniard. His challenges were mistimed and his passes misjudged but his energy was still invaluable in Barcelona's pressing game.

Getty Images

7/22 Ivan Rakitic - 7

A bundle of enegery throughout. His challenges were vital in breaking up PSG's forward game but almost cost Barcelona the game in allowing Kurzawa to set up Cavani for his away goal.

Getty Images

8/22 Andres Iniesta - 7

Pulled the strings for much of the, playing passes left, right and centre, and wasn't afriad to try his luck from outside the box. Dwindled in influence as the game wore on.

AFP/Getty Images

9/22 Lionel Messi - 7

Here, there, everywhere. It was another trademark performance from the Argentine but on this occasion he wasn't the man who Barcelona turned to.

AFP/Getty Images

10/22 Luis Suárez - 7

Showcased the best of his poaching abilities to snatch Barcelona's first goal and proved to be a menace for the entire 95 minutes.

AFP/Getty Images

11/22 Neymar - 9

Absolutely sensational. Was instrinsic to Barcelona's late fightback, scoring their first fourth and fifth goal before setting up Sergi Roberto's winner with an exquisite assist.

Getty

12/22 Kevin Trapp - 5

Poor decision-making handed Barca their first and failed to effectively deal with Iniesta's back-pass for the second.

AFP/Getty Images

13/22 Thomas Meunier - 4

His ill-timed foul on Neymar handed Barca their first penalty and third goal. Let down by sloppy mistakes.

AFP/Getty Images

14/22 Marquinhos - 4

Should have done much better for Barcelona's second, failing to assert himself against Iniesta inside his own box. It was night to forget in all for him.

AFP/Getty Images

15/22 Thiago Silva - 6

As ever, Silva was PSG's warrior. But although he rarely shirked a challenge even he was suspectible to lapses in concentration tonight and poor decision-making.

Getty Images

16/22 Layvin Kurzawa - 4

His disastrous attempt at a goal-line clearance handed Barcelona their second and he clearly struggled against Rafinha's pace and trickery. Impressive assist for Cavani's goal but, in all, the occasion appeared to get to him.

AFP/Getty Images

17/22 Adrien Rabiot - 5

Failed to deal with Barcelona's high-intense approach and incessant press.

AFP/Getty Images

18/22 Marco Verratti - 6

Started well but grew increasingly timid and quiet as the game wore on. Conceded a number of unnecessary challenges.

AFP/Getty Images

19/22 Blaise Matuidi - 4

Little of note to say. Looked overwhelmed at times.

Getty Images

20/22 Lucas Moura - 5

Kept himself busy in the first half but was repeatedly targeted by Barcelona's enforcers and struggled to shine as a result.

AFP/Getty Images

21/22 Edinson Cavani - 6

Did what was asked of him in expertly clinching PSG's vital away goal. Should have converted an early second-half chance though. Let down by his team-mates.

Getty Images

22/22 Julian Draxler - 5

Another player who failed to live up to the big occasion.

AFP/Getty Images
Here are five things we learned...
Neymar rises to the occasion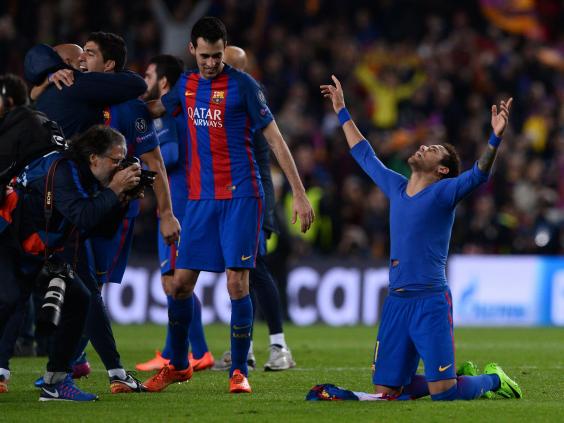 All the pre-match build-up had focused on Messi and what the Argentine wizard would bring to the game but, on the big occasion, it was his fellow South American who stepped up to the plate and delivered.
His energy was infectious and his composure on the ball gave little indication that that this was an all-or-nothing showdown in the last-16 of the Champions League.
His stunning free-kick was what kick-started Barcelona's late, late fightback before his penalty kick three minutes later put the home side in reaching distance of the impossible. And then, in a moment of sheer class, he floated in an exquisite delivery to set Sergi Roberto up for the winner. An inspired evening from the Brazilian.
Progress? What progress?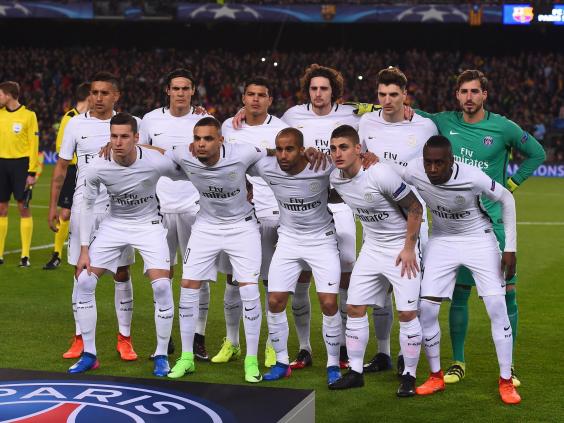 For all of their riches and for all of their domestic glory, continental success had long eluded Les Rouge-et-Bleu, one solitary UEFA Cup Winners' Cup aside. But after that swaggering 4-0 victory in Paris, the consensus was that PSG had finally come of age in European competition. 
And then all of that hard work was undone in one single, unforgettable night in Barcelona. PSG started tentatively, conceding within the first 120 seconds, and things only got worse from thereon in for the French champions.
They made giant strides forward in Paris but, rather perversely, this season marks the first time they have failed to reach the quarter-finals of the Champions League in four years. 
Worse, the mental scars from this performance will last long after the season has finished. With Monaco and Nice also battling hard in Ligue 1, there are an awful lot of pieces for Unai Emery to pick up, in very little time.
Barcelona prepared to play dirty
Rarely has an average position graph caused quite so much amusement on Twitter. Because at half-time, the stats showed that Barcelona had played the entire first 45 minutes with their defence spending more time in PSG's half than their own.
It was a high-risk strategy that paid off. PSG only needed to score one goal to seemingly kill the tie, which Cavani duly grabbed in the second-half. But still Barcelona pressed on, in the ultimate backs-against-the-wall, attacking performance.
Their first two goals — opportunistic, scrappy, physical — exemplified their approach as they abandoned their free-flowing principals and went for the jugular. And it was fitting that the move that led to their winning goal was initiated by a rampaging Marc-Andre ter Stegen winning the ball in PSG's other.
Luis Enrique abandoned his principals in favour of pragmatism against PSG: one of the most famous victories in the history of the club was his reward.
A tale of two goalkeepers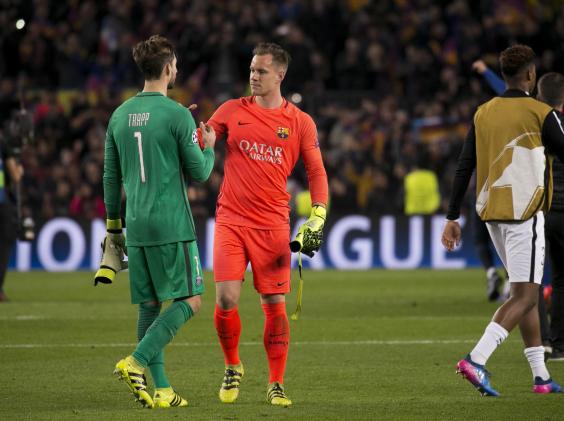 Appropriately for this crazy, crazy match, both goalkeepers played a part in Sergi Roberto's scarcely believable winning goal.
With less than a minute left to play and Barcelona still remaining one goal, Ter Stegen hared down the pitch to join the attack and, while recycling possession for one last, long punt down-field, he was hacked down by Veratti. The referee awarded a free-kick, the ball was swung into the box and Sergi Roberto volley over Kevin Trapp and the rest, already, is history.
PSG's defence completely fell to pieces at the Nou Camp, but Trapp particularly struggled and looks a long way short of the required standard.
In the summer, PSG allowed Salvatore Sirigu on loan to Seville. Trapp has done little to prove he is a more adept keeper and that decision now looks especially rash.
Cavani delivers his end of the bargain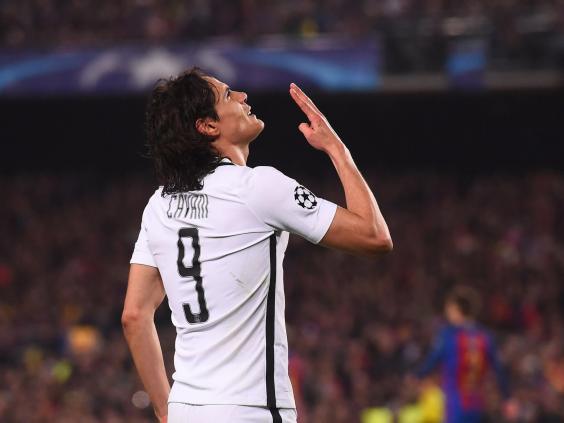 What a shame an in-form Edinson Cavani will not grace the latter stages of this tournament.
That's not to suggest the Uruguayan was infallible against Barcelona. In fact, he ended up missing a number of presentable opportunities, seeing one shot well saved by Marc-Andre ter Stegen and hitting the post at the start of the second-half.
But that is Cavani's way. His conversion rate may be middling but in this form he seems to guarantee a goal: his effort against Barcelona making him PSG's joint-highest scorer in the Champions League alongside Zlatan Ibrahimovic.
On a night that PSG's defence fell to pieces, Cavani made good on his end of the bargain. He can consider himself unfortunate to be on the losing team.