Somewhere in a parallel universe Luis Suarez is scoring jaw-dropping volleys in an Arsenal shirt and Arsène Wenger doesn't go out of the Champions League in the last 16. Not here, though. 
The man for whom Arsenal famously bid £40,000,001 in 2013 gave another demonstration last night of why he is worth at least double that with a stunning volley that put paid to Arsenal's European aspirations for another season. 
The goal came just as Arsenal were beginning to believe they could pull off what would have been the shock of their Champions League history. Mohamed Elneny had equalised Neymar's opener and they had come close to scoring the first of the two goals they needed to go ahead on aggregate. But Dani Alves found space on the right and, when he crossed deep to Suarez, the Uruguayan sprang from the wet Nou Camp turf and thundered a right-footed volley past David Ospina. 
Lionel Messi added a third and the win extended Barcelona's unbeaten run to 38 games. That's a whole season in league terms. Wenger once coached a team who did exactly that – this Barcelona side, with Suarez leading from the front, are every bit as worthy of the "Invincibles" tag.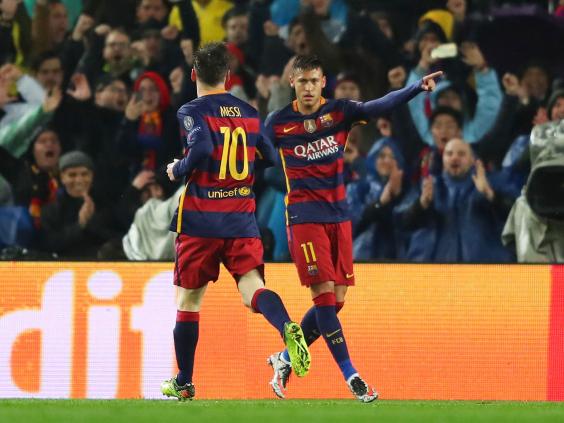 Arsenal started well enough. Suarez miskicked as he tried to play his first pass and then Danny Welbeck sliced the ball out of play, but the referee gave a corner despite protests from Barcelona defenders. Perhaps things were going to go  Arsenal's way.
As their manager, Luis Enrique, had promised, Barcelona attacked as if chasing the game and that gave Arsenal licence to counter-attack into the wide open spaces of the Nou Camp. Mesut Özil got away from Sergio Busquets but his shot went just wide of Marc-Andre ter Stegen's right-hand upright.
Barcelona 3 Arsenal 1 player ratings
Barcelona 3 Arsenal 1 player ratings
1/22 Barcelona: Ter Stegen 6 out of 10

For 80 minutes Ter Stegen had little to do despite Arsenal's goal. But then he made an impressive double save from Sanchez and Giroud denied the visitors the equaliser they deserved.

2/22 Alves 6 out of 10

A sumptuous cross for Suarez's goal capped yet another quietly excellent game for Alves, who dealt well with the impressive Iwobi and Ozil.

3/22 Mascherano 6 out of 10

At times seemed to struggle with the direct running in behind of Arsenal's attack but made a potentially decisive block on Welbeck with the visitors chasing their second.

4/22 Mathieu 5 out of 10

Could have been punished on more than one occasion for some sloppy defending. A more incisive attack than Arsenal's would have made him pay.

2016 Getty Images

5/22 Alba 7 out of 10

An under-rated star of this Barcelona side, he helped the hosts apply real pressure down the left flank, bombing forward and providing a series of superlative passes for Neymar and company.

2016 Getty Images

6/22 Rakitic 7 out of 10

Once more Rakitic was quietly impressive, winning the ball back with a string of interceptions and tackles to add to his sumptuous passing.

2016 Getty Images

7/22 Busquets 6 out of 10

Not at his very best in defence, too often bypassed by Arsenal's midfield runners, he still controlled Barcelona's tempo in the attack, providing outballs for attackers and recycling possession.

2016 The Arsenal Football Club Plc

8/22 Iniesta 7 out of 10

When Arsenal equalised Iniesta took control of the Barcelona side, calming nerves in the Barcelona side by dictating possession. It was typical of a mature display from the captain.

2016 Getty Images

9/22 Messi 7 out of 10

For all the efforts of his team-mates to lay a goal on a plate for him, Messi struggled against his Copa America foe Ospina until a fabulous late chip.

10/22 Suarez 8 out of 10

Varied his position intelligently to drag Arsenal's backline out of position, playing more of a creative role than that of a No.9. It worked, with Sanchez providing Neymar's assist before his own moment of magic.

2016 Getty Images

11/22 Neymar 8 out of 10

A clinical finish to nab the opener was no less than had been expected of Neymar, who was a joy to watch throughout the match, providing a string of fabulous passes for team-mates.

12/22 Arsenal: Ospina 7 out of 10

Did his fair share in ensuring Arsenal stayed in the tie with a fantastic save from Messi moments before an opener he could do nothing about. Continued to make key saves throughout.

13/22 Bellerin 6 out of 10

As is so often the case in big European nights Bellerin struggled mightily early on but came roaring back under pressure, refusing to be bowed by Neymar and continually springing forward.

2016 Getty Images

14/22 Gabriel 7 out of 10

A really impressive display from one of Arsenal's worst players in recent weeks, he threw himself in when required but also showed the composure and authority that he has been lacking of late.

15/22 Koscielny 5 out of 10

Culpable for the goal that effectively ended the tie, losing the ball bringing it out of defence. It was a cardinal error and it left his team-mates high and dry after an impressive start.

2016 Getty Images

16/22 Monreal 5 out of 10

With Alba outstanding at the other side Monreal's indifferent delivery and lack of pace were only shone in a more unfavourable light in a very poor game for the full-back.

2016 Getty Images

17/22 Elneny 7 out of 10

Another encouraging display for the midfielder, capped by a stylish first goal in an Arsenal shirt. Strong enough in the tackle he certainly looks decent backup for when Santi Cazorla returns.

2016 The Arsenal Football Club Plc

18/22 Flamini 5 out of 10

Spent 45 minutes proving social media right with a performance of exceptional indifference, with his only major contribution being a needless yellow card.

19/22 Sanchez 6 out of 10

Raised his game up to his usual standards after his recent woes but remains too rusty in front of goal. He impressed as a provider though, laying on Elneny's goal.

2016 The Arsenal Football Club Plc

20/22 Ozil 6 out of 10

Was left bemoaning the profligacy of his team-mates in a first half where he provided the chances for Arsenal to bust the tie back open.

2016 The Arsenal Football Club Plc

21/22 Iwobi 6 out of 10

Was not overawed by the occasion with all eyes on him and his cutting infield gave Alves plenty to worry about. How Wenger would have wished he didn't trip himself up in the area when through on goal though.

22/22 Welbeck 5 out of 10

At times Welbeck looks like he's playing on ice and is far too nervy with the ball at his feet. It cost Arsenal dearly, he should have scored one of the two chances he had when one-on-one with Mascherano.

2016 Getty Images
Barcelona were guilty of over-elaborating with their next attack, Jordi Alba playing one too many passes looking for Messi on the edge of the six-yard box.
The conditions were making it difficult for some players and were helping others. Ter Stegen almost slipped as he tried to play his way out of his own six-yard box. But Hector Bellerin flew down the right leaving Alba in his wake – not many players are capable of doing that.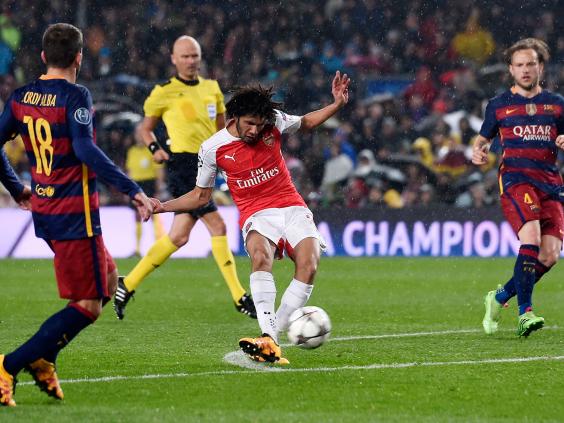 Messi plays the same way whatever the weather and he had the first clear-cut chance of the night. Neymar played a long diagonal ball into the box, Messi took one touch to bring the ball under his spell and then went for power but Ospina spectacularly turned his shot away for a corner, which Jérémy Mathieu headed wide.
Arsenal were beginning to wobble and Neymar opened the scoring after 18 minutes. Suarez made the goal, doggedly harrying the Arsenal defenders into mistakes and winning the ball in space 30 yards out before sliding the perfect pass to Neymar, who had got goalside of a back-tracking Bellerin. The  Brazilian beat Ospina at his near post for his 80th goal in a Barcelona shirt.
The Bellerin-Alba contest was fascinating – two Barça boys born and raised who both felt they had to go elsewhere to further their careers. Alba is back at the Nou Camp after making the grade at Valencia and Bellerin was impressing supporters who believe he could, like Alba, come back and play for them some day. Alba got behind Bellerin with their next attack but Neymar failed to beat Ospina from  his cross.
Arsenal were still threatening on the break, but without making the breakthrough. Alex Iwobi tripped himself up in the penalty area under pressure from Javier Mascherano and referee Sergei Karasev waved for him to get to his feet. Replays showed the Argentine defender had nudged the Arsenal forward before he got himself in a tangle. 
Alexis Sanchez then had the chance to silence the stadium that had once applauded him. Bellerin crossed from the right and the Chilean rose to meet the cross but headed it well wide. Shortly afterwards, Mascherano took the ball off of Welbeck's toe as he prepared to shoot from inside the six-yard box. 
Arsenal were enjoying their best spell of pressure but, as they found out in the first leg, this Barça team can play on the break if they have to and Messi underlined that threat when he drifted away from Iwobi with a sublime first touch.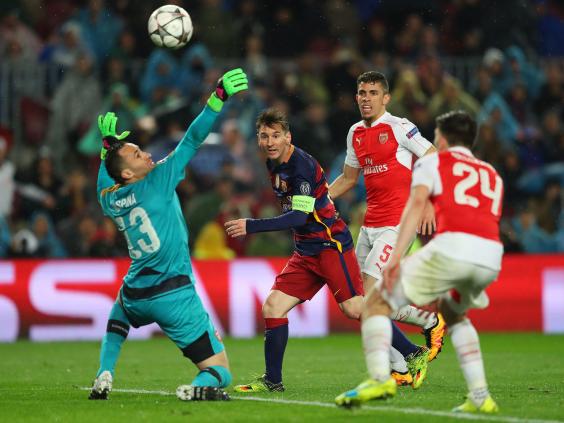 >Arsenal's football had been good in the first half but, as in the meeting at the Emirates three weeks ago, Barcelona had taken their chance and Wenger's team had not. His tactic of playing Mathieu Flamini did not make it to half-time as the midfielder hobbled off just before the break, replaced by Francis Coquelin.
The rain was still coming down on the 2,000 or so Arsenal supporters high up in the third tier of the Nou Camp, but six minutes into the  second half they finally had something to celebrate. 
Sanchez played the ball inside to Elneny and, from the edge of the area, he hit an unstoppable shot that flew into the roof of Ter Stegen's net. Just another two goals and the miracle comeback would be well and truly on.
Welbeck almost took Arsenal halfway there from just inside the Barcelona area but, for the second time on the night, Mascherano blocked with a goal-saving challenge. 
Barcelona's lethargy was encouraging Arsenal and only their finishing was letting them down. Welbeck headed Özil's corner wide as they kept up the pressure without the end product. Luis Enrique, soaked in his technical area, was now concerned. He needn't have been. 
After 65 minutes Alves crossed from the right and Suarez scored the best goal of the 43 he has hit in all competitions this season. The rocket volley from Alves' cross was a goal as soon as he took flight to get his full body weight behind the ball.
There was still time for Messi to add a third on the night, giving Gabriel the slip and shooting high into Ospina's net. For Arsenal, Sanchez forced Ter Stegen into a fine save from a well-struck free-kick but the night belonged to Suarez – the man who replaced him at Barcelona and the man whom Arsenal once tried to sign.
Reuse content