Pep Guardiola has admitted Manchester City would be in the queue to sign Lionel Messi if the Barcelona forward decides to 'go and play somewhere else' before the end of his career.
Former Barcelona coach Guardiola faces the Spanish champions on Wednesday evening for only the second time since ending his four-year reign as coach at the Nou Camp in 2012.
And Argentine forward Messi is set to start against City after returning to action at the weekend following a recent injury lay-off.
Messi has proven to be the architect of City's downfall during two second-round encounters between the two clubs in recent seasons, but the 29-year-old's long-term future in Catalonia remains uncertain.
Yet despite firmly rejecting Spanish claims that he had contacted some of Barcelona's outfield players this summer – Guardiola admitted to speaking to goalkeepers Marc-Andre Ter Stegen and Claudio Bravo – the City manager insisted he would be one of many coaches interested on luring Messi away from Barcelona.
"I never, never called Leo Messi," Guardiola said. "In the case of Leo, I really hope he plays and finishes his career here [in Barcelona], but maybe one day, he will want to go and play somewhere else.
"Maybe he wants his kids to speak English and live somewhere else. If he decided that, there would be a list of 6, 7, 8 clubs, but Leo will decide where he goes."
"I didn't call any player on the phone," Guardiola added. "I know there are some wars that are lost before they even start.
"I'm not going to justify my words against what is said, but it would be nice if you can hear both versions.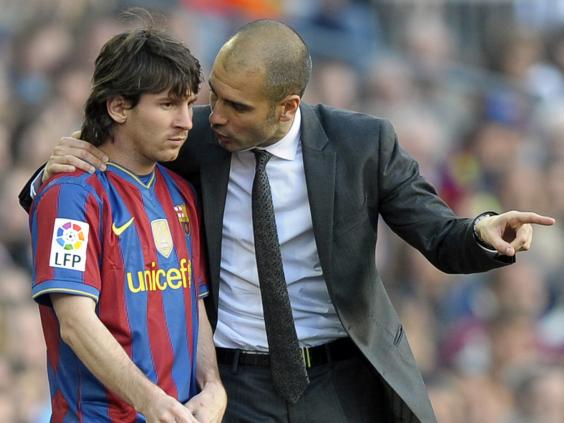 "I called Thiago (Alcantara) at time I moved to Munich because his representative is my brother and he came to Bayern.
"But this summer, I never called Messi, Neymar, Busquets, Suarez, Iniesta, anybody.
"Ter Stegen? We got in touch, because we knew he wanted to play all the time and he was not happy with the situation, but Claudio Bravo came and Ter Stegen decided to play.
"If I ever called a player in another team it would be because he's not playing."
City travel to Barcelona having dropped two points against Celtic when drawing 3-3 in Glasgow earlier this month – a result which Guardiola believes now opens up the group.
Ter Stegen? We got in touch, because we knew he wanted to play all the time and he was not happy with the situation.
"We need points," he said. "If you lose two points against the fourth team in your group, you are forced to wait until last match day to qualify.
"This is a good test for Manchester City, to see where we're at. We are playing one of the best teams and it will be interesting to see how we respond because we need points.
"I would like to go home with a good result for the group stage."
Having admitted that Luis Enrique's team gave his Bayern side a 'bit of a whipping' with a 3-0 victory in the Nou Camp in the 2014-15 semi-finals, Guardiola accepts that City face a true test of their credentials on Wednesday.
But while admitting there is no way to stop Messi, Luis Suarez and Neymar, Guardiola insists he is happy to face Messi tomorrow night.
"I'm going to play against Barca first of all, not against Messi," Guardiola said. "But the best player is Messi, I am happy he has recovered from injury and happy he is back on the pitch.
"It's always a pleasure to see him play and I am happy he can play tomorrow.
"I have always thought that with great players like Leo, Suarez and Neymar, Barcelona are very good when they have the ball.
"You need to be aggressive and ensure they have the ball as little as possible.
"But I don't know what instructions I can give to the defenders to control the talent.
"Ninety minutes is a long time, they will have a moment and, when they have a moment, they are so special.
"They don't need a lot of chances to score a goal, that's the big talent of Barcelona.
"It will be very hard."
Reuse content