It could be a very long journey back into the Champions League for Manchester United after tonight, and a last glance over their shoulder at the unstoppable football machine that resides in the Allianz Arena will tell them how far they have to come.
Bayern Munich are one of the greatest teams of the modern era, they might end up being the greatest team of the modern era, but either way they were far too good for David Moyes' team. United kept the monster at bay for a while, they even took the lead through Patrice Evra's remarkable goal before the hour, but when the true might of Bayern was unleashed upon them, they had no response.
For all that was commendable in United's performance, and there were some excellent performances from the likes of Chris Smalling and Phil Jones, it was a reminder of what they have become since those days when they reached three finals in four years. They are second tier now, one of those sides who play the big guns in hope rather than expectation. Even worse, the likelihood is that they have played their last Champions League game for at least one season.
It was always a faint hope that United might win this competition to ensure their participation next season. Now that is gone they are left a miserly seventh in the Premier League, seven points off fourth place with five games to play. The likelihood is that for the first time in 18 years they will not be in the Champions League next season to share a pitch with the likes of Bayern, much less try to beat them over two games.
Bayern Munich 3 Manchester United 1 (agg: 4-2): Second leg player ratings
Bayern Munich 3 Manchester United 1 (agg: 4-2): Second leg player ratings
1/22 Manuel Neuer 6/10

Steady showing but not overly worked before break. Could not be faulted for Evra's howitzer and dealt well with sporadic United attacks thereafter

GETTY IMAGES

2/22 David Alaba 6

Offered strong presence for Bayern and did well standing up to direct running of Valencia. Never switched off and enjoyed a quieter second half

GETTY IMAGES

3/22 Dante 6

Brazilian was back in centre of defence of being banned for first leg. Was not greatly troubled by a struggling Rooney as United lacked attacking spark

GETTY IMAGES

4/22 Jerome Boateng 6

Was kept busier than might have been expected as United held their own before the interval. Almost cleared into his own net in comical fashion

GETTY IMAGES

5/22 Philipp Lahm 7

Stationed in now unfamiliar right-back role. Strong challenge on Evra went unpunished. Pushed forward at 1-1 and change worked wonders

GETTY IMAGES

6/22 Toni Kroos 6

Has been strongly linked with United in recent weeks and put on a committed show here. Sent one effort over from distance and tracked United runners

GETTY IMAGES

7/22 Mario Gotze 7

German helped control proceedings in centre of park in first half. Taken off for Rafinha as Bayern reshuffled to take the game away from United

GETTY IMAGES

8/22 Thomas Muller 6

Scuffed Bayern into lead after Robben afforded time on United's left, again proving the scourge of English opposition. Struggled for the ball at times

GETTY IMAGES

9/22 Franck Ribery 7

Always prompting and probing but contained well by Fletcher and Carrick. Caught offside early on before finding side netting with one shot

GETTY IMAGES

10/22 Arjen Robben 8

Picked up where he left off at Old Trafford, driving forward at United backline. Allowed time and space to set up second before dancing through for third

GETTY IMAGES

11/22 Mario Mandzukic 6

Slow to react to one ball into box, Smalling getting in well to clear. Caused Vidic to get early booking and quiet until he stooped for quickfire equaliser

GETTY IMAGES

12/22 David De Gea 6

Not tested in first half as Robben and Ribery shot wide. Left exposed for Bayern's quick double before allowing Robben effort to squirm in

GETTY IMAGES

13/22 Patrice Evra 6

Played key part in United's first-half containment job as Bayern were frustrated. Fine strike for goal but found wanting at back, at fault for hosts' last two

14/22 Nemanja Vidic 6

Goal hero from first leg was walking tightrope early on after harsh yellow for challenge on Mandzukic. Failed to stop Robben from sending in third

GETTY IMAGES

15/22 Chris Smalling 8

Surprisingly chosen ahead of Ferdinand in first European start since loss in Olympiakos but performed heroics before United tired. Blocked Robben effort

GETTY IMAGES

16/22 Phil Jones 8

Caught out of position after early surge down the right but made vital block on Robben. Recovered to put in one of his best showings in United shirt

GETTY IMAGES

17/22 Darren Fletcher 7

Provided valuable extra cover in first European start for 17 months, linking up well with Carrick. Bayern's extra fitness ultimately showed at the end

GETTY IMAGES

18/22 Michael Carrick 6

Calm in possession and made vital interceptions as United more than held own in a busy midfield. Unable to react late on as game ran away from United

GETTY IMAGES

19/22 Shinji Kagawa 6

Given starting berth following recent form and drove effort straight at Neuer for game's first shot on target. Not as effective as would have hoped

GETTY IMAGES

20/22 Antonio Valencia 6

Saw effort ruled out for offside when poking in Rooney cross and was caught out by Ribery. Cross set up Evra's opener and enjoyed battle with Alaba

GETTY IMAGES

21/22 Wayne Rooney 5

Was he ever going to be left out? Might as well have been for all the impact he made. Fluffed lines badly when played in by Welbeck and seemed unfit

GETTY IMAGES

22/22 Danny Welbeck 6

Problems with his boots limited his involvement in opening minutes but never stopped running and offering for the ball. Taken off for Januzaj

GETTY IMAGES
United have been a fixture in the competition for so long, it is hard to imagine them on the outside. Whether it is a brief exile will depend on their ability to attract the kind of players who proved beyond them last summer.
In terms of the way the game developed, this was not a catastrophic defeat for Moyes, whose team were good in the first half and had Pep Guardiola rattled for a brief period. But it was another defeat and there have been so many of them for United this season. Led by Arjen Robben, who scored his team's third goal, and was the best player on the pitch, this was undeniably a victory for the better side.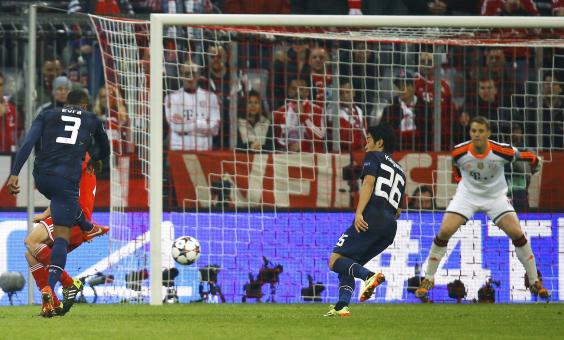 Moyes gave a start to Smalling who responded in the first half with one of his best performances in a United shirt. Mario Mandzukic, later to score Bayern's first, was safely stowed in the Englishman's pocket and everything asked of Smalling before the break, he performed with confidence.
The same could be said of the entire United defence in the first half which kept Bayern at bay in spite of their vastly superior possession. It was hard to recall a serious test for David de Gea and as Bayern encircled their opponents, they were stopped many times just as they looked to have opened the door.
Never more so than when Robben's darting run from the right channel with a minute of the half to play left an opening for a shot that Smalling managed to get his body in front of before it reached De Gea. That was the story with so much of Bayern's attacking in the first half. They got deep into United's half, but they never really got behind their opponents.
Moyes had selected a team with pace in Danny Welbeck and Antonio Valencia to try to stretch Bayern in the wide places where they tend to push their full-backs on. They failed to do that enough in the first half and the one chance that came their way was not capitalised upon.
It was a smart move that got Wayne Rooney one-on-one with Dante, the Brazilian centre-back. Bayern swarmed the ball when United were in possession and with that in mind, Darren Fletcher went long at the first opportunity. Rooney out-jumped Dante and got the ball facing goal but having made that chance dithered too long over the shot. To his left, Shinji Kagawa was in space but Rooney seemed oblivious to him.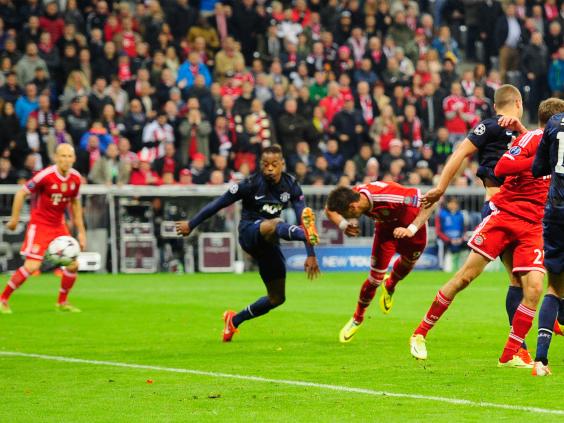 That was in the eighth minute and there was precious little else from United other than an offside goal from Valencia that was not hard for the Swedish referee Jonas Eriksson to disallow. Other than that, United fell back and asked the question to Bayern as to how they might them break down. The answer was not that imaginative, at least before the break.
Robben tried to do it on his own. Franck Ribery drifted in and out on the left wing. And all the while the space in the centre became so congested that the likes of Mario Gotze and Thomas Muller struggled to put a boot on the ball. Nemanja Vidic was very harshly booked for a header he won over the top of Mandzukic, who was proving a very ineffective leading striker.
In the first half, when the ball was in their area, which was a lot, United just looked sharper and hungrier to respond – from the defence to Fletcher and Michael Carrick who himself made some critical interventions.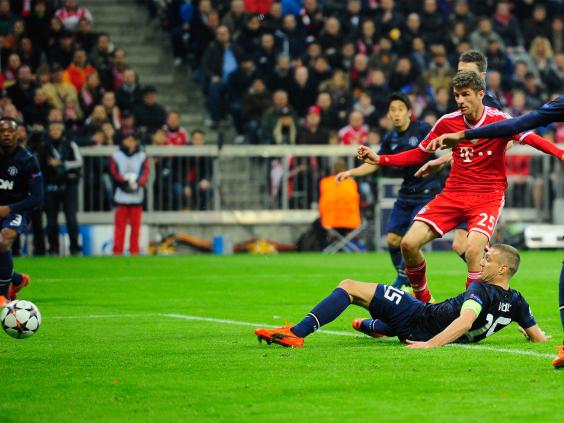 The second part of the plan was the goal that United needed to get back into the tie, and it came in spectacular fashion in the 57th minute. Before then, they had become more adventurous and Kagawa had hit a good long range effort that stretched Neuer two minutes before the United goal.
Evra had two goals this season before last night, but none to hold a candle to the beauty he lashed past Neuer. Valencia had broken well down the right and crossed but there was no-one to meet the ball which bounced three times before Evra connected with the sweet spot of his left foot. It was past Neuer before he could get a coordinate on it.
The United bench cleared onto the pitch in celebration but once Moyes had composed himself he had the presence of mind to issue instructions to Vidic, Evra and Kagawa. Sadly it seemed like none of them were listening. Bayern scored with their next attack, a header by Mandzukic from Ribery's cross. Of all Moyes' players, it was Evra who failed to track the Bayern centre-forward.
Between Bayern's first two goals, there were opportunities for United to score another. Most notably for Rooney who horribly misjudged a cut-back from Welbeck and barely made a connection of any note. Valencia's  long ball forward to Welbeck was a much trickier proposition but his first touch was woeful and the chance ran away.
Bayern's second was from Muller who finished from close range from Robben's cross from the right. The Dutchman deservedly scored one of his own with 14 minutes left when he accelerated away from Evra and then Vidic who deflected the resulting shot past De Gea. Robben is the sort of matchwinner that United used to have in their ranks, but once again there was no-one to rescue them.
Bayern (4-1-4-1): Neuer; Lahm, Boateng, Dante, Alaba; Kroos; Robben, Muller, Gotze, Ribery; Mandzukic.
Subs: Rafinha/Gotze 65, Pizarro/Muller 84
Manchester United (4-2-3-1): De Gea; Jones, Smalling, Vidic, Evra; Fletcher, Carrick; Valencia, Kagawa, Welbeck; Rooney.
Subs: Hernandez/Fletcher 74, Januzaj/Welbeck 81
Referee: J Eriksson (Sweden)
Booked: Bayern Boateng Manchester United Vidic, Evra
Man of the match: Robben
Rating: 7