Robert Lewandowski has a knack of appearing in headlines. After Dortmund had lazily stumbled past a valiant 1860 Munich side in the German Cup on Tuesday, the Polish striker was briefly asked whether he would be able to say if he was going to Bayern on January 2. He answered, albeit with slightly confusing syntax, that he would be able to confirm then, as that was the date on which he was allowed to sign a contract with a new club.
So far, so in keeping with what we already knew. Fifa rules stipulate that a player can make a premature agreement with a new club six months before a contract runs out. That, presumably, is why the reporter asked the question, and certainly why Lewandowski answered the way he did.
Nevertheless, it was taken by many as confirmation that he was moving to Bayern. Even had that been the case, it would hardly have come as a surprise. Dortmund have long been resigned to he fact that the Pole will leave next summer, and he and FC Bayern's mutual appreciation for each other is now well documented.
Indeed, after all the toing and froing of recent months, it will probably be a deal beneficial to all. Dortmund will have been able to ease into his absence having had a year's warning (and attacking signings Pierre-Emerick Aubameyang and Henrikh Mkhitaryan are already looking more than their money's worth), Bayern will get their last target for no transfer fee at all, and Lewandowski will join his dream club. Even if Dortmund will lose out on a potentially staggering transfer fee and the wage rise they are reported to have given him in his final year, that is not such a burden for a club with revenues of over €300m in the last year.
As for Bayern, they can wait for their superstar. They have plenty already, even with Götze, Thiago, Martinez and Badstuber all still out injured. It has taken a good few weeks and a barrage of criticism from Director of Sport Matthias Sammer, but Bayern are finally beginning to look like the unstoppable side many predicted them to be under Pep Guardiola. The German champions have won their last three games 4-1, 4-0 and 3-0, and will be looking to extend the winning streak this weekend against Wolfsburg, and then against Manchester City in midweek.
It will take something from either of those teams to halt Bayern in their tracks. The controversial changes Guardiola has implemented – most prominently reverting to one defensive midfielder and playing captain Phillip Lahm in midfield rather than at right back – are paying off as it stands. Bayern and Guardiola are finally clicking.
Mention the other FCB, though, and you will be met with a frosty reception. When asked how much of Barcelona was in the side's 4-0 win over Schalke, Lahm's response was decisive: "None. That was one hundred per cent FC Bayern."
He is right, too. For while their possession statistics may be beginning to resemble those of Guardiola's Barca, Bayern's play remains their own. Four of their last nine goals have been headers, while several more have come from the readily exploited creativity on the wing. If it is tiki taka, then it is a reinvented version.
Amidst all the worries and wobbles of Guardiola's early reign, it has been easy to overlook his apparently still functioning genius. Not just in how well he has adapted his own style to fit his new team, but also in his ability to create something out of nothing. Something, in this case, being Rafinha.
The Brazilian right back was signed by Bayern in the summer of 2011 as a solution to their recurring issues with the left back position. The theory was that Lahm would return to left back while Rafinha would fill his position on the right. Once Bayern had realised the quality of David Alaba, however, Rafinha was quickly demoted to the bench and has just about stayed their ever since – only getting up once in a while to be linked with a move away from Munich.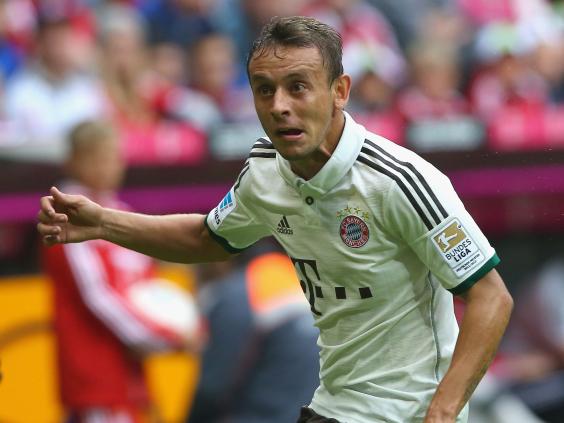 No one, though, could have predicted that two years down the line, Rafinha would be replacing Lahm at right back again, this time under Pep Guardiola. But the Catalan has put his faith in a player whom many had resigned to the dustbin of Bayern's fading squad fillers.
"Rafinha is a very good player. He's very intelligent, he works well out wide and comes in well too. He also very rarely loses the ball" said Guardiola this week.
Perhaps it is that final point which so endears Rafinha to his coach. Whatever the reason, he is certainly enjoying life under Guardiola, having played in nine games already this season. In the entirety of last year, he appeared in only seventeen, and in most as a substitute. All talk of Lewandowski and the other superstars aside, it may well be a humble Brazilian journeyman who proves to be Pep's master stroke this season.