The fallout to Bayern Munich's defeat to Real Madrid on Tuesday night was one engulfed in anger. 
Following the match, the ever-outspoken Thomas Müller described what had just taken place at the Santiago Bernabeu as "10 against 14", before bluntly stating that the dubious refereeing decisions had "killed" Bayern's game plan.
The club's CEO, Karl-Heinz Rummenigge, didn't mince his words either. "This is the first time I've felt really angry," admitted the former European Footballer of the Year. "Angry because we were robbed. Literally, we were robbed."
Bayern Munich vs Real Madrid - player ratings
Bayern Munich vs Real Madrid - player ratings
1/22 Manuel Neuer - 8 out of 10

Made one of the saves of the season when he denied Benzema in the first-half with a fingertip stop. Made several more world-class stops in the second-half and was desperately unfortunate to concede two goals. His performance deserved better.

Bongarts/Getty

2/22 Philipp Lahm - 7 out of 10

As good as ever. Solid at the back and impressed going forward, too, working well with Robben and Mueller.

AFP/Getty

3/22 Javi Martinez - 5 out of 10

A relatively solid performance but picked up two completely unnecessary bookings and will now miss the second-leg.

AFP/Getty

4/22 Jerome Boateng - 6 out of 10

Was guilty of ball-watching as Ronaldo lashed home his goal. Otherwise solid.

Bongarts/Getty

5/22 David Alaba - 6 out of 10

He may be one of the best defenders in the world, but he is having a poor season. Didn't make a single tackle, interception or clearance for over an hour.

AFP/Getty

6/22 Thiago Alcantara - 7 out of 10

Classy in possession and set up Bayern's opening goal, curling an inch-perfect corner onto the forehead of Vidal.

AFP/Getty

7/22 Xabi Alonso - 6 out of 10

Masterful in possession as ever and whipped a couple of dangerous crosses into the box.

Bongarts/Getty

8/22 Arjen Robben - 7 out of 10

33-years-old and yet still as dangerous as ever. Was electric down the right-wing and unlucky not to score.

Bongarts/Getty

9/22 Arturo Vidal - 8 out of 10

An eventful night for Vidal, who scored the opener before missing a penalty. But dominated the midfield throughout.

AFP/Getty

10/22 Franck Ribery - 6 out of 10

Impressed in the first-half before fading somewhat in the second. Withdrawn for Douglas Costa.

AFP/Getty

11/22 Thomas Mueller - 6 out of 10

Played the target man role in the absence of Robert Lewandowski and was largely kept quiet.

Bongarts/Getty

12/22 Keylor Navas - 6 out of 10

Stubbornly refused to come off his line for the corner which led to Bayern Munich's goal and paid the price.

AFP/Getty

13/22 Dani Carvajal - 6 out of 10

Looked shaky in the opening exchanges but improved and assisted Ronaldo's goal in the second-half. Very unfortunate to concede a penalty.

AFP/Getty

14/22 Nacho Fernandez - 6 out of 10

A big night for the defender in only his second European appearance of the season. Made a number of important clearances early on.

AFP/Getty

15/22 Sergio Ramos - 6 out of 10

Repeatedly brought the ball out from defence and almost scored with a curling free-kick.

AFP/Getty

16/22 Marcelo - 6 out of 10

Exceptionally wasteful in possession although a constant attacking outlet down the left and almost scored late on.

AFP/Getty

17/22 Luka Modric - 7 out of 10

One of Madrid's busiest players and played a key role in the second goal.

Bongarts/Getty

18/22 Casemiro - 7 out of 10

Picked up a knock early on but battled back superbly. No player on the pitch made more than his eight tackles.

AFP/Getty

19/22 Toni Kross - 7 out of 10

No Real Madrid player touched the ball more than Kroos, who also boasted incredible 97% pass accuracy. A huge performance.

Bongarts/Getty

20/22 Gareth Bale - 6 out of 10

A quiet night from the Welshman. Saw a header from pointblank range saved by Neuer before being withdrawn early on into the second-half for Asensio.

Bongarts/Getty

21/22 Karim Benzema - 6 out of 10

Not the Frenchman's best performance in a Madrid shirt. Like Bale, was denied by Neuer with a header from pointblank range.

Bongarts/Getty

22/22 Cristiano Ronaldo - 8 out of 10

A quiet first-half but came to live in the second. Scored a superb cushioned volley to level the scores and won the match with a second close-range finish.

AFP/Getty
Yet, while Bavaria bubbled with resentment, a quieter, more important moment was passing. Tuesday's match marked the final time fans would see Philipp Lahm playing in the Champions League. A chapter in the club's modern history was coming to an end and very few even took note.
Although Arjen Robben and Franck Ribery have shown no intent in following Lahm and Bastian Schweinsteiger in walking out the Säbener Strasse double doors just yet, there's no doubt that the team that was predominately built by Louis Van Gaal, which went on to win the Champions League under Jupp Heynckes, is now in the process of moving aside for the next generation. 
With that changing of the guard will come the inevitable period of revisionism. A process of peeling away the modern buzz and hype that has followed Bayern for at least the past five years and asks a very simple question: just how will history remember this team?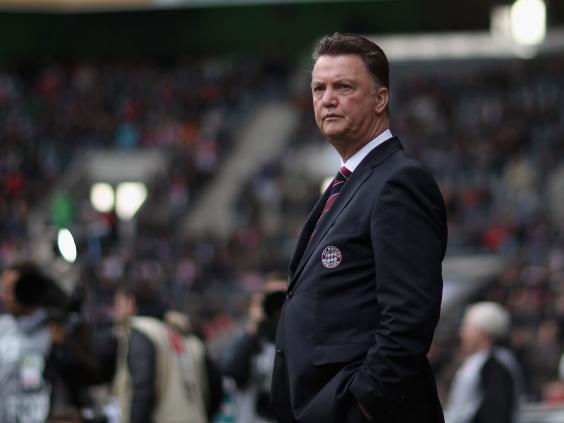 Although the club enjoyed limited success under Van Gaal by reaching the Champions League final in 2010, it wasn't until Heynckes took them to two consecutive finals, and the promise of Pep Guardiola that followed his brief period in charge, that we saw Bayern's ambitions of challenging in Europe on a regular basis look remotely realistic. 
Pep's arrival heralded the arrival of players like Mario Götze and Thiago Alcantara and the departure of bit-part stars like Mario Gomez, Luiz Gustavo and Mario Mandzukic. However, the former Barcelona coach did little to disrupt the core of the team he inherited. 
Lahm's reading of the game was integral to anything the Catalonian drew on the tactics board, Schweinsteiger's marshalling in midfield continued, while Ribery and Robben held Guardiola's vital fixation with wingers whenever fit. Indeed, the team that had reached three European cups under the last two coaches seemed well suited to staying put.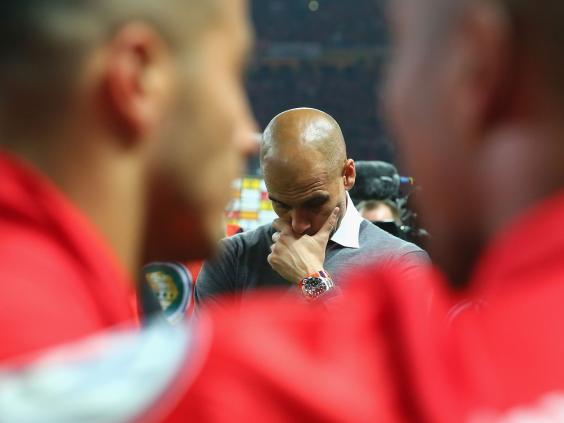 Yet where this Bayern squad expected to take off and enjoy even further success under Guardiola, things instead took a tumble. 
Over his three years in Munich, Guardiola not only failed to overcome the team he had built in Barcelona, but also the Madrid side that had been constructed in direct competition. 
While Guardiola tried to emulate the brilliance of Lionel Messi with Ribery, Götze, Douglas Costa and then Kingsley Coman, the real Argentinian star was lifting the European Cup in Berlin. While the renowned perfectionist was trying to build a new team piece by piece, Madrid were consistently spending twice as much as the German giants and won the competition on two occasions under minimalist coaches Carlo Ancelotti and Zinedine Zidane. 
In truth, Bayern's squad on the pitch and recruitment off it rarely matched the Spanish giants and suggested that third place in the super-club sweepstakes was exactly where they deserved to be. Even if the allure of Guardiola and this squad suggested otherwise.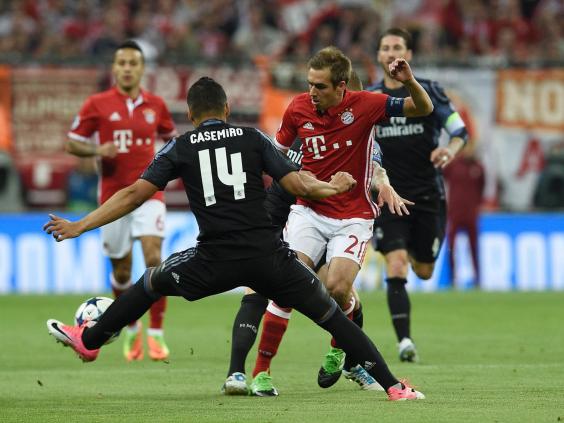 Yet, a further dent in the reputation of this Bayern squad was the unheralded success of Diego Simeone's Atletico Madrid. From Europa League winners to Champions League finalists on two occasions while still selling their best players each summer, Simeone's disciplined, aggressive side not only filled the role of challengers to the Barcelona/Madrid duopoly but also completely undermined Bayern's own concept of success by doing so on a fraction of their budget. 
Where Lahm and Schweinsteiger had tried and failed to overcome the two adversaries, Diego Godin and Koke succeeded and stole the attention and delight of the sport for large chunks of the past five years.
Even after Guardiola, with Ancelotti burdened with few changes to this season's squad, Bayern could only muster a win and defeat in equal measures against Atletico in the group stages before going out once again to Madrid. The coach on the sideline may have changed but this team still can't seem to get over their Spanish curse. 
This generation of Bayern players never did overcome Barcelona or Real Madrid under Guardiola or Ancelotti. A notable point that may force us to leave an asterisk alongside all they accomplished after Heynckes. 
Reuse content