Arsene Wenger challenged the Norwegian referee in Tuesday's Champions League last-16 tie with Bayern Munich to give his team a "fair chance", with the Arsenal manager claiming his side had been the victim of too many dismissals on critical European nights.
Wenger stopped short of saying that Svein Oddmar Moen was unsuited to refereeing two leading European clubs given the relatively modest standard of football in his domestic league but he did add that his club had lost players to red cards in "special circumstances" over the years.
With Arsenal trailing 2-0 from the home leg at the Emirates, Wenger's players will have to pull off a turnaround that is unprecedented in the 22-year history of the modern Champions League and overturn a two goal home deficit. Unbeaten in the Bundesliga this season, and beaten only once in all competitions, Bayern have scored 24 goals in their last five league games alone.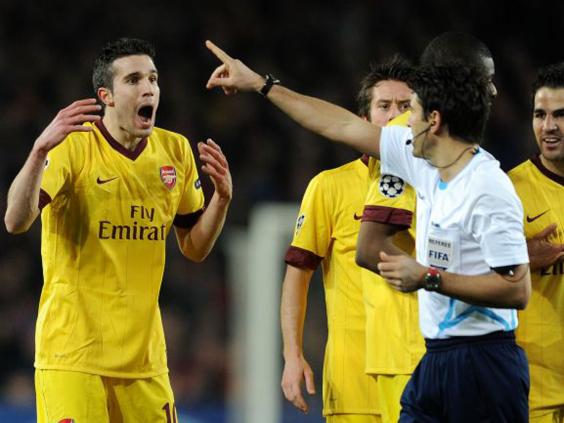 The Arsenal manager picked out the red card for Robin Van Persie at the Nou Camp in 2011 when the club's former captain was given a second yellow card for kicking the ball away after the referee's whistle. Arsenal also lost goalkeeper Jens Lehmann to a red card early in the 2006 Champions League final against Barcelona.
Bayern Munich v Arsenal: 10 reasons for Arsenal to be optimistic of Champions League progress
Bayern Munich v Arsenal: 10 reasons for Arsenal to be optimistic of Champions League progress
1/10 1. The popular myth that lightning doesn't strike twice is actually a lie - just ask Manchester City

Just like most popular myths, the one that goes: "Lightning never strikes twice in the same place" is actually a lie, on both a meteorological and footballing scale. Geologists from all corners of the globe deny the phrase has any truth to it, and Wigan Athletic recently threw their hat into the ring of debate when they secured back-to-back FA Cup victories over mega-rich Manchester City. After Arsenal's 2-0 victory in Munich at this stage last year, there's hope yet that that feat may well be repeated.

GETTY IMAGES

2/10 2. The Gunners have their record signing back to his brilliant best

It took Mesut Ozil just seven minutes to remind the fans inside Emirates Stadium just why Arsene Wenger broke his own transfer policy by spending £42.5m on the Turkish-born German international. His calm finish not only showed he had recovered from his first-half penalty miss in the first-leg against Bayern, but also reminded everyone watching of the cool nature of his temperament on a football pitch. His superb assist for Olivier Giroud in the dying minutes capped a fine individual display, and the former Real Madrid man has proven time and time again he can consistently produce the goods. He's due a big performance in a crucial encounter. Gooners' will be hoping that time is now.

GETTY IMAGES

3/10 3. 2-0 is a dangerous scoreline, according to Pep Guardiola (and most managers in world football, actually)

The Spanish Bayern Munich boss said on Monday that 2-0 is a dangerous scoreline and that his side must be wary of that going into Tuesday's second-leg. Perhaps the exploits of Manchester City in this year's group phase against his team are the reasons behind his caution, for they only needed 45 minutes to turn a 2-0 scoreline on its head in Bayern's backyard. Arsenal will have double that amount of time to do the same.

GETTY IMAGES

4/10 4. Germany may have the beating of England, but Bayern have struggled in recent times at home to English opponents

The 3-2 victory for Manuel Pellegrini's City in the group phase was the third time in succession the German champions have failed to beat an English side on home soil. Arsenal, of course, beat them their last year - albeit in vain, and they also drew with Chelsea before famously losing the Champions League final at the Allianz Arena on penalties. The mental scars from that defeat may have since healed at Wembley last year, but with the 2013/14 squad being relatively similar to the one that lost to the Blues, there are chinks in their armoury. Arsenal just have to find them.

GETTY IMAGES

5/10 5. Transfer speculation surrounding Toni Kroos won't go away. Could it affect his performance?

After his influential display at Emirates Stadium three weeks ago, the straight answer to this question would appear to be 'no'. However, with the play-making midfielder refusing to rule out a move to Manchester United or any other Premier League club, his mind may begin to wander at certain points of the second-leg. Realistically, it probably won't - but any transfer speculation surrounding a player can be labelled disruptive, regardless of their professionalism.

EPA

6/10 6. Arsenal love Germany

Germany holds fond recent memories for the Gunners' travelling support capped by this year's victory at the Westfalenstadion against Borussia Dortmund in the competition's group phase. Although they'll be without their match winner that day, Aaron Ramsey, this type of statistic should give Arsenal fans hope on Tuesday night. Their 2-0 win at the Allianz Arena will be etched in their memory, and with Mesut Ozil now part of their squad, they're a much stronger outfit than the one that triumphed last year.

GETTY IMAGES

7/10 7. It took Manchester United less than a minute to turn things around against Munich 15 years ago

While nearly all of the players that featured in arguably the most famous Champions League final of all time have retired now, Arsenal need to look no further than Manchester United's successful 1999 European campaign for inspiration on how quickly things can change against Bayern Munich. Two goals in a minute turned Sir Alex Ferguson's men's hopes on their head, and despair turned to joy in a matter of seconds.

GETTY IMAGES

8/10 8. Wenger's men know how to win 2-0 - they've done it 10 times this year

2-0 may be a dangerous scoreline, but it's also Arsenal's most popular this year. They've won by that scoreline 10 times in total, with three of those victories occurring in Europe against Fenerbahce, Napoli and Marseille. While that scoreline this time around may only be good enough for extra-time, if you offered that score to Wenger and his team right now, they'd bite both your hands off.

Getty

9/10 9. Nine years of hurt looks set to end

After Wigan's Etihad heroics on Sunday, the door swung widely open on Arsenal's hopes of securing a first major trophy in almost a decade. Their progression to the FA Cup semi-final has certainly given them a timely confidence boost ahead of this week's European encounter, especially when the other three teams left in the oldest competition in the world is taken into account. Hull, Sheffield United and Wigan are certainly no Bayern Munich, so we may see Arsenal play with extra freedom on Tuesday knowing their season will still be very much alive even if they do exit the Champions League.

GETTY IMAGES

10/10 10. It's simply about time someone knocked Bayern Munich off their pedestal

A 49-game unbeaten run in the Bundesliga has led to some critics arguing that Bayern's dominance domestically is killing the German league. They're 23 points clear of second-placed Dortmund, the same difference between first-placed Chelsea and eighth-placed Newcastle in the Premier League. Now, a victory for Arsenal will certainly not stop last year's treble winners stretching that sequence to 50 and undoubtedly beyond, but it's fair to say there may be more German's rooting for Arsenal than Bayern when they visit on Tuesday.

GETTY IMAGES
Wenger said: "Manchester City played with ten men [in their first leg tie], we played with ten men. Incidentally, we played now a few times with ten men in Europe and under always very special circumstances. In the Champions League final, now against Bayern, at Barcelona when we were in a position to qualify. It was a second yellow card.
 "It's the only time that I've seen that since watching European football ... when Van Persie was sent off, so I hope [against Bayern] we will get a fair chance to play with 11 v 11 until the end.
Asked whether a referee from a league outside the European elite was suitable to take charge of the game – a charge levelled against the Swedish referee Jonas Eriksson by Manuel Pellegrini – Wenger said that experience of officiating top players helped.
Wenger said: "What you want is a good referee. I think the closer they are to a tough league, the more chances they have to detect the tricks that can decide a game. But that's the same for Bayern."
He added: "What I mean is sometimes when you come from a league that is a less pacey league … I don't know the referee. Honestly, I never look at the referee before the game. I never have any preconceived ideas.
 "Sometimes when the referees have a big experience it helps them to get out of tricky situations. I think you do not want players to stay on the pitch who deserve to be sent off but you do not as well ... the interests of the game to be killed for reasons that are a bit tricky. To find that kind of balance, the experience of the referees is important."
The Arsenal manager said that Kieran Gibbs would miss the game with a calf injury and that there was a "good possibility" that Thomas Vermaelen would, once again, deputise at left-back. Yaya Sanogo is also out the squad. Laurent Koscielny comes back in and the 18-year-old Isaac Hayden has also travelled with the squad.
Wenger called upon his team to repeat some of their greatest nights away in Europe, mentioning the 5-1 victory over Inter Milan in 2003. Not quite an accurate comparison with Bayern given that Inter team finished fourth in Serie A and 23 points behind the eventual champions. Even Arsenal's best nights in Europe – the 1-0 win over Real Madrid at the Bernabeu in 2006, the 2-0 win over Milan in San Siro a year later – would pale in comparison with a win over the reigning European champions in Munich.
Wenger said: "Come back from a 2-0 defeat? Look the statistics are against us but we have won 5-1 at Inter Milan and I would say we have won everywhere in Europe. If we lead 1-0, for example, it makes the game or result absolutely possible. That is what we will of course try to do. We scored two goals in the last five minutes against Everton so we don't have to be nervous. We can be patient. Just have to focus on the quality of our game."
Bayern's coach Pep Guardiola said that his team would set out to win the game saying "it doesn't matter what we did in the first game - we have to win". He added: "When I analyse Arsenal and the first game, we saw the quality of [Santi] Cazorla, we saw what happened until the penalty [Mesut] Ozil missed, what happened in the last nine minutes they were the nine minutes in this season when the opponent was better against us. They remain a good club, a good team."
Reuse content