As he left the field following a comprehensive Juventus win over Lazio, Carlos Tevez agreed with reporters that he was in the best form of his career, a bold proclamation for a player who has achieved so much.
Now aged 30, the striker can reflect on fourteen seasons in which he has claimed league titles with five different teams, lifting a laundry list of individual, club and international honours along the way. He has tasted Champions League and Olympic glory, yet the belief he has never performed better than he is for Juventus is not misplaced, so great has been his impact in Turin.
Since arriving in June 2013, he has rebuilt a reputation tarnished by his time at Manchester City, finding a new lease of life in the famous black and white stripes of Italian football's grand Old Lady. Having laid on Paul Pogba's opener against Lazio with a wonderful cross-field pass, Tévez would finish off a superb counter-attack to net his 28th goal in 45 league matches with the club.
There is perhaps no greater compliment to be paid than the fact the number on his back has never really been an issue.
Less than a year before Tévez arrived on the peninsula, Alessandro Del Piero left Juventus, his 21-year association with the Bianconeri coming to an end as he moved on to Sydney FC. Holding club records for goals scored and appearances made, he had worn the No 10 shirt since Serie A players were first assigned squad numbers back in 1995. The shirt was left vacant in 2012-13, but would remain in use after Del Piero insisted "it must remain a dream for everyone," amid discussions that the club would retire it in his honour.
Fans of La Madama demand the highest standards of her attacking players, but Tévez has been befitting of a shirt that can trace its lineage from 1961 Ballon d'Or winner Omar Sivori, through Michel Platini and Roberto Baggio, right up to Del Piero making it his own. With his predecessors so beloved by supporters, opting to follow in their footsteps was a brave move, yet he has clearly risen to the challenge, even in the simplest statistical terms. Averaging a goal every 124 minutes in Serie A, he has added twelve assists and finished on the losing side just twice, an astonishing record that has also seen him earn a recall to the Argentinean national team.
"I feel the responsibility of wearing this number and I am aware of the great responsibility of representing Juventus and playing for the club so this number is certainly a great challenge," said Tevez.
Just like the praise of his Juventus performances, that end to his exile from international football is richly deserved, his recent selection drawing a line on the three year period since his last cap. Much has changed in that time, but perhaps it is Tévez himself who has undergone the greatest transformation, maturing greatly to become the player and man we see today. Up until that point, everything had gone his way; from winning countless trophies in South America with Boca Juniors and Corinthians, to ensuring West Ham avoided relegation in 2007.
Then touted for a move to Inter, he instead opted to join Manchester United, winning two Premier League titles and the Champions League with the Old Trafford club. But just over a year after opening the scoring in the penalty shootout win over Chelsea, Tévez would be on the move again, crossing the red/blue divide to join the nouveau riche Manchester City. A controversial billboard (below) only increased the animosity, but the striker would never appear to let the circumstances of his move affect his play, netting 52 goals in his first two seasons, becoming captain and helping City to end a 35-year trophy drought.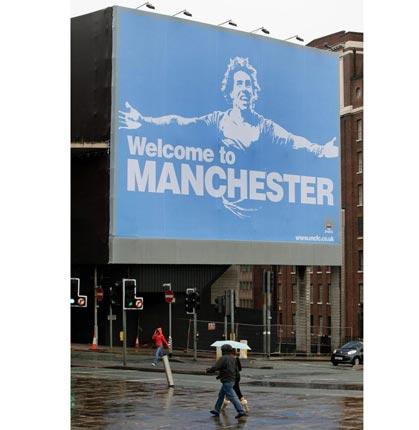 But having seen a January transfer request refused, he returned to Argentina vowing never to go back to Manchester and, while he would eventually soften that stance, his relationship with City would only continue to deteriorate. A refusal to make a substitute appearance against Bayern Munich saw him placed on 'gardening leave' at the request of Roberto Mancini, the coach declaring he would never again play for the club. He would apologise and play a role in City's Premier League title win, but would last only one more season, his place in the side taken by compatriot Sergio Aguero.
Those issues saw his move to Juventus be seen as something of a gamble for the Bianconeri, who had been desperately seeking a top-level striker to elevate their play. With links to numerous big names going unfulfilled, the £10 million transfer was hardly the major investment supporters had hoped for, but they would soon be won over. Never looking like the discontented trouble-maker his reputation portrayed him to be, he displayed the hambre de gloria – 'hunger for glory' – that has always typified his play.
Tévez began life in Italy in the best possible fashion, netting the last goal in Juve's  4-0 win over Lazio in the Super Cup, then securing a single-goal victory in their opening Serie A match of the campaign and adding another a week later. As quickly as he had tarnished his relationship with English football, he won over fans in Italy and drew comparisons to club legend and former No 10 Sivori. Both men share a number of traits, notably versatile in attack and able to excel in a variety of roles should he be called upon.
Their movement – deceptively quick and made with an innate sense of how play will develop – is eerily similar, and Tévez also possesses the wonderful first touch that often punctuated Sivori's play. Focused, driven and constantly searching for goals, both also saw their temperament questioned, capable of frustrating displays of petulance and inspiring leadership in equal measure. Fernando Llorente has not had cause to slap his Argentine team-mate like John Charles so often needed to, but the Basque striker has been rewarded by his partner's ability much as the giant Welshman did from Sivori.
While many lamented the loss of Antonio Conte, Tévez has perhaps been the biggest beneficiary of Massmiliano Allegri's arrival on the Juventus bench. Since the club's pre-season games, the coach has started the striker in a more withdrawn role than his predecessor, seeking to increase his opportunities to run at defenders. "I like this position," he declared after a two-goal performance against Malmo saw him end a Champions League scoring drought which famously ran back to his time at Old Trafford, and a recent formation change from Allegri has only served to increase that impact.
Abandoning the three-man defence which had become Conte's hallmark, the former Milan boss has chosen instead to deploy the side in a 4-3-2-1 formation, playing Tévez behind Llorente or Álvaro Morata where he provides the link between midfield and attack. Having stuttered through October, Allegri made the switch in early November, just as Del Piero celebrated his 40th birthday. His big day coincided with Parma's visit to Juventus Stadium, and fans would pack the stands, vociferously chanting "Un capitano, c'è solo un capitano," and hanging a banner promising "we'll never forget you."
By full-time however, the new No 10 would be the one being honoured by the crowd, delivering a timely reminder of just how great he can be. Juventus were already ahead by three goals when 3-0 up against Parma when Tévez collected the ball inside his own half. Shrugging off the attention of Andrea Costa, he would outrun Alessandro Lucarelli before tricking his way past Felipe with a sleight of boot and slotting past hapless goalkeeper Antonio Mirante.
It would instantly become a contender for goal of the season as his dribbling has terrified defenders, inspired a club-led internet craze, but most importantly been at the heart of Juve's stunning return to form. In the three matches since moving away from the 3-5-2, Juventus have outscored their opponents by thirteen goals to two, with Tévez at the heart of their resurgent form.  Unlike the fitting comparisons to Sivori, he will never be considered an heir to Del Piero, their paths to stardom and subsequent playing styles simply too starkly contrasting to ever stand up to even the most rudimentary scruitiny.
Perhaps those differences are what makes the Argentinean the perfect replacement for Del Piero in the hallowed shirt he now wears; fully capable of writing his own chapter in the club's storied history rather than simply being a footnote to the man he inherited it from. "I am at a great club, I am happy playing my football and I am giving my all on the field," Tévez told reporters after this latest stellar display and, with yet another goal for the Bianconeri against Malmo in mid-week, they will need him to do so once again this Sunday.
#ThingsTevezCouldDribble stickers are now on #JuventusCam! Show us what you can come up with!http://t.co/9E4Kh2ZZbK pic.twitter.com/AOcSKNHBKZ

— JuventusFC (@juventusfcen) November 11, 2014
After that key Champions League victory on Wednesday, this weekend sees the latest edition of the Turin derby, a fixture the Argentinean has already won for Juventus this year. A thunderbolt from him back in February decided their last encounter with cross-town rivals Torino, and if Carlos Tévez can perform similar heroics, it will only further cement the legacy it seems he is well on his way to creating with the Bianconeri.
Reuse content