Manchester City managed to join Chelsea and Arsenal in the knock-out phase of the Champions League thanks to an impressive victory over Roma at the Stadio Olimpico.
The win took them through as runners-up in their group behind Bayern Munich.
Whilst Chelsea cruised to top spot in their group, Arsenal also ended up as runners-up despite thrashing Galatasaray 4-1 in their final group game. Borussia Dortmund went through as group winners.
Whilst Manchester City and Arsenal will be delighted to be in the draw, the smile could be wiped from the faces of Manuel Pellegrini and Arsene Wenger once they learn who they will face in the Round of 16.
Who could Arsenal face?
Atletico Madrid, Real Madrid, AS Monaco, Bayern Munich, FC Porto, Barcelona
Who could Manchester City face?
Atletico Madrid, Real Madrid, AS Monaco, Borussia Dortmund, FC Porto, Barcelona
Manchester City player ratings vs Roma
The three Spanish sides appear the clubs to avoid - Champions League holders Real Madrid in particular. Carlo Ancelotti's side are on a run of 19 consecutive victories, indicating just how impressive they've been this term. Atletico Madrid continue to thrive under Diego Simeone and everyone knows about the threat Barcelona would pose - particularly with Luis Suarez now among their ranks.
Arsenal will also want to avoid Bayern Munich, with Pep Guardiola's side having put them out of the competition at the same stage last season.
The German side Manchester City could face are Borussia Dortmund. In recent years Jurgen Klopp's team have been amongst the most impressive in Europe and this term they managed to top their group ahead of Arsenal. However, domestically their results have been awful, perhaps giving Manchester City some hope of gaining a result if they are paired together.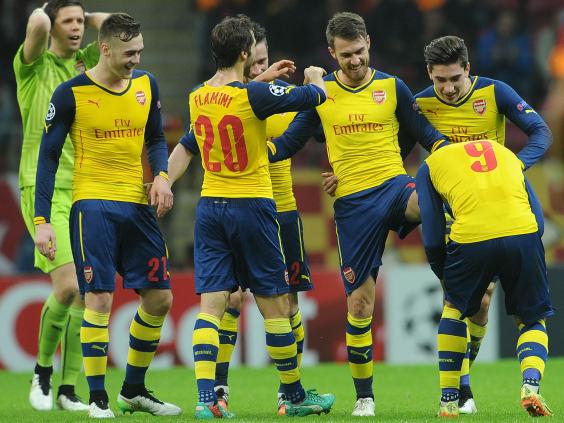 The teams Arsenal and Manchester City will want to face will be either Monaco or FC Porto. The French side joined Europe's big spenders a couple of years ago but have since reined it in, indicated by the sale of James Rodriguez to Real Madrid in the summer and allowing Radamel Falcao to join Manchester United on loan. They are currently seventh in Ligue 1.
FC Porto are currently second in the Primera League in Portugal and will certainly put up a fight, however their record against English sides is poor. Arsenal last played them in 2010 and won 5-0. Manchester City played them in the Europa League in 2012 and won 4-0 at home and 2-1 away.
If drawn against either of those sides, Arsenal and Manchester City would be favourites to progress, but the odds of drawing them over the Spanish trio and one of the German teams is not in their favour.
Reuse content