Mitchell Goldhar is a Canadian retail and real estate billionaire who once spent $1.2million on a 'Team Canada' ice hockey jersey worn in the famous 'Summit Series' against the USSR in 1972. Jordi Cruyff, of course, is the former Barcelona, Manchester United and Netherlands midfielder, son of Johan.
Between them Goldhar and Cruyff have made this Maccabi Tel Aviv side, who visit Stamford Bridge Wednesday evening, arguably the best team in the history of Israeli club football.
Goldhar, who made his fortune bringing Walmart into Canada, bought the club in 2010. Cruyff had been a manager first in Malta, then in Cyprus, and wanted a new challenge. So Goldhar recruited Cruyff to be his sporting director in April 2012, since when Maccabi – after 10 years of drift – have won everything in sight.
Champions League draw in full
Champions League draw in full
1/32 Group A: PSG

Having won the French domestic league three times in a row, PSG must now look to a big performance in the Champions League to truly cement themselves among the rest of the European elite. Big spending in recent seasons has still not seen them progress beyond the quarter-final stage, where they have exited in each of the last three seasons. However, they look stronger than ever having completed the biggest transfer saga of the summer by signing Angel Di Maria from Manchester United, a man with experience of winning the competition.

Getty Images

2/32 Group A: Real Madrid

The most successful team in the competition's history failed to add to their 10 European titles when they were shocked by Juventus in their previous campaign. Despite winning the competition a year earlier, this proved costly for Carlo Ancelotti who was promptly removed as manager. Replacement Rafa Benitez has not impressed the fans, and so the Spaniard will need a strong showing in this competition to earn their faith. Even without a traditional 'galactico' signing this summer, the threat Real pose through the likes of Cristiano Ronaldo and Gareth Bale is huge.

3/32 Group A: Shakhtar Donetsk

Another team who look to have weakened rather than strengthened over the summer, the Ukrainians lost two of their biggest names in this transfer window. Douglas Costa left to join Bayern Munich, while Luiz Adriano – who equalled Cristiano Ronaldo's record nine group stage goals last season – has departed for AC Milan. Without any significant additions to replace them, it's hard to see Shaktar improving upon their round of 16 appearance last season.

GETTY IMAGES

4/32 Group A: Malmo

Last season marked their first appearance in the group stages of the Champions League, where they unsurprisingly failed to even make it into the Europa League. They'll look to better the three points they managed last time around.

Reuters

5/32 Group B: PSV Eindhoven

With the promise of a relatively short away trip, and arguably the weakest of all the pot one teams, PSV are the name the English contingent in pot two will be hoping to draw. Having lost captain Georginio Wijnaldum to Newcastle, and prized asset Memphis Depay to Manchester United, PSV look incapable of posing threat to the leading teams. The Dutch side do have a European title to their name, but it was won back in 1988, and they didn't even feature in last season's tournament.

Getty Images

6/32 Group B: Manchester United

Returning to the Champions League after a one year absence, Manchester United are a vastly different squad to the one that fell out of the competition in Munich two years ago. The Reds are currently far short of the team that won the tournament back in 2008, but in Louis Van Gaal, they have a manager who is experienced in leading ill-fancied teams to European glory, as he did with Ajax back in 1995. They surely lack the depth of squad to effectively challenge on domestic and European fronts simultaneously.

7/32 Group B: CSKA Moscow

A long away trip for the Western European sides to avoid, CSKA were unfortunately drawn in the toughest group last season, alongside Bayern, Manchester City and Roma. They ultimately finished bottom of that group, but put in some credible performances, including holding City to a draw in Russia, before beating them back in England.

GETTY IMAGES

8/32 Group B: Wolfsburg

Arguably the biggest threat in pot four, Wolfsburg finished behind only Bayern in the Bundesliga last season. However, they could lose their star man and assist-king Kevin de Bruyne having reportedly agreed a deal to sell to Manchester City.

Getty

9/32 Group C: Benfica

Despite being drawn in an attractive-looking group that included Monaco, Bayer Leverkusen and Zenit Saint Petersburg, Benfica failed to even qualify for the Europa League as they finished rock bottom of their group. Only once in the last five seasons have they actually succeeded in making it to the knockout stages of the competition, and even then fell at the quarter-final hurdle. Their top scorer last season, Jonas, will be the man they look to for a big performance. The forward has started the season with two goals in two games.

Getty Images

10/32 Group C: Atletico Madrid

After coming within a minute of their first ever Champions League trophy in 2013, Atletico experienced a dip in their European performance as they once again failed to get past city rivals Real, this time in the quarter final stage. Continuing a tradition of stellar attacking names that includes Sergio Aguero, Radamel Falcao and Diego Costa, summer signing Jackson Martinez is the latest big name hoping to fire Atletico to European glory. However, their summer dealings haven't all been good news, as they lost key playmaker Arda Turan to Barcelona.

Getty Images

11/32 Group C: Galatasaray

Perhaps more famous for the hostile atmosphere they create at the Türk Telekom Arena than any European achievement. The Turkish side have also signed Arsenal forward Lukas Podolski, so the Gunners could potentially see him turning out against them. Embarrassingly, they managed just one point in the group stages last season.

Getty Images

12/32 Group C: Astana

The minnows from Kazakhstan represent the lowest ranked team in the group stages under UEFA's coefficient ruling. It's their first season in the Champions League group stages, and indeed the first time any team from Kazakhstan has made it this far.

Getty Images

13/32 Group D:Juventus

Despite being the Italian champions, few people expected Juventus to make it all the way to the final last time around, particularly when drawn against Real Madrid in the semi-final stage. However, Juve stunned Madrid, and gave a good account of themselves despite ultimately coming up short against Barcelona. Their odds of repeating that achievement look even longer this year, thanks to the departure of key players such as Carlos Tevez, Andrea Pirlo and Arturo Vidal, who were instrumental in their progress to the final.

Twitter/@JuventusFCEN

14/32 Group D: Manchester City

Another big summer of spending has taken place in the blue half of Manchester, with big name singings Raheem Sterling and Nicolas Otamendi recruited to improve a squad that is yet to show its full potential in European competition. As one of the more inexperienced teams in the tournament, City have been found out when facing off with the big names, as Barcelona showed them last season, but with another year's experience to their names, expect them to do that little bit better this time around. Taking their first big scalp would fill them with confidence.

Getty Images

15/32 Group D: Sevilla

Though they finished fifth in their domestic league, Sevilla qualify for the Champions League as UEFA Cup holders, which makes Spain the first country to ever have five representatives in the group stages of the competition. Sevilla enter the competition with a strong recent European record, as Unai Emery's men have won back-to-back Europa League titles, but without the driving force behind those successes, top scorer Carlos Bacca who has joined AC Milan.

GETTY IMAGES

16/32 Group D: Borussia Monchengladbach

Owing much to Dortmund's demise, Mochengladbach finished a surprise third in the Bundesliga last year, and will enter the Champions League group stages for the first time ever.

Getty Images

17/32 Group E: Barcelona

The reigning Champions will go into this year's competition as the favourites to become the first team to ever successfully defend their crown in the Champions League era, and four titles to their name in the last nine years make them undoubtedly the most dominant European force of the last decade. With new signings Arda Turan and Alex Vidal unable to play until a transfer ban is lifted in January, and the high-profile loss of Pedro to Chelsea, their squad is arguably weaker than last season's, but anyone hoping to beat them to the crown this time round will still have to find a way to stop the brilliant Lionel Messi, Neymar and Luis Suarez trio.

Getty

18/32 Group E: Bayer Leverkusen

Qualified for the competition having finished fourth in the German Bundesliga, last season Leverkusen took Atletico Madrid – finalists from the previous year – all the way to penalties in their round of 16 tie. Last season's key man Son-Heung-min has been heavily linked with a move to Tottenham in the remainder of the transfer window.

GETTY IMAGES

19/32 Group E: Roma

Finished a distant second to Champions League finalists Juventus in their domestic campaign, and crashed out of the Europa League at the round of 16 stage to fellow Italians Fiorentina. They'll be relying on Premier League loanees Mohamed Salah, Edin Dzeko and Wojciech Szczesny to keep them in the main competition this time around.

EPA

20/32 Group E: Bate Borisov

The Belarusians might still be having nightmares of the group stages, given that they finished last year's with a goal difference of -22 from just six games. Their defeats included a 7-0 loss to Shaktar Donetsk and a 6-0 hammering from Porto.

Getty Images

21/32 Group F: Bayern Munich

A regular fixture in the latter stages of the competition, Bayern Munich overcame a two-goal deficit to beat Porto in the quarter-final stage last season, only to be humbled by manager Pep Guardiola's former side Barcelona in the semis. With domestic success all but assured long before the season began, big summer signings Arturo Vidal and Douglas Costa will have been brought in to gain ground back on the European champions, and attempt to regain the title they last won in 2013.

Getty

22/32 Group F: Arsenal

The Champions League is the one trophy that has eluded Arsene Wenger in his long tenure at the helm of Arsenal, and last season provided a summary as to why that remains the case. Despite being heavy favourites for their Round of 16 clash with Monaco, the Gunners once again displayed their European naivety by allowing their French opposition three away goals, which ultimately proved unrecoverable. Not a side to be taken lightly, but also one that you feel the main contenders would not fear coming up against

Getty Images

23/32 Group F: Olympiakos

After unsurprisingly failing to get out of a group containing Atletico Madrid and Juventus last time around, Olympiakos instead featured in the Europa League, where they were immediately dumped out in the round of 32. Premier League fans can expect to see Esteban Cambiasso appearing for the Greeks.

GETTY IMAGES

24/32 Group F: Dinamo Zagreb

The most dominant team in their domestic league in the competition, Zagreb have won the Croatian league 10 times in a row. They struggle to replicate that form in Europe though, having never made it out of the group stage.

Getty Images

25/32 Group G: Chelsea

The English champions are always unpredictable in Europe. They won the competition in 2012 despite looking way off the level of the continental elite, but crashed out at home to 10-man PSG when looking as good as anyone last season. Their shaky start to the Premier League season might have some writing them off already, but now that he has a domestic title under his belt, expect European-specialist Mourinho to have his eyes fixed firmly on continental glory this time around.

Getty Images

26/32 Group G: Porto

Weakened by the loss of star-striker Jackson Martinez to pot two rivals Atletico, it is almost impossible to see Porto repeating the incredible feat of winning the competition, as they did so famously under the guidance of Jose Mourinho in 2004. The addition of Iker Casillas adds some European pedigree to the team, but they are still far short of the leading sides. This season will mark their 20th appearance in the group stages of the Champions League era, with Barcelona and Real Madrid the only other two teams to hit that mark.

Getty Images

27/32 Group G: Dinamo Kiev

Having just won their first Ukrainian league title in five years, Kiev come into the competition on some form. They've lost influential winger Jeremain Lens to Sunderland over the summer, leaving Portuguese midfielder Miguel Veloso as their most high-profile player.

Getty

28/32 Group G: Maccabi Tel-Aviv

Their first appearance in the Champions League group stages in 11 years, Tel-Aviv are another of the likely whipping boys. However, the Israeli champions won't be many teams' preferred opposition, owing to a long away trip for many.

Getty Images

29/32 Group H: Zenit St-Petersburg

Managed by former Spurs and Chelsea man Andre Villas-Boas, Zenit returned to the top of Russian football last season with their first league title in three years. The Russians do have some sort of European pedigree, winning the Europa League and beating Manchester United to the European Super Cup in 2008, but are yet to make a significant impact on the Champions League. Big name players such as Hulk pose a threat to any team, but they remain one of the better teams to draw from pot one.

GETTY IMAGES

30/32 Group H: Valencia

The Spanish side returned to the competition after beating Monaco in a play-off, to end a two-year absence. Unlikely to progress too far in the competition, especially given the need for a centre-half to replace the recently departed Nicolas Otamendi, who left in a big money deal to Manchester City. They made the final of the competition twice in a row in 2000 and 2001, but have since failed to significantly impact the competition.

EPA

31/32 Group H: Lyon

Despite winning seven French league titles in a row between 2002 and 2008, Lyon have only made it even as far as the semi-finals just once. Firmly in the shadow of PSG in terms of providing a serious French challenge, and unlikely to progress very far.

Getty Images

32/32 Group H: Gent

Another team to make their debut in the group stages this year, the Belgians ended their 115-year wait for a domestic title when they won the Belgian Pro League for the first time in their history last season.

Getty Images
Maccabi have won three consecutive Israeli Premier League titles, which is impressive enough, but their being at Chelsea is the biggest achievement of all. Maccabi had not played in the Champions League group stage since 2004 but this season they have won three qualification ties, including beating Viktoria Plzen and FC Basel, to be here.
Although the game against Chelsea represents a climax of sorts for Goldhar and Cruyff's work, the club are keen to make themselves part of the football furniture.
"The project is for continued and sustained European participation," explains chief executive Martin Bain, formerly of Rangers, to The Independent. "That participation does not always have to be Champions League. But it does help us to fast-track an awful lot of the aspirations that we have."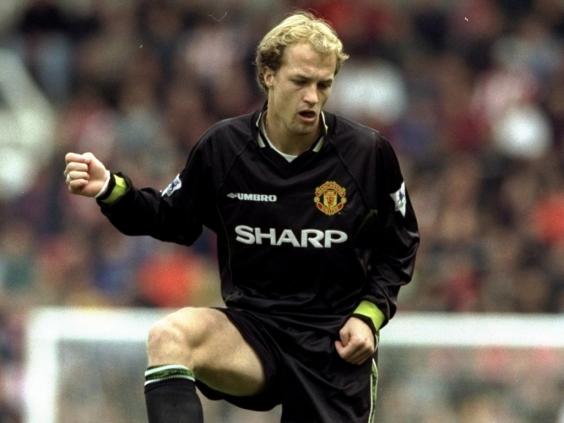 Those aspirations, in short, are to turn Maccabi into a team with the standards and practices of a big European side. "What underpinned Mitch's project," says Bain, remember his recruitment in 2014, "was that he talked about culture, integrity, and how he wanted to develop the professionalism and put in some of the characteristics of a large European football club."
That is what Goldhar wanted and Cruyff had the expertise to build it. Before Cruyff arrived, Maccabi training sessions were a free-for-all, with the media sitting on the bench with the players and fans walking around the pitches. That does not happen now.
"What Jordi has certainly brought to the party is realism," Bain explains. "With that realism he has brought a very rigid footballing structure. Jordi brought in a lot of disciplines and procedures from his experience and his own European pedigree." With a new scouting structure, GPS trackers in training and nutritional rules Cruyff has transformed the daily life of the club.
The most important lever Cruyff has to control the club is his appointment of coaches, where he has imposed a European passing style while changing coach at least once a year. First there was Oscar Garcia, plucked from Barcelona under-19s, who won the 2012-13 title. Then Paulo Sousa, who won the league the following year. Garcia returned briefly, but was replaced by Pako Ayesteran, who won the domestic treble last year, only to be dismissed.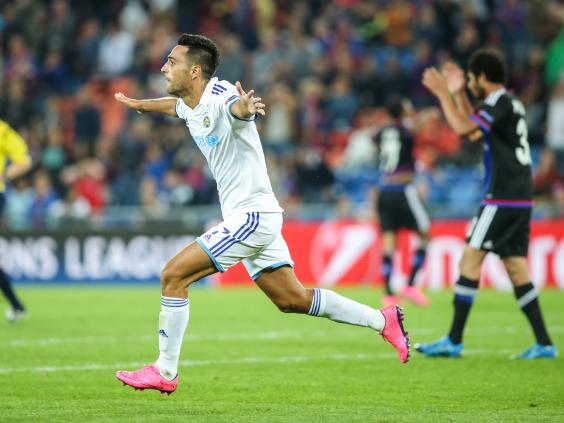 That ruthless move was because Cruyff did not think the amiable Ayesteran was extracting the maximum from the players. "I know how hard it was for him, but still he was not afraid to make the decision," Cruyff's father Johan wrote in De Telegraaf. "As it should be at the highest level."
Ayesteran was replaced with Slavisa Jokanovic – Bain praises his "very disciplined approach" - after the Serb walked out of Watford when they only offered him a £500,000 salary on promotion to the Premier League.
As wealthy as Goldhar is, though, he has not spent recklessly since buying Maccabi. The club is well run and their ambition is to find a way to make a profit on the transfer market.
"We realised that with the limited commercial opportunities here from broadcast media, that our player trading model needs to improve to generate some revenue," Bain explains. "It is a very, very difficult thing to achieve. But with the climate here, the conditions, and the possibility of sustained participation in Europe, there is no reason why we can't start to develop that model."
Maccabi took a step in that direction last month when they signed Predrag Rajkovic from Red Star Belgrade. He was the 19-year-old goalkeeper who starred for the Serbia team that won the Under-20 World Cup this summer, and was in high demand across Europe. Only Maccabi, though, could offer him first-team football in the Champions League group stage, and they signed him for €3m.
It was the biggest transfer in the history of Israeli football and it may be the most important. "If he is successful then we will get a return on that investment," Bain says. "Clubs like ours have to look at life in that way." Maccabi hope they have signed the new Thibaut Courtois, and if they can sell him at a profit in 2016 or 2017 they hope to attract more talented youngsters who can improve the team and earn them a profit. There is a five-foreigner limit in Israel, and if Maccabi successful lobby the league to relax it, they will sign more players like Rajkovic.
"Maccabi want to build up to be the FC Basel, or the Red Bull Salzburg, of the Israeli Premier League," Israeli journalist Raphael Geller told The Independent. There is a way for the best teams in small leagues to make their name, but they need to be more intelligent and imaginative than anyone else. Maccabi, back in the big time, are on their way there.
Reuse content