The Jan Breydel Stadium is not a small ground and Club Brugge have their own impressive history, better than any other Belgian side in European competitions. And yet Manchester United's presence here this week, in this ground and in this city, feels ever so slightly out of place.
During the long final flourish of Sir Alex Ferguson's era, when United won three straight Premier Leagues, and reached three European Cup finals in four years, it would have been inconceivable that they would lower themselves to participating in this August play-off.
United's direct passage straight into the group stage was always assured, so lesser sides scrapped it out in between their opening league games while United eased their way into the season. This time four years ago it was Arsenal, who played an exhausting second leg in the heat of Udinese. They showed up at Old Trafford four days after. United beat them 8-2.
There were rare occasions, during the rebuilding of the early 2000s, before the granting of the Premier League's fourth Champions League place, when United did have to pre-qualify. The last one was 10 years ago this week, when United beat Hungarians Debrecen 3-0 home and away.
Manchester United 0 Newcastle 0 player ratings
Manchester United 0 Newcastle 0 player ratings
1/22 Sergio Romero - 6/10

Little concerned the Argentine as he bagged a third clean sheet of the season.

2/22 Matteo Darmian - 7

The right-back impressed again, but his over-zealousness earned him another yellow card.

3/22 Chris Smalling - 7

More of a presence in the opposition penalty area, he was almost the late difference.

4/22 Daley Blind - 6

Continued to fit effortlessly into the centre of defence.

5/22 Luke Shaw - 6

Always looked to get forward, his left flank partnership with Depay needs work.

6/22 Bastian Schweinsteiger - 6

Demonstrated a neat touch early on, but tired long before his removal.

Getty Images

7/22 Morgan Schneiderlin - 7

The Frenchman continues to look the class act that has been missing from the Manchester United midfield.

8/22 Adnan Januzaj - 5

The young Belgian created little on an uninspiring afternoon.

9/22 Juan Mata - 7

Often United's biggest threat, his final ball wasn't always up to expectation.

10/22 Memphis Depay - 6

Often tried too hard to impress the home crowd, he lacked composure at the vital moment.

11/22 Wayne Rooney - 6

Eager and direct early on, he quickly grew frustrated as his spell without scoring continued.

Getty Images

12/22 Tim Krul - 8

Produced a series of fine saves on his way to a well-deserved clean sheet.

13/22 Chancel Mbemba - 7

Solid at the back and showed glimpses of being a threat down the touchline.

14/22 Steven Taylor - 6

Returned to the team in place of the suspended Janmaat and did well.

15/22 Fabricio Coloccini -8

Put in a captain's performance as United threw everything at the visitors in the late stages.

16/22 Massadio Haidara - 6

Gave as good as he got in his duel with Darmian.

17/22 Vurnon Anita - 6

Struggled to contain United's attacking in the first half, but grew into the game.

18/22 Jack Colback - 6

Never stopped running in midfield even if he rarely got his foot on the ball.

19/22 Ayoze Perez - 7

Often found himself in uncustomary defensive positions, but battled well.

20/22 Giorginio Wijnaldum - 5

Had few opportunities to demonstrate his attacking talent.

21/22 Gabriel Obertan - 5

Was unable to trouble his former club before his booking and substitution.

22/22 Aleksandar Mitrovic - 7

Ran himself into the ground on his own up front and nearly broke the deadlock with a thumping long range header.
That happy era, though, is over. The departure of Sir Alex Ferguson, and United's subsequent collapse gave them empty midweeks last season for the first time since the 1980s. That European credibility, hard won, swiftly lost, has to be re-earned.
"It was our aim last year to participate in the Champions League," Louis van Gaal said at his press conference at the rainy stadium on Tuesday night. "Still we are not participating. It is a preliminary round. You have to play the game. And at the end, you have to have scored more goals than the opponent."
This game, then, may not be Manchester United's natural territory, but it is still a game that they need. Not just because the Champions League group stage is the only place to be, but also because Van Gaal's side are clearly still in need of work.
United have played four games this season and impressed in just one, the first leg of this Champions League tie. They won that 3-1, a result which makes progress into the group stage the overwhelming likelihood here. The fact that Club Brugge coach Michel Preud'homme said that progress would represent a "great miracle" conveys the probability of United going through.
But in their Premier League games so far, against tougher opposition than Brugge, United have scored two goals in their three matches. The first was a Kyle Walker own-goal, the second a deflection. When asked about this problem, Van Gaal pointed to Monday's goalless draw between Liverpool and Arsenal demonstrating that chances do not always lead to goals.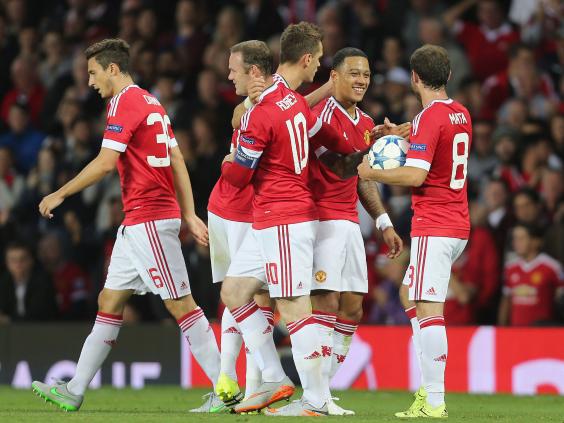 Van Gaal is in his second season and there is a hope amongst supporters that the form his team briefly showed last spring – playing Liverpool and Manchester City off the park – would continue into his second term. Van Gaal has a reputation as an educator – he describes himself as a "trainer/coach" - and has been trying to inculcate his players with his "philosophy" since his arrival last summer.
And yet the evidence on the pitch is that United are still making small strides if any. They are desperately struggling for fluidity and fluency and the Van Gaal approach increasingly looks like possession for its own sake, the accusation that used to be thrown at Arsenal, frequently from United, in fact.
There is no doubt that United now have the players, especially in central and wide midfield now, and yet they never quite look to have been granted the freedom required to play through teams like they used to.
It was telling that, when asked on Tuesday for element of United's play that he had been most impressed with so far in his tenure, Van Gaal spoke of his side's defensive organisation. "I divide football into four main moments [phases]," Van Gaal explained. "We have two moments when the opponent has the ball, then we are at our best, and we have proved that last year already. Now we continue with a lot of clean sheets, which is very important. But we have to improve when we have the ball."
This was a striking admission from Van Gaal but the fact is that his team is neither creating nor converting as many chances as expected. Wayne Rooney is out of touch but has little by way of competition or back-up among the squad. The fact that Van Gaal announced that Marouane Fellaini would be used mainly as a number 9 or 10 this season, rather than in midfield, shows the paucity of United's forward options, and how important a new striker remains. They surely have enough to get through Wednesday night and into the group stage, but beyond that is less clear.
Reuse content