Louis van Gaal may want his Manchester United side dominating possession, but when they return to the Champions League group stage with Tuesday's trip to PSV Eindhoven, they could find themselves swimming against the tide.
The evidence of last season's Champions League points to a shift away from the possession model inspired by Barcelona's tiki-taka football. Indeed the fact that Barça ended up lifting the trophy after looking increasingly to swift transitions under new coach Luis Enrique underlined a trend which – along with the shortage of top European strikers – provided one of the key talking points of Uefa's technical review of its 2014-15 club competitions.
Ioan Lupescu, Uefa's technical director, sounded out leading managers including Arsène Wenger and Manuel Pellegrini at the recent elite club coaches' forum in Nyon and he told The Independent: "Possession is only important for the majority of them if you have progression, if you have penetration, if you have a final act at the end."
The same trend was evident in the Europa League, where of the teams in the last 16 it was the two with the lowest average possession – Sevilla and Dnipro Dnipropetrovsk – who reached the final. In the summer's European Under-21 Championship, Gareth Southgate's England had the highest possession ratio of the eight teams but went home after the group stage.
Sir Alex Ferguson, as the most high-profile figure quoted in Uefa's technical reports, lent his voice to the debate by questioning the value of "pedantic" possession football. "We are seeing possession of the ball now too much in teams' own half of the pitch and it is not as entertaining for the fans," he said.
For Sir Alex, "the first pass forward – an accurate pass forward, which allows players to sprint forward in support of the ball – is important" and Uefa's study showed that 20.6 per cent of goals scored in the 2014-15 Champions League came from counter-attacks. Barcelona – with the trio of Lionel Messi, Neymar and Luis Suarez – profited from their one-on-one ability on the break, says the report, with "Ivan Rakitic looking for fast transitions rather than controlled possession when they win the ball in the defensive third".
Premier League top 10 highest earners
Premier League top 10 highest earners
1/10 10) John Terry (Chelsea)

£160,000-a-week

AP

2/10 9) Kevin De Bruyne (Manchester City)

£170,000-a-week

mcfc.co.uk

3/10 8) Cesc Fabregas (Chelsea)

£170,000-a-week

Getty Images

4/10 7) Raheem Sterling (Manchester City)

£180,000-a-week

GETTY IMAGES

5/10 6) Mesut Ozil (Arsenal)

£190,000-a-week

GETTY IMAGES

6/10 5) David Silva (Manchester City)

£200,000-a-week

Getty Images

7/10 4) Eden Hazard (Chelsea)

£220,000-a-week

Getty Images

8/10 3) Yaya Toure (Manchester City)

£240,000-a-week

GETTY IMAGES

9/10 2) Sergio Aguero (Manchester City)

£240,000-a-week

Getty Images

10/10 1) Wayne Rooney (Manchester United)

£260,000-a-week

Getty Images
This change in thinking chimes with the evidence of the new Premier League campaign, in which there has been a relatively high number of away victories.  The Aston Villa manager, Tim Sherwood, cites the example of Leicester City, unbeaten in their opening four games despite having less than 50 per cent possession in each one.
"It's all about what happens in the two penalty areas," says Sherwood. "What happens in between is immaterial really. It's all right to have nice pretty patterns and you can wear teams down by keeping possession and that's what I want to do, but you need to penetrate."
A striking decline
There is a growing concern that goalscorers are an endangered species in Europe after a campaign in which six of the eight leading Champions League scorers came from South America.
The highest-scoring Premier League player was Sergio Aguero and his Manchester City manager, Pellegrini, spoke at the coaches' forum of the greater hunger of South American footballers, though Uefa's report cites additional factors.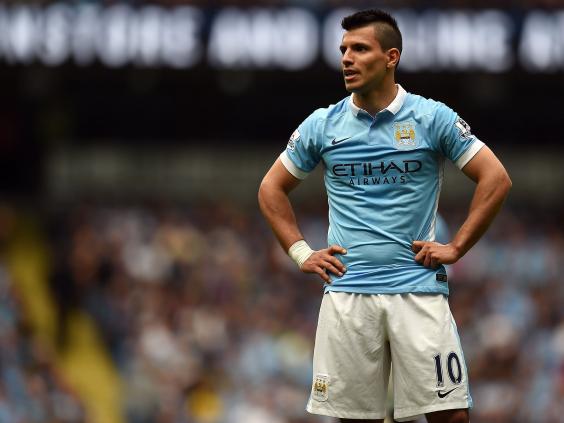 Jean-François Domergue, who is responsible for Uefa's academy project, notes that "European teams are not developing players who go direct for goal". It is suggested that in Germany a recent focus on possession play, technique and transitions has led to a surfeit of mobile attacking players adept at exploiting space, but not traditional centre-forwards.
Lupescu said: "Maybe we have to think Europe-wide about this and provide separate training for them, to develop their skills and give them more time with training sessions."
England's four 2015-16 Champions League sides will not be bucking the trend in the short term. United captain Wayne Rooney and Arsenal pair Danny Welbeck and Theo Walcott are the only front-line English forwards registered for this season's competition.
Combinations unlock defences
Goals from the traditional through ball have declined; instead teams looking to shine this season are more likely to open up defences with combination plays.
Almost a quarter of goals scored in last season's Champions League – 23.6 per cent – were from the kind of short-passing combinations at which a team like Barcelona excel; Uefa's report notes that "the 2014-15 total is three times higher than the figure registered in 2009-10".
By contrast, goals from through balls have declined from 26 per cent of open-play goals a decade ago to 13.86 per cent last season.
Scoring first is key
More than ever the key to winning a Champions League tie is to score the first goal. In 2014-15 there were only five matches (of 117 in which goals were scored) in which the team who conceded first came back to win. Only one English team, Arsenal against Anderlecht in Brussels, mounted a successful turnaround and Lupescu suggests the effectiveness of teams on the counter-attack has made it ever harder to recover.
Reuse content