Cristiano Ronaldo has admitted that the lack of respect he receives from sections of the Real Madrid fan base makes him miss Manchester United.
Ahead of Real's Champions League final against Juventus on Saturday night, the 32-year-old revealed that he has been left frustrated at times this past season by those fans at the Bernabeu who boo him.
This comes in spite of Ronaldo's staggering achievements at the club. Since leaving Manchester for the Spanish capital back in 2009, the Portuguese has scored 285 goals in 241 appearances and helped guide the club to two Champions League trophies and two La Liga titles.
Ronaldo's Champions League century
Ronaldo's Champions League century
1/21 Ronaldo's Champions League century

Against Bayern Munich, Cristiano Ronaldo became the first ever man to score 100 goals in the Uefa Champions League. Here we recount some of his most memorable.

Getty Images

2/21 Goal 1

Ronaldo opened his century of Champions League goals against Debreceni in the third round of qualifying for the competition. He netted a precise tap in off a Wayne Rooney cross off the right flank.

AFP/Getty

3/21 Goal 9

An injury time free-kick from 20-yards out against former club Sporting secured a 2-1 win for Manchester united in the 2007 Champions League group stages.

Man Utd via Getty

4/21 Goal 12

A towering 26th minute header in the 2008 final gave Manchester United a vital early lead. The Reds went on to beat Chelsea 6-5 in penalties.

Getty Images

5/21 Goal 15

Still to this day one of the finest goals in Champions League history. A 35-yard screamer from open play against Porto gave Manchester United the a 3-2 aggregate win in the quarter-finals.

Getty Images

6/21 Goal 40

Ronaldo's 90th-minute strike won an engrossing game as the nine-time champions scored twice in the last four minutes to snatch a 3-2 victory.

Getty Images

7/21 Goal 43

A cheeky chip over goalkeeper Kenneth Vemeer gave Ronaldo his first Champions league hatrick as Real Madrid thumped Ajax 3-1 in the second group stage match in 2012.

Getty Images

8/21 Goal 44

A second chip in two matches- this time Ronaldo latched on to a long ball in the box before sneakily flicking over Borussia Dortmund keeper Roman Widenfeller for the equaliser.

AFP/Getty Images

9/21 Goal 50

50 up in style! Six minutes into the 2012/13 Champions League quarter-finals first leg against Galatasaray, Ronaldo found himself in space to convert Karim Benzema's cross, putting Madrid one step closer to what was a record 24th European semi-final.

AFP/Getty Images

10/21 Goal 54

Ronaldo and Real Madrid ran riot against Galatasaray in the 2013 group stages. A jaw dropping dribble weaved through the Turkish defence and a low blast past the outstretched hands of Fernando Musrela brought up Ronaldo's second European hatrick and helped them to a 6-1 win.

Getty

11/21 Goal 62

This time Schalke were at the other end of the Ronaldo and Madrid show. He strormed down the centre field, split the defence in two, dribbled the keeper and scored his second of the night. Simple.

Bongarts/Getty Images

12/21 Goal 64

The second leg of the 2013 Champions league round of 16 against Schalke brought about another Ronaldo double. A 30-yard run down the right wing and a shot from the edge of the box gave the keeper no chance. Madrid completed a 9-2 aggregate win over the Germans.

Getty Images

13/21 Goal 68

The night Ronaldo won the Champions League for Real Madrid. He lined up for the 120th minute penalty and made no mistake. Real Madrid scored 4 goals in extra time to break Atletico hearts.

Getty Images

14/21 Goal 73

Ronaldo's 73rd European goal came at Liverpool. Despite not being as instantly brilliant as some of his others, it was voted the second-best goal in the competition that season and set Real on their way to a comfortable 3-0 win at Anfield.

AFP/Getty Images

15/21 Goal 80

A classic Ronaldo penalty brought up the personal milestone of 80 European goals and helped but was not enough to send Real through to the finals of the Champions League.

Getty Images

16/21 Goal 83

After Marcelo's shot was saved by the keeper, Ronaldo was in the perfect spot for a rebound and in the process brought up his third European hat-trick vs Shaktar in the 2015 Champions League group stages.

Getty Images

17/21 Goal 90

An 8 goal drubbing of Malmo gave Ronaldo his fourth European hat-trick. The third goal from the three came in the 59th minute from a low blast through the keepers legs.

Getty Images

18/21 Goal 91

With his fourth goal of the match against Malmo, Ronaldo broke the record for the most goals in the group stages of the Champions League (11).

Getty Images

19/21 Goal 92

A game later against Roma, Ronaldo ventured down the left leaving the defence trailing. One quick cut in and a curved right foot shot later and he had his 92nd European goal.

Getty Images

20/21

Ronaldo's fifth European hat-trick came against Wolfsburg in the 2016 quarter-finals. The Germans had won the first leg 2-0. He completed the stunning comeback with a sublime chipped free kick that sent the Madrid fans into delirium.

Bongarts/Getty Images

21/21 Goal 100

The Real Madrid superstar scored five of his team's six goals in the quarter-final tie against Bayern Munich, moving him to a century of goals as he tapped home Marcelo's cross in the second period of extra time.

Getty Images
Even after eight years at Real, Ronaldo insisted he still prefers the crowd treatment he received at United.
"I spent a lot of years at Manchester United and it [home fans booing] never happened to me. Not even once," the 32-year-old told Spanish TV La Sexta ahead of the final in Cardiff.
"Maybe England is a case apart, the mentality is different.
"I'm very happy being in Spain but obviously I also miss England because you can't just turn off the memories."
Ronaldo admitted that the unsettling reception at the Bernabeu has left him upset.
He said: "I don't like it and it's not normal that they whistle you in your own stadium. I just don't like it.
"It shouldn't be the case that a player who always wants to give his best and give 100 per cent for this team, when he makes his first mistake people whistle.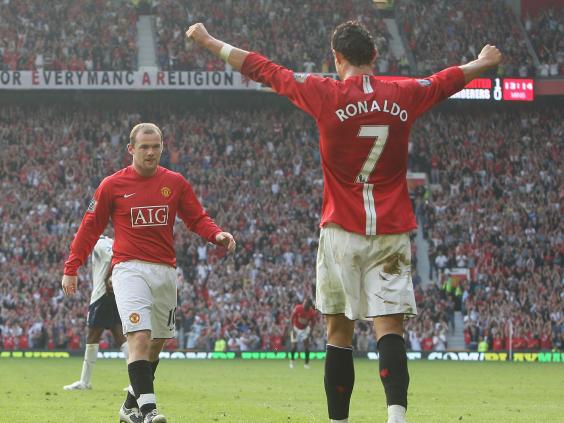 "It's not correct. And when you are on a difficult run that is when you need extra support from outside, not less. Sometimes we don't have it."
Despite his latest comments, any prospects of a potential move away from Real are unlikely. 
Ronaldo signed a new five-year contract with the La Liga champions in November 2016, keeping him as the club's top paid player.
The forward added that he wants to keep on playing for Real into his 40s. 
"I said when I signed my latest contract that it would be my penultimate and that I would play on until I was 41."
Reuse content