The fallout from Real Madrid's 4-0 crushing at the hands of fierce rivals Barcelona is threatening to cause a rift among Rafa Benitez's camp as the club comes to terms with their heaviest El Clasico defeat since 2009.
Neymar, Luis Suarez and Andres Iniesta orchestrated the most dramatic of downfalls for Madrid, with Benitez facing the ire from the Real fans as they waved their white handkerchiefs in a sign of their unhappiness with the Spaniard.
But the biggest opposition to Benitez's short reign at the club appears to be coming from inside his own squad. Cristiano Ronaldo, the superstar of Madrid and top scorer in La Liga in 2015, reportedly told team-mates in the dressing room following the loss that "either he goes, or I go."
Real Madrid vs Barcelona player ratings
Real Madrid vs Barcelona player ratings
1/22 Keylor Navas – 5 out of 10

Hardly at fault for Luis Suarez and Andres Iniesta's goals, but will have been disappointed to have let Neymar's shot slip under his legs.

2015 Getty Images

2/22 Danilo – 5 out of 10

Up against Neymar and came second-best every time.

3/22 Raphael Varane – 4 out of 10

Unusually uneasy. The member of Madrid's defence who was most often exposed.

Getty

4/22 Sergio Ramos – 5 out of 10

Unable to marshal his defence effectively early on, which put Madrid firmly on the back foot.

5/22 Marcelo – 6 out of 10

Offered a decent outlet on the left hand side but was as culpable for defensive frailties.

6/22 Toni Kroos – 5 out of 10

Failed to stem the tide of Catalan shirts cascading towards him.

2015 Getty Images

7/22 James Rodriguez – 6 out of 10

Tested Bravo twice and was lively at times but looked uncomfortable on the right-hand side of a 4-4-2.

8/22 Luka Modric – 6 out of 10

Did not exert the kind of influence he usually has.

Getty

9/22 Gareth Bale – 4 out of 10

Ineffective, bordering on invisible. Looked a shadow of the devastating player he was at White Hart Lane.

10/22 Karim Benzema – 4 out of 10

With all his off-the-field problems and lack of match fitness, unsurprisingly looked off the boil. The French striker did nothing to justify his contentious selection.

11/22 Cristiano Ronaldo – 6 out of 10

Typically, one of his side's better performers, but lucky not to be sent off for a snide elbow on Dani Alves.

12/22 Claudio Bravo – 9 out of 10

The scoreline should not suggest that the Chilean had a quiet evening. Madrid, as bad as they were, created opportunities but found Bravo pulling off top class saves every time.

13/22 Dani Alves – 7 out of 10

No major errors except, perhaps, hauling Cristiano Ronaldo down in the box needlessly during the first half. He avoided conceding a penalty but earned an elbow from Ronaldo.

14/22 Gerard Piqué – 8 out of 10

Received dog's abuse from the Bernabeu, as expected, but dealt with them effortlessly and handled Madrid's attacking play in the same way.

Getty Images

15/22 Javier Mascherano – 6 out of 10

Substituted early on after going down injured. Replace by Jeremy Mathieu.

16/22 Jordi Alba – 8 out of 10

His performance will be overlooked but barely put a foot wrong.

17/22 Ivan Rakitic – 7 out of 10

Did well considering his inclusion was in doubt.

18/22 Sergio Busquets – 8 out of 10

Composed, controlled, denied Madrid time and again. As good as we've come to expect.

Getty Images

19/22 Andres Iniesta – 9 out of 10

In the autumn of his career, no doubt, but still capable of stunning moments. Received an ovation from the Bernabeu.

20/22 Sergi Roberto – 9 out of 10

Lionel who? The man seen as Messi's stand-in may not be quite at the Argentinian's level yet, but tonight he filled his shoes and then some. Electric in the first half.

21/22 Luis Suárez – 9 out of 10

The man most likely to dismantle any defence in European football and, by virtue of his two goals, tonight's man of the match.

22/22 Neymar – 9 out of 10

Sublime, again. His late claim for the Ballon D'Or is gathering pace.
The murmurs could well be a sign of Ronaldo's impending Santiago Bernabeu exit. Heading into the match, the belief was that it could well be Ronaldo's final El Clasico at the Bernabeu, and the defeat has done nothing to weaken that notion given the breaking relationship between player and manager.
Real president Florentino Perez appears to be the man pulling the strings of Real's calamitous defeat from behind the scenes, with suggestions that Benitez is selecting the side that Perez wants rather than his own. Perez has seen 13 head coaches come and go during his 15-year tenure, and the side that started the Barcelona encounter certainly did not resemble a Benitez side.
Ronaldo was joined by Gareth Bale and Karim Benzema in Real's famous attacking trio, with James Rodriguez shifted back to midfield alongside usual suspects Toni Kroos and Luka Modric. It left Real's back-four horrendously exposed, with Suarez scoring twice along with individual goals from Neymar and Iniesta.
Ronaldo is known to be wanted by French league champions Paris Saint-Germain, and a move to Ligue 1 to end his career would certainly fit in with Ronaldo's career projection – which has seen him win Champions League and league titles in both England and Spain. However, a return to Manchester United cannot be ruled out, and while it's unlikely that United would pay in excess of £60m for a 30-year-old, fans will expect the club to move for Ronaldo if he ever becomes available.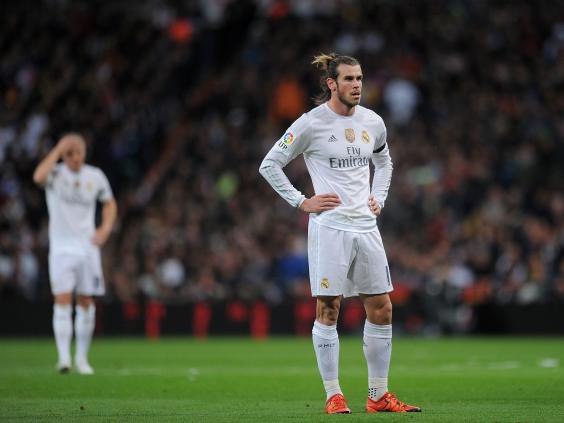 Perez's insistence to stand by Bale is another reason why Ronaldo could be heading for the door. French newspaper L'Equipe described Bale's performance as "catastrophic" and that he "seemed lost", adding: "What is his position? What is his role? What does he do?"
Despite his struggles, Perez is sticking by the man who he sanctioned a world record £86m fee to sign, and shifting Ronaldo on would free Bale up to lead the attack in a position more familiar to his role at Tottenham Hotspur.
Further signs of Perez's influence came in Benitez's tactical decisions. He chose to leave out Casemiro, his one defensive midfielder who has been a success so far this season, while instead of replacing the ineffectual Bale during the match, he hauled off Rodriguez for Isco instead. Isco went on to get sent-off just 29 minutes after coming on, while Bale saw out the 90 minutes.