It's been a week of carnage for the English teams in Europe and I have to say it's been a week of ridiculous explanations for why things have gone wrong.
Explanations like "the Premier League is in decline" and "the Premier League players aren't as good" or "the Premier League matters more to them". All of which are categorically just not true.
The managers are, to a very large degree, the reason why Manchester City and Arsenal lost, with Liverpool and Tottenham eliminated. Quite simply, they got their tactics wrong, or dispensed with them altogether.
Recent history gives us a running story of teams who should never be near a Champions League trophy lifting one because their managers got the tactics right.
Jose Mourinho's Porto should not even have been in the competition with the squad that won it in 2004. There was his Internazionale, Rafael Benitez's Liverpool, Diego Simeone's Atletico Madrid to select three, or Sir Alex Ferguson's Manchester United, who continued to drive on in the competition, even when Ferguson's squad was not as good. Now we see English squads packed with world-class players but no evidence that they are interested enough in getting the tactics right. Five or six of that Manchester City team which lost 2-1 at home to Barcelona would get into most teams in world football.
Champions League 2014/15: The Last 16
Champions League 2014/15: The Last 16
1/12 Atletico Madrid

Best CL finish: Runners-up (1973/74, 2013/14) Dangerman: Mario Mandzukic Manager: Diego Simeone

Reuters

2/12 Monaco

Best CL finish: Runners-up 2004 Dangerman: Joao Moutinho Manager: Leonardo Jardim

3/12 Borussia Dortmund

Best CL finish: Winner 1997 Dangerman: Ciro Immobile Manager: Jurgen Klopp

Getty Images

4/12 Chelsea

Best CL finish: Winner 2012 Dangerman: Diego Costa Manager: Jose Mourinho

Glyn Kirk/AFP

5/12 Porto

Best CL finish: Two-time winner Dangerman: Jackson Martinez Manager: Julen Lopetegui

Getty Images

6/12 Juventus

Best CL finish: Two-time winner Dangerman: Paul Pogba Manager: Massimiliano Allegri

Getty Images

7/12 Basel

Best CL finish: Quarter-final in 1974 Dangerman: Marco Streller Manager: Paulo Sousa

GETTY IMAGES

8/12 Bayer Leverkusen

Best CL finish: Runners-up 2002 Dangerman: Lars Bender Manager: Roger Schmidt

Getty Images

9/12 Arsenal

Best CL finish: Runners-up 2006 Dangerman: Alexis Sanchez Manager: Arsene Wenger

Getty Images

10/12 Manchester City

Best CL finish: Last 16 (2013/14 2014/15) Dangerman: Sergio Aguero Manager: Manuel Pellegrini

Getty Images

11/12 PSG

Best CL finish: Semi-finalists (1995) Dangerman: Zlatan Ibrahimovic Manager: Laurent Blanc

12/12 Shakhtar Donetsk

Best CL finish: Quarter-final in 2011 Dangerman: Douglas Costa Manager: Micea Lucescu

Getty Images
There was nothing wrong with City's 4-4-2 formation but there was something seriously wrong about the way it was set up, with neither of the two strikers nor the wide players dropping in to deny Barcelona space in midfield. A catastrophic oversight.
Arsenal, as usual, went flying forward and left themselves vulnerable to the quick counter-attack, with no defensive leader to prevent that happening. Liverpool, who have been looking unbeatable in the Premier League, lost the midfield battle to Besiktas in Istanbul. They could have bypassed that problem by putting Rickie Lambert at the top with Raheem Sterling and Daniel Sturridge going around the back. They didn't – and paid the price.
The continental European managers are beating the English-based ones hands down for tactics. It can be a chess match but if the strategy is right it's not such a difficult one.
Everyone seems to get starry-eyed about foreign sides and their foreign managers. But what happened when Paris Saint-Germain played Barcelona last autumn? Laurent Blanc looked at the Barça centre-halves, realised there was a weakness there, went for physicality against them and won the game. You have to find something that you are better at than the opposition.
And what did City do? Decided to play Barcelona at their own game. We've seen where that got them. Because of what happened at the Etihad, the whole world seems to think that 4-4-2 is a disaster.
Well, I'm sorry, but that's rubbish.
Shakhtar Donetsk managed a very creditable 0-0 draw with Bayern Munich last week – by using a flexible 4-4-2. Simeone's Atletico use it all the time. The difference between Pellegrini and Simeone is that the Argentine employs it wisely.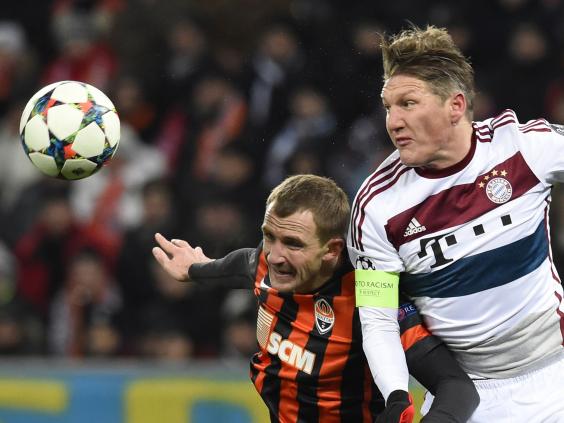 Look anywhere across Europe – and working on the continental leagues I get my share of their football – and you see managers getting more than they should out of players because they "do" tactics.
The Portuguese club Boavista ought to have been overwhelmed in the Primeira Liga after getting their demotion overturned and being promoted two divisions at a stroke. They have 25 new players, most of them with very little top-flight experience. But they're holding their own because their young manager Armando Goncalves Teixeira has had a long look at the opposition and decided what makes his own side strong.
 In the great Champions League performances of modern times – Simeone's Atletico beating Mourinho's Chelsea in last season's semi-final second leg, Mourinho's 10-man Inter beating Barça in the 2010 Champions League semi-final and of course Benitez's tactical adjustments in Istanbul a decade ago – it's the same picture.
It's hard to name a single manager of an English club who could really point to the strength of his squad as an excuse for European failure in the past few years. Roberto di Matteo at Chelsea, perhaps. That would be the only one.
The fact that City have already discovered the benefits of occasionally getting the tactics right makes these excuses about the Premier League decline even more difficult to listen to. Their best performance of the season in Europe was at Roma where they were without Sergio Aguero, Yaya Touré and Vincent Kompany but adapted to the situation in front of them. If you tell me that the City squad which struggled against CSKA Moscow was not substantially better than them, I'll tell you that's rubbish.
It's no coincidence that Chelsea – the one English Champions League side with a tactically shrewd manager – look likely to be the only one left in a few weeks' time.
Arsène Wenger is struggling. Manuel Pellegrini doesn't seem to have the answers. Mourinho aside, I don't see a manager in the Ferguson mould out there at the moment. That's why it's been such a terrible week in Europe.
Modern defenders punished by the old-school Kane
An old-school centre-forward against a new-school defence: that's what you'll see when Harry Kane goes up against Chelsea in the Capital One Cup final tomorrow.
In the 1970s, '80s or '90s, when managers buying new defenders told scouts to look primarily for "someone who can defend well and put a head in" Kane would not have been so effective. He's excellent but he's helped because a good centre-half is principally defined as someone who is "good on the ball". Watch out for the way Kane will go looking for the weakest of the centre-halves to put himself up against at Wembley. It won't be John Terry.
Christian Eriksen is the liability for Tottenham. He's phenomenal on the ball but they play him on the left of the three-man line in a 4-2-3-1 and the problem is that he does not track back. Look at how many of the goals Spurs concede stem from crosses and you'll understand the problem. A solution would be to play Eriksen in the middle of that three.
That Tottenham defence also plays a ridiculously high line. You'll sometimes see Hugo Lloris out on the edge of his area.
If you've got players like Oscar and Eden Hazard up against you they can break very quickly, so Spurs are going to have to be careful. But with that 5-3 win over Chelsea on New Year's Day behind them and Nemanja Matic – the cog around which the whole Chelsea side operates – missing, Tottenham have a psychological boost. It's so often the flaws in teams that make a game interesting.
Reuse content