First things first: Diego Costa did not score against Tottenham in the Capital One Cup final.
As much as the Spanish striker would want the goal (and Spurs defender Kyle Walker would happily give it to him), Costa was clearly intending to cross the ball for Ramires at the far post - the ball is travelling towards the centre of the box and Hugo Lloris takes a faint step to his left to anticipate the ball travelling in that direction.
That own goal leaves the Chelsea striker with a slight cause for concern: he hasn't scored since the demolition of Swansea on 17 January, 529 minutes or 11 minutes shy of nine hours.
PSG vs Chelsea - combined XI
PSG vs Chelsea - combined XI
1/11 GK: Thibaut Courtois

This isn't even a selection between the PSG and Chelsea goalkeepers - it's a selection between the Chelsea No 1 and No 2. PSG would agree as they have courted both to replace Salvatore Sirigu in recent months. Jose Mourinho has handed the gloves back to the Belgian, who has recovered from a shaky spell last month - Courtois was the reason Chelsea won at Upton Park.

2/11 RB: Branislav Ivanovic

The Serbian is the best at his position in the Premier League and one could make a convincing argument that he is the best right-back in world football, although he made some uncharacteristic errors at West Ham. Rarely beaten, he also carries a good attacking threat as a crosser and from set-pieces. Gregory van der Wiel is pretty much a winger playing in defence, he relies way too much on his pace to get him out of trouble - Eden Hazard will be looking forward to facing him again.

Getty Images

3/11 CB: Thiago Silva

The Brazil captain, named to the Uefa Team of the Year, is one of the premier defenders in world football; Brazil would not have lost to Germany 7-1 in the World Cup with him in the side. Gary Cahill has been back to his old spell after being dropped a month ago, but isn't a patch on Silva.

Getty Images

4/11 CB: John Terry

David Luiz may come with the £50million price-tag but Chelsea fans will know his (and John Terry's) true value as a centre-back. This is an easy decision, Luiz may look Hollywood when he blazes about the pitch, but he's not a good defender. Chelsea were laughing all the way to the bank in the summer.

5/11 LB: Cesar Azpilicueta

The Spaniard has looked slightly ragged in recent weeks but he remains one of the best full-backs in world football. Maxwell, now 33, is serviceable but will be one of the players Chelsea will look to expose.

6/11 CM: Nemanja Matic

Thiago Motta is back from injury but he is a level below the giant Serbian, who returns from suspension after his altercation with Ashley Barnes. Matic has been critical to Chelsea's title and European push this season and Jose Mourinho will expect another big game from him.

7/11 CM: Blaise Matuidi

The energetic midfielder is absolutely key for Laurent Blanc's team, tasked with the job of stifling Cesc Fabregas. Matuidi, who drives the team forward, was hugely impressive in Paris and edges in front of Ramires, who could perform a similar job at Stamford Bridge. He will have his work cut out by the Spaniard, however.

Getty Images

8/11 CM: Cesc Fabregas

The Spanish maestro has not been as good as he was earlier in the season with a heavy work load seemingly catching up. But he is better than anything PSG are able to field in the middle. Marco Verratti is an exciting young player but has a long way to go to reach Fabregas' level.

Getty Images

9/11 RW: Javier Pastore

The Argentina winger was unable to start in the first leg as he was carrying a slight injury but he is fit and firing now. PSG have won three and drawn one of their last four since his return, with Pastore scoring once and adding two assists. Willian's energy and work rate is crucial to the way Chelsea play, but he has just eight goals and eight assists since joining the club.

Getty Images

10/11 LW: Eden Hazard

An easy choice and one that both managers would surely agree on. PSG are huge admirers of the Belgian winger and have constantly been linked with him in the last couple of seasons. Edinson Cavani is a hugely talented player but has to play out of position to accommodate Ibrahimovic.

Getty Images

11/11 ST: Zlatan Ibrahimovic

A tough decision picking the Swede over Diego Costa, who himself has enjoyed a stellar season. In real life neither club would swap their striker for the other, but Zlatan nudges slightly ahead on current form - Costa hasn't scored since 17 January.
Given his start for the Blues and his rapid ascension to the top of the scoring charts, should there be any concern from Jose Mourinho that his main man is not finding the net?
There are mitigating circumstances, of course. In the six games in which he's failed to score Chelsea are unbeaten, with three wins and three draws. They've played some tough opponents in that time Liverpool twice in the semi-final, Paris Saint-Germain away, beating Spurs to win the League Cup and West Ham away.
Chelsea's draw against Burnley was disappointing, but Mourinho's 10 men should have had two penalties and the Clarets a man sent off. Chelsea also drew with Manchester City and won their two other games while Costa was suspended.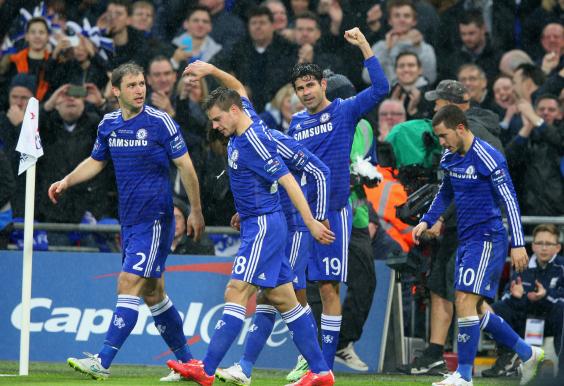 But it's the form of his team-mates that is in question, it is the man himself, who appears to be slowing down slightly after a blazing start.
Against West Ham last week Carl Jenkinson recovered brilliantly to provide a last ditch tackle when Costa appeared through on goal - but the Spaniard hesitated slightly where earlier in the season he may have taken the chance quicker.
In these six matches he has managed just eight shots, with a paltry two on target. In his previous 26 games for the Blues, Costa had had fired in 77 shots, with 39 hitting the target, taking his average from 2.91 shots per game down to just 1.33.
It's a small sample size and Mourinho admitted he would be rusty after that three-game suspension, but if it continues much longer it may turn into a worrying trend; Costa is yet to score in seven Champions League appearances (five starts) this season also.
In other facets of his game he is still the same beastly nuisance that no defender wants to face. He plays the lone role to absolute perfection, holding the ball up and bringing team-mates into the game, winning his fair of aerial battles and generally winding up defenders and throwing them off his game.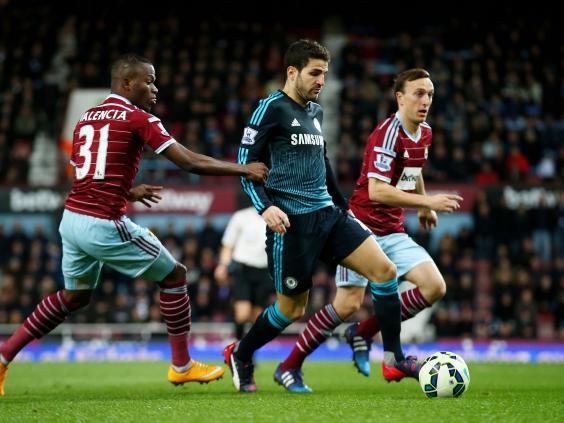 Some of the blame can also be laid at the feet of Cesc Fabregas, who has also just slowed slightly in recent weeks. After jumping out to lead Europe with 15 assists, Fabregas has not recorded one since that same game at Swansea on 17 January.
The midfielder has now gone eight games without providing a goal - although some of that can rest with wayward finishing. Fabregas has struggled with a hamstring problem and then illness recently and hasn't been at his devastating best.
A move to the quicker-paced Premier League, where more games are played at a higher intensity, looks like it's starting to take it's toll on both of these players.
But Jose Mourinho won't be worried and neither should Chelsea fans - the Blues are in a perfect position at home and abroad heading into the last two months of the season.
Reuse content