Presenter Kate Abdo has revealed that Cristiano Ronaldo showed his softer side at this year's Fifa Ballon d'Or Gala by showing his Barcelona rival Neymar around the Zurich arena as well as ensuring that everything was translated for the Brazilian to understand.
Despite the frosty relationship between Real Madrid and Barcelona and Ronaldo's perceived selfishness when it comes to his on-pitch displays, the £80m forward showed his compassionate side that is rarely seen when the Portuguese is in front of the cameras.
Abdo admitted that Ronaldo as "very kind and caring towards Neymar", even though his Barcelona team-mate Lionel Messi was alongside them to complete the three-man shortlist.
Speaking in an interview with Football Beyond Borders, Abdo said: "At the Ballon d'Or which I did in January, we do a little rehearsal with the players before they are going to go on stage for real.
"He [Ronaldo] came out with Neymar, who is Brazilian and Ronaldo is Portuguese, so they both speak Portuguese, and although [Lionel] Messi and Neymar are team-mates, it was Ronaldo who took him around, showed him where he had to go, made sure everything was translated for him.
"He was just very kind and very caring towards Neymar, the way he looked out for him and made sure he knew what he was doing.
"And that's a side [of Ronaldo] maybe you don't expect."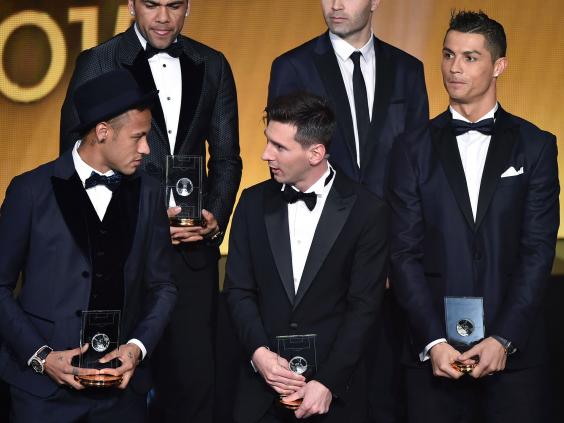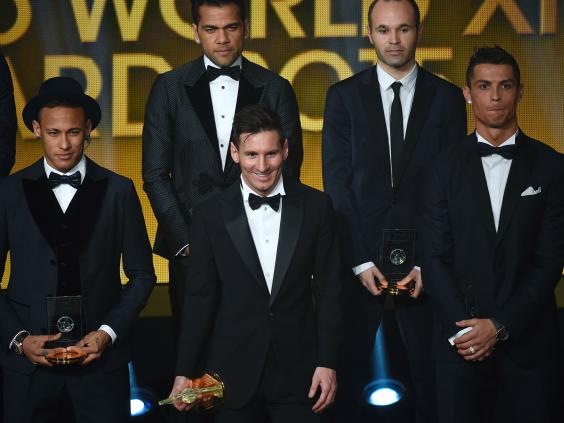 Ronaldo spoke out in the lead up to the Ballon d'or Gala to play down the rivalry between himself and Messi – who went on to regain the award after Ronaldo took the plaudits for 2013 and 2014.
Lionel Messi's best Ballon d'Or outfits
Lionel Messi's best Ballon d'Or outfits
1/5 Ballon d'Or 2009-10

The dry years. There once was a time, a long time ago, when Lionel Messi wore conservative, moderate suits. Back in those dystopian times, the Argentinian superstar often elected to wear black as he conquered the footballing world, leaving the likes of previous winners Ronaldinho, Fabio Cannavaro and Kaka to a bygone era.

Getty

2/5 Ballon d'Or 2011

The world was given one of its first glimpses into the wonderful and labyrinthine wardrobe of Messi a year later. Having previously only seen the Argentinian in Barcelona tracksuits or traditional garb, this 2011 number was just the start of the forward's reign of terror over the fashion world.

Getty

3/5 Ballon d'Or 2012

12 months later and Messi was ready to up his game even further. 2012 was the year of the polka dot as the Barcelona superstar made headlines around the globe again. Winning the award for the second successive year, Barca's main man celebrated the occasion with a dark navy and white three-piece suit.

Getty

4/5 Ballon d'Or 2013

Peak Messi. It was only a few weeks since Christmas and the Argentina international clearly was still in the festive mood. Treating his adoring fans to a shimmering burgundy suit, members of the press on the red carpet had to shield their eyes as Messi strode to defeat, falling behind Cristiano Ronaldo.

Getty

5/5 Ballon d'Or 2014

Perhaps Leo's most moderate effort since 2009, last year's offering seemed a compromise for those who don't appreciate his trend-setting ways. Again sporting a bow-tie, the Argentine superstar opted for purple as his colour of choice. One wonders if he randomly selects his palette with his eyes closed.

Getty
The 2015 shortlist represented the first time that Neymar featured among the three finalists, and the Barcelona forward admitted afterwards that he hopes to win the award next year where a victory would end eight years of domination between Ronaldo and Messi, who have shared the Ballon d'Or since 2008.
Reuse content