BCI the new BBC?
No Gareth Bale in the squad due to injury gave Isco the chance to show what he can do as he has been when Zinedine Zidane has fielded weaker sides this season.
The Spaniard has been linked with a move away from the Bernabeu but it is more likely that James Rodriguez will be the man to get the chop.
While the BCI replaced the BBC on Tuesday night, a change in how Cristiano Ronaldo plays could mean it will become the BCI permanently – only with Bale and not Karim Benzema representing the B.
Real Madrid 4 Bayern 2 player ratings
Real Madrid 4 Bayern 2 player ratings
1/22 Keylor Navas – 6 out of 10

Found wanting when called upon. Should have done better to prevent Ramos' own goal.

2/22 Dani Carvajal – 7 out of 10

His early effort from range may not have gone in but it set the tone for Madrid to have the better of the first half.

3/22 Nacho – 7 out of 10

More solid than his defensive partner, and looks to be benefitting from gaining Zinedine Zidane's confidence.

4/22 Sergio Ramos – 6 out of 10

Unfortunate to divert the ball into his own net, but it could have been avoided with a little more communication.

5/22 Marcelo – 9 out of 10

Excellent. Superbly blocked Thiago's effort early on, then produced a brilliant goal-line clearance after the break to deny Robben. Impressed going forward too, setting up Ronaldo in extra time.

6/22 Luka Modric – 7 out of 10

Key to Madrid's excellent spells of first half build-up. Ronaldo should have rewarded one particularly special pass with the goal it deserved.

7/22 Casemiro – 7 out of 10

Careless in his challenge on Robben for the penalty. Otherwise, a solid presence disrupting Bayern's forays forward.

8/22 Toni Kroos – 5 out of 10

Struggled to match the influence of his fellow midfielder Modric.

9/22 Isco – 6 out of 10

Failed to build on Saturday's excellent showing at Sporting.

10/22 Karim Benzema – 5 out of 10

Offered very little before being hauled off for the more impactful Asensio.

11/22 Cristiano Ronaldo – 8 out of 10

A quiet start but then came another 'clutch' goal, just like his two in Bavaria. Two more followed thanks to poor officiating, but this was still a reminder that you should never write Ronaldo off.

12/22 Manuel Neuer – 6 out of 10

Will be disappointed to have conceded six over the two legs, but was outdone by some poor officiating here.

13/22 Philip Lahm – 6 out of 10

Struggled to cope with Marcelo, who got the better of him too often. We have come to expect more.

14/22 Jerome Boateng – 7 out of 10

Heroic block on the line stopped Ramos from putting the hosts in front in the first half.

15/22 Mats Hummels – 8 out of 10

Another defender who put his body on the line when it counted. Spectacularly blocked Kroos' shot in the first half.

16/22 David Alaba – 5 out of 10

His poor crossing let his teammates down when they were making headway early on.

17/22 Xabi Alonso – 5 out of 10

Surprisingly poor in possession during his last Champions League appearance, with several wayward passes. Replaced by Thomas Muller deep into the second half.

18/22 Arjen Robben – 8 out of 10

Made things tick in Bayern's attack. Questionable role in the penalty, maybe, but his side's stand-out performer still.

19/22 Arturo Vidal – 4 out of 10

His tackle was fair and should not have resulted in a red, but still, too often a liability. Should also have done better when slipped in by Robben soon after Bayern's first goal.

20/22 Thiago – 5 out of 10

Off the pace in the opening stages and failed to grow into the game.

21/22 Franck Ribery – 5 out of 10

A fading force, unfortunately. Simply did not trouble Madrid's backline with the regularity of Robben. Withdrawn for Diego Costa.

22/22 Robert Lewandowski – 6 out of 10

Not his best night, despite cooly converting the penalty.
Zidane fends off the sack
A strange thing to say for a manager who is leading La Liga and won the Champions League last season but Zidane admitted before the first leg that he wasn't planning for next season just yet, given the trigger-happy Florentino Perez's nature with managers.
The Spanish press suggested his time could be nearing the end too but despite losing in the 90 minutes, he scraped through thanks to that man Ronaldo, who frankly is good enough to keep any manager his job.
Scoring six goals against a side like Bayern Munich should at least buy you until the end of the season, even at Real Madrid.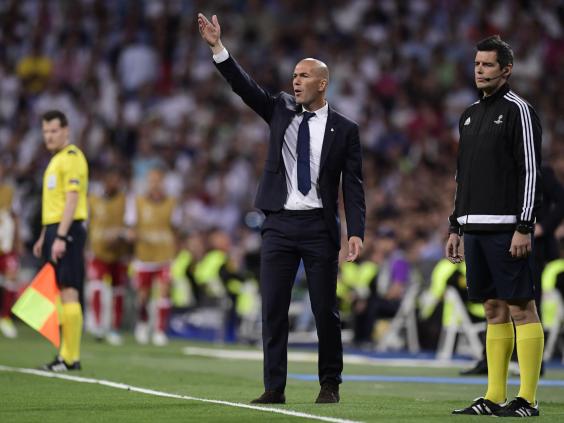 Not quite a new Ronaldo
After leading Portugal to European glory and the way he led from the sidelines, Ronaldo appeared to have matured as he entered his 30s. For Real Madrid he has become more selfless, not intent on making it the Cristiano Ronaldo Show, but more interested in working as a team.
However, against Bayern he looked more like the selfish, goal-hungry forward he has for the majority of his career. He wasted two chances in the first half, opting to shoot from a near-impossible angle, rather than pass – both times not troubling Manuel Neuer. However, he is now happy to play the decoy and make the runs to create space for midfield runners – something Toni Kroos nearly took advantage of.
But in the end, can you really complain if Ronaldo hasn't completely changed? He bagged his 98th, 99th and 100th Champions League goals to send Real through and stick two fingers up to any critics who believe he his nearing his end.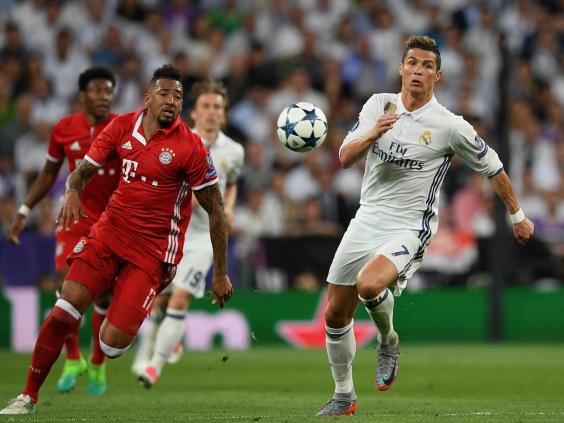 Bayern no plan B
Robert Lewandowski's return to the side provided Bayern with that focal point they missed in the first leg and boy did they play to it. The full-backs threw in cross after cross after cross towards the Pole's head but Sergio Ramos and Nacho defended resolutely.
And there didn't appear to be a plan B when they were continually frustrated. This tactic, with the full-backs freely overlapping, left them susceptible to the break, which is when Real looked most dangerous.  It took a penalty to break the deadlock in the end. And a slightly contentious one, as it always is with Arjen Robben, at that.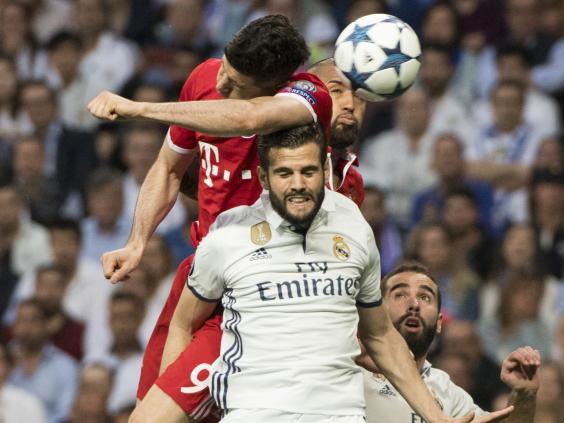 Defences rule
In a game with two teams brimming with attacking talent, it was the defences that ruled the game. Real's centre-back pairing fended off crosses from every angle and direction to stop the returning Lewandowski getting on the end of them.
At the other end of the field Mats Hummels and Philippe Lahm but put their bodies on the line with goal-saving blocks to deny Ramos and Kroos respectively. With the game as stretched as it was, this last-ditch defending was the norm in the Spanish capital, and it was executed superbly in a breath-taking match. That was, until Ramos' bizarre own goal.
Reuse content