It's a good job Stefan Kießling can still score goals. Because in every other aspect of his footballing life, his name is becoming something of a byword for controversy.
For months now, certain corners of the German media have made him into a martyr for the increasingly popular cause of criticising Joachim Löw. That, one feels, he can probably handle by now. Less sufferable perhaps is the scandal surrounding his so called Phantomtor – or ghost goal - at Hoffenheim the weekend before last.
For those who may have missed it, Kießling scored Leverkusen's second in the 2-1 away victory in Sinsheim with a powerful header from a corner.  Except he didn't. The ball, quite clearly, passed the outside of the post and struck the side netting, only to slip through a previously undiscovered hole in the net and find its resting place in the goal itself.
An embarrassing affair, not least for a sport which has of late become so singularly obsessed with the legality of goals. Kießling's subdued reaction, the slow realisation of the Hoffenheim players and, of course, that the goal proved decisive, only exaggerated the farce. Hoffenheim, understandably, demanded the game be replayed. Kießling, less understandably, was loudly vilified, albeit by a minority, for not retracting the goal himself.
From the moment the goal stood, conspiracy theories grew. Bild called in a lip reader to ascertain what Leverkusen's media director had said to Kießling after the game, while others suggested that merely the look on his face proved that he knew the goal shouldn't have stood. It was preposterous and more importantly rather pointless conjecture.
The consequences of the entire saga have veered from the predictable to the preposterous. Hoffenheim's appeal for a replay of the entire game were always more reactionary than they were optimistic, and on Monday, they were rebuffed very quickly indeed. As the club's Director of Sport Alexander Rosen admitted after Hoffenheim had declined to appeal the decision, "it was already clear before proceedings that there was no possibility (of a replay) under the current system."
Hoffenheim are right to feel aggrieved. Whether a replay would have been of any use, on the other hand, is questionable. When Thomas Helmer "scored" an even more ridiculous Phantomtor for FC Bayern against Nürnberg in 1994, the DFB agreed – to the chagrin of FIFA – to replay the match. Bayern won the second game 5-0, and Nürnberg's overall goal difference suffered considerably. Not quite all's well that ends well.
The more reasonable solution to problems such as this lies first and foremost in more thorough net inspections, and secondly in the tired old debate of technology. The introduction of goal line technology or a video reference system is not quite as fervently supported in Germany as it is in England, but this particular case may well have tipped the balance. Both the Goal-Control-4D system and plain video reference would have saved Hoffenheim's misery and the referee's blushes the other week.
There remains, however, not so much a resistance to technology as a greater sense of ambivalence. Simon Rolfes' assertion that "officiating mistakes are part of football" is a view which has long been the subject of derision in England, but enjoys a greater level of support in Germany. It is, perhaps, no coincidence, that technology will be brought into the Bundesliga the 2015/16 season at the earliest.
Whether one agrees with such measures or not, they are no use to Hoffenheim in the here and now. Nor will they alleviate the difficulties for Kießling, who has apparently been subjected to an unexpected level of abuse since the incident. Once the most quoted and active Facebook user in German football, his notorious profile is gone. He even claims to have received hate letters in the post. Were there any death threats? "Put it this way, it was borderline", Kießling said.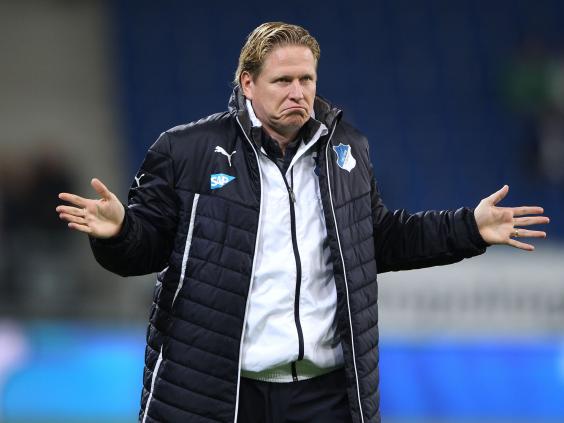 This does stem from a minority. Most reasonable people – including Hoffenheim coach Markus Gisdol – were quick to defend Kießling. But if it comes to a situation where a footballer is being threatened for not acting in a sporting manner, you wonder how much more scope there is for hypocrisy in football. When it comes to Hannover fans adamantly maintaining that they only lost against Hoffenheim last weekend because of a terrified referee, you wonder how much common sense is left in the game. When it comes to such ridiculous levels of anger and self-pity about a goal in an early-season league game, you wonder if self awareness, rather than goal line technology, is what football really needs.