Gareth Bale was almost unrecognisable when Real Madrid held a training session on Thursday.
The Spanish club's Champions League and Copa del Rey hero was not only sporting a (slightly dodgy) new haircut and Alice band, but he looks to have been hard at work in the gym, adding muscle.
Bale will return to Wales next week as Real play the European Super Cup against Seville at the Cardiff City Stadium.
Bale tweeted a picture with team-mates James Rodriguez and Marcelo, saying: "Fantastic days training with jamesrodriguez and 12MarceloV, can't wait to get back to Cardiff for the Super Cup."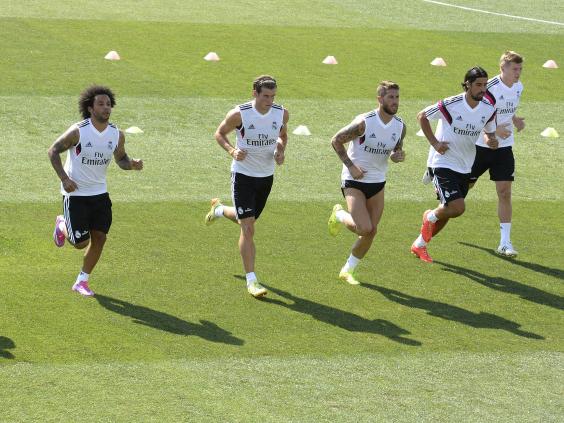 New signings Rodriguez and Toni Kroos were put through their paces under the watchful eye of Carlo Ancelotti, who has also secured Karim Benzema to a new contract that runs until 2019.
However, Benzema may yet find himself surplus to requirements, with Los Blancos rumoured to be chasing Radamel Falcao.
Angel Di Maria is also expected to leave the Bernabeu this summer, although PSG confirmed they are no longer in the running for the Argentine as he is too pricey.