Manchester United have reacted in disbelief to Uefa's decision to give the man of the match award to Hector Moreno on Tuesday night in Eindhoven, after PSV's Mexican defender launched the misjudged tackle that broke the leg of Luke Shaw.
The United officials in the Netherlands for the game thought that decision on Moreno, who himself had his leg broken at the World Cup last year, was a poor choice on the part of the European governing body. A source at United said: "We find it strange and disappointing that Uefa made him [Moreno] man of the match after what happened to Luke."
The player underwent surgery on Tuesday night and his parents, Paul and Joanna, were at his side in Eindhoven, having been at the Champions League game. Shaw, who on Tuesday night tweeted his determination to "come back stronger", is expected to stay in Eindhoven for another day before returning home. The hope is that Shaw will only require six months to come back from the fracture, which would mean he could have a chance of playing at Euro 2016. It has been a dismal week for two of Roy Hodgson's young players, with the announcement that Jack Wilshere will be out for three months following surgery to insert a metal plate in his left tibula.
PSV 2 Manchester United 1 player ratings
PSV 2 Manchester United 1 player ratings
1/22 PSG: Zoet 8

The goalkeeper was forced to make several stops throughout the game, particularly in the first half, but dealt with all of his tests with confidence.

2/22 Arias 4

The right-back struggled with Memphis' pace down the flank and he was beaten by his former teammate several times. Received a yellow card for his foul on Young.

3/22 Bruma 7

Made some good clearances to get rid of Mata and Young's efforts, but could not stop Memphis in his tracks in the build-up to the opener.

4/22 Moreno 5

The central defender made the horrific sliding tackle on Shaw that ended his game but worked well with Bruma in central defence.

5/22 Brenet 6

Set up Narsingh for a good early chance and helped deal with the threat of Young.

6/22 Propper 7

Worked hard in his defensive midfield position to deal with United's attacks with ease.

7/22 Hendrix 6

Worked hard in his defensive midfield position to deal with United's attacks with ease.

8/22 Guardrado 7

Was involved in the build-up to Narsingh's goal and regularly combined with his teammates when PSV went on the attack. Limped off with an injury with 20 minutes to go but enjoyed a good game.

9/22 Narsingh 8

Was flagged offside several times in the first half, but remained a threat for the home side on the right flank and eventually got his goal with a lovely header past De Gea.

10/22 De Jong 5

Was quiet throughout the match, and didn't really have any clear-cut chances - working more to help Lestienne and Narsingh go for goal than himself.

11/22 Lestienne 8

Got the assist for Narsingh's goal after beating Darmian and firing a superb cross to the winger. Had earlier tried his luck at scoring in the first half but drove his effort into the side netting. Although he didn't get on the score-sheet, the winger put in a fine showing.

12/22 Man Utd: De Gea 6/10

Conceded two goals but was let down by his defence and could not do too much to keep Blind's header and Narsingh's strike out.

13/22 Darmian 4

Was beaten numerous times by Lestienne on the right flank, and was involved in a defensive mix-up with Smalling that gave away the corner kick that PSV equalised from – with the right-back being out-jumped by Moreno.

14/22 Smalling 6

Suffered one moment of miscommunication with Darmian which led to him having to head the ball out for a corner, which PSV scored from. The defender tested Zoet with a powerful strike in first half, though.

15/22 Blind 6

Was unfortunate to deflect Moreno's header into the back of his own net, but did provide the ball that Memphis scored from. Started in central defence but shifted to left-back following Rojo's introduction.

16/22 Shaw 6

In his 15-minute appearance, the left-back made a superb run forwards in attack but was at the end of a horrific challenge by Moreno that cut his game short.

17/22 Schweinsteiger 4

Slotted into central defence once Shaw came off and made a sloppy pass that allowed PSV to go on the attack from in the first half. He then couldn't get his head to Lestienne's cross that Narsingh scored the winner from.

18/22 Herrera 5

Went for goal in the second half but endured a quiet game and was hauled off with 15 minutes to go.

19/22 Young 5

Was often guilty of sending in several crosses into the area that failed to find anyone. His pace caused Brenet problems but, with no end product, Young was taken off towards the end of the second half for Antonio Valencia.

20/22 Mata 6

Provided some accurate balls to Memphis in the first period, but should have done better after being set up with a lovely ball by Schweinsteiger but failed to sort out his feet before Zoet collected the ball.

21/22 Depay 8

Scored the opener against his former side in the 40th minute and should have made it 2-0 but drove wide. The winger was a big threat for the visitors and his runs caused Arias many problems.

22/22 Martial 7

Looked bright and dangerous up front but didn't always get the service he needed.
Moreno, who apologised for the tackle on Tuesday night, will not face any retrospective Uefa action and was not penalised by the referee.
Indeed, Moreno was defended by former referee Howard Webb, who felt that Moreno's trailing leg, which appears to connect with Shaw's right leg, was not fully extended. Either way, even playing the ball, the PSV defender looked to have lost control of the challenge as he launched himself desperately at Shaw as the full-back ran into the area.
Webb said: "Luke Shaw's injury was awful and I wish him a speedy recovery. But I have got to say that the referee made the right decision on the night. Moreno stretches with his right leg, which plays the ball cleanly. His left leg makes some contact on the follow-through, but it is always tucked away under him and not aimed towards Luke Shaw.
"Luke is unlucky in that he gets his studs caught and twists, which causes the injury, but on the night I think the referee made the right decision."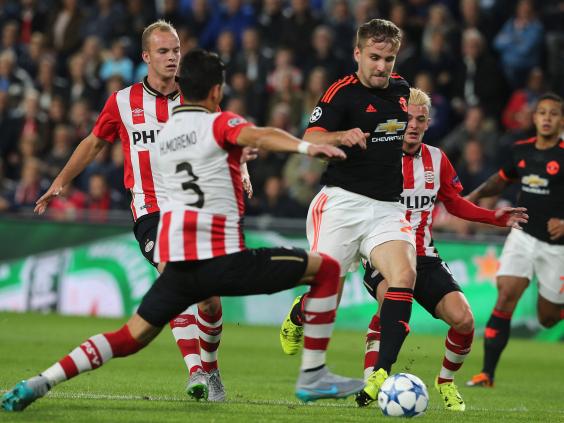 The Uefa man of the match award is selected by the Uefa reporting team, who cover the game for the organisation's website. Typically, that reporting team consists of local freelance journalists hired by Uefa to write reports, which ordinarily tend towards the uncontroversial. That decision is reported at the end of the game and stands as the official man of the match, separate to those awarded by television networks.
For Shaw himself it marks 16 tumultuous months in his young career in which he has been selected for the England 2014 World Cup squad, joined United from Southampton for £31m and fallen foul of Louis van Gaal in his first season at Old Trafford. As a young player who was considered to be a late developer when it came to the mentality required at the elite level, Shaw could scarcely have come up against a bigger challenge so soon after making the grade at United.
While injuries like the one he sustained against PSV come with no guarantees as to future fitness, the level of care that is standard now at Premier League clubs will give him great cause for hope.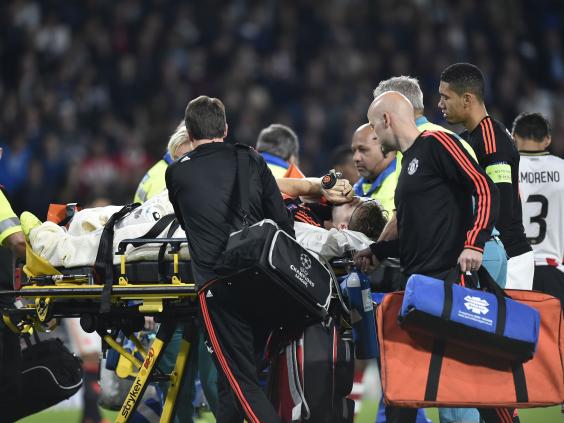 His surgery in Eindhoven on Tuesday night, announced yesterday morning by Manchester United, is the start of a long and demanding rehabilitation process, but it is also the end of that first stage of emergency care that is so critical in serious injuries.
David Busst, that classic English football injury horror story, contracted MRSA during one of the 26 operations he endured after his double compound fracture at Old Trafford in 1996.
Busst might have recovered, were it not for the infection that damaged tissue and muscle. Even so, football clubs have come a lot further than when doctors tended to be GPs with a long-standing connection to the club. What a player in Shaw's situation requires, and now has, is a specialist in trauma with the experience to make quick decisions such as whether the leg needs immobilising or, when nerves are compromised, mobilisation.
Shaw was attended to by club doctor Steve McNally and physiotherapist Neil Hough. In the past, medical teams at clubs were primarily run by the club's physio, but the level of care has moved on and is enshrined in Premier League regulations.
Ambulances are standard at Champions League games, as they are for training sessions the day before. Away from their home country, Champions League clubs are given their nearest specialist hospital before the game as a matter of course. Shaw was visited in hospital, the St Anna Ziekenhuis, by United's executive vice-chairman, Ed Woodward, yesterday morning.