Has a win this important against an opponent this good ever looked so easily routine? Juventus strolled into the Champions League final here, completing a 4-1 aggregate defeat of Monaco that barely covers their all-aspects superiority over three hours of play. Many of these semi-finals turn on one decision, one mistake or one set piece. But this one did not.
And this was Monaco, the team who have lit up this season's Champions League.
They knocked out Tottenham Hotspur, Manchester City and Borussia Dortmund. They play unstoppable attacking football and have now scored 150 goals in all competitions this season. They are about to win Ligue 1. They have, in Kylian Mbappe and Bernardo Silva, two of the best young players in Europe.
But here this evening, and at the Stade Louis II last week, Juventus' veterans  made Monaco look like boys. After winning the first leg 2-0 with incisive ruthlessness, this was never going to be as much of a test for Juventus. Not here at home, where they are as close impregnable and unbeatable as any team can be.
Juventus had to see off some early pressure, which of course they did, but then they got their grip on the game and never let go. They scored two goals of brilliant quality, Mario Mandzukic and Dani Alves. All of their big names, from Giorgio Chiellini to Miralem Pjanic to Gonzalo Higuain did everything expected of them. This is a team built for European Cup finals and once they were 2-0 up on the night there was never any doubt they were heading for Cardiff.
Juventus vs Monaco player ratings
Juventus vs Monaco player ratings
1/23 Juventus vs Monaco player ratings

We run the rule over the two teams.

Getty Images

2/23 Gianluigi Buffon - 7 out of 10

Made two good saves from Mbappe before finally being beaten from close-range by the youngster.

Getty Images

3/23 Andrea Barzagli - 7 out of 10

Did his job well although exposed for pace on a couple of occasions.

AFP/Getty Images

4/23 Leonardo Bonucci - 7 out of 10

A typically commanding display although he will be disappointed to see Juve's run of clean sheets come to an end.

AFP/Getty Images

5/23 Giorgio Chiellini - 8 out of 10

Superb. Made a stunning first-half interception to deny Falcao at the back post.

Getty Images

6/23 Dani Alves - 9 out of 10

The man of the match. Of the four goals Juventus scored in this tie, Alves assisted three and scored the other one.

AFP/Getty Images

7/23 Miralem Pjanic - 8 out of 10

An energetic display and repeatedly linked up well with Dybala, who played just behind the front two strikers.

AFP/Getty Images

8/23 Sami Khedira - 5 out of 10

Withdrawn in the opening 10 minutes after he tweaked his hamstring.

Getty Images

9/23 Alex Sandro - 6 out of 10

Wasn't able to get forward as often as Dani Alves on the opposite flank.

AFP/Getty Images

10/23 Paulo Dybala - 7 out of 10

Not his best night, and missed a couple of good chances, but still a bright, energetic display.

AFP/Getty Images

11/23 Mario Mandzukic - 8 out of 10

A powerful performance and took his goal well after his initial effort was saved. Almost let his temper get the better of him late on, though.

AFP/Getty Images

12/23 Gonzalo Higuain - 7 out of 10

Will be disappointed not to have scored but looked so dangerous playing alongside Mandzukic.

AFP/Getty Images

13/23 Danijel Subasic - 6 out of 10

Made some smart stops and was unlucky with the first goal, although his weak punch led directly to Juve's second.

AFP/Getty Images

14/23 Andrea Raggi - 7 out of 10

Made some crucial interceptions in the first-half, as well as a number of clearances late on.

Getty Images

15/23 Kamil Glik - 6 out of 10

A reasonably positive display but guilty of stamping on Higuain and could have been sent off.

Getty Images

16/23 Jemerson - 6 out of 10

Was prevented from rampaging forward like he is accustomed to doing.

AFP/Getty Images

17/23 Djibril Sidibe - 6 out of 10

A good display in the middle of the park and made a couple of good tackles, although also made some petulant fouls.

AFP/Getty Images

18/23 Joao Moutinho - 6 out of 10

Was at the heart of all of Monaco's attacks. Had a remarkable pass accuracy rate of over 95%.

AFP/Getty Images

19/23 Tiemoue Bakayoko - 6 out of 10

A good performance considering he was carrying an injury; withdrawn in the second-half.

AFP/Getty Images

20/23 Benjamin Mendy - 5 out of 10

Not at his best. Struggled in offensive positions.

Getty Images

21/23 Bernardo Silva - 6 out of 10

Largely marked out of the game by Juventus.

AFP/Getty Images

22/23 Radamel Falcao - 6 out of 10

Wasn't presented with many opportunities. Picked up a silly booking.

AFP/Getty Images

23/23 Kylian Mbappe - 7 out of 10

Had a tough first-half but still managed to get on the score-sheet. Such an exciting talent.

Getty Images
The second half was an unusual thing, a final 45 minutes of a semi-final in which there was no competitive tension whatsoever. Monaco needed four goals and there was never the remotest chance they would get them. Mbappe scored one, which gives him and his team something to show for a season of bravery and swagger on the biggest stages. But no-one ever thought it would mean anything.
So the result on the night, 2-1, should not be taken to mean this was a close-run thing. It was not. It was a team doing exactly what they needed to do, with the nous and brains of men who have been here before. Juventus have to go to Roma on Sunday, needing just a point to see out their sixth straight Serie A title. There are two more league games after that then of course the final at the Millennium Stadium on 3 June. Juventus can end their 20-year drought in this competition that evening. Why waste more energy here than they needed to?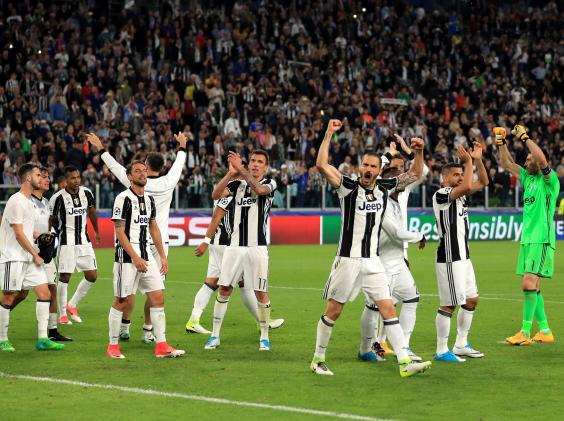 Monaco knew that they would have to make history to get out of here with a ticket to Cardiff next month. Only one team has ever lost by two goals at home and then gone through, and that was Ajax in 1969, and they needed a play-off on neutral ground to do it.
Still, it was worth a try and Leonardo Jardim did come with a plan. He switched to a 3-4-1-2, pushing wing-backs Benjamin Mendy and Djibril Sidibe high up. The plan was to pin back Dani Alves and Alex Sandro, and, for a few minutes at least, it worked. Mendy started swinging in crosses, Gianluigi Buffon flapped at one, and when a Joao Moutinho shot deflected to Kylian Mbappe, his narrow-angle dart hit the inside of the post.
But Juventus are always more in control than they look. In the first leg they were under early pressure, but they were never actually rattled. They were just defending. Juventus had not conceded at home for more than 10 hours, and not conceded in Europe since November. They know what they are doing.
They also knew that with the quality they had, they could kill Monaco on the counter. Gonzalo Higuain burst through but could not get enough on a chip. Higuain set up Mario Mandzukic, whose shot was saved. Paolo Dybala set up Miralem Pjanic, whose shot was blocked.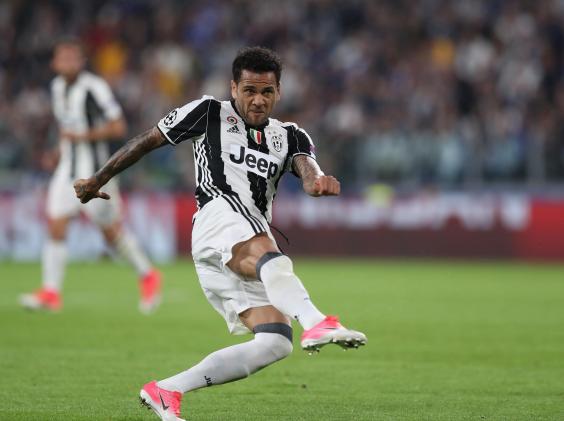 A goal felt inevitable and it came from another brilliant break. The ball went from Dybala to Marchisio to Alves who swung a perfect cross round the back of the Monaco defence. Up popped Mandzukic at the far post. His header was saved so he lifted the rebound in the roof of the net.
More noise followed with more attacks and in the last minute of the half Juventus scored again. Danijel Subasic punched out a corner but it fell to Alves, 25 yards out. Such a good player, playing so well, and his volley flew into the corner of the net before Subasic could recover. It was that kind of night.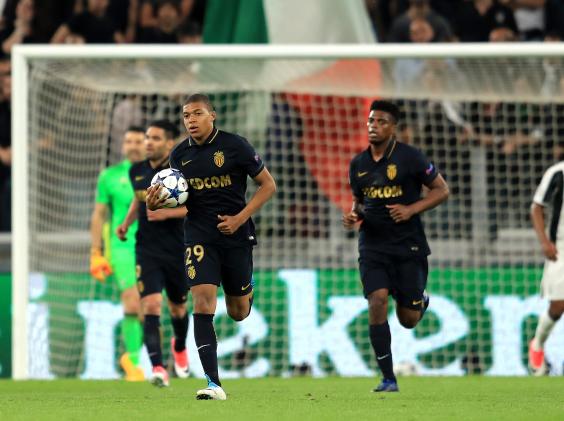 Juventus had conceded two goals in 11 Champions League games before this one this season so Monaco scoring four was always a stretch. They can be proud of the fact that they managed one, and of course it came from Mbappe. He forced Buffon into one sharp near-post save before eventually tucking in a Moutinho cross.
But there was never any siege, never any panic, especially as Juventus slowed the game down and saw out time. The only real issue was when Kamil Glik stamped on Higuain's knee, risking injuring him for the final. But even then he played on and Juventus kept their heads.
This team knows something about getting the results they want, which is why they have won so much over the years. There is still one big one they have not got in their cabinet here, the one they want more than anything else. But when they win like this, against Monaco, who would bet against them?
Reuse content