The scoreline is not as big, but the challenge still feels so much greater. Barcelona are going to have to pull off another unlikely historic comeback at the Nou Camp to stay in the Champions League, after getting resoundingly beaten 3-0 by a Juventus team who feel like the competition's future. You could say the excellent Paulo Dybala is football's future, but he is already so brilliant in the present, having scored the two early goals that set the Italian champions on their way.
Juve were at that point so relentless and ruthless, before Giorgio Chiellini made it an emphatic 3-0, but there followed a fair few moments of fortune. Barca had still created and squandered more than enough chances to actually come back and claim the advantage in this first leg, and the match - that may well have seen one of the performances of the season from Juventus - still required maybe the save of the season and the tackle of the season.
Barcelona started almost as badly as in the last-16 first leg away to Paris Saint-Germain, and the real worry for them for was that Juventus scored within just seven minutes, but you could still say the goal was coming. The Italian champions had snapped into action so well, clearly suspecting a certain vulnerability in the Catalans.
Juventus vs Barcelona player ratings
Juventus vs Barcelona player ratings
1/22 Gianluigi Buffon - 8 out of 10

39 and as good as ever. Denied Andrés Iniesta in the first-half with a superb close-range stop.

AFP/Getty

2/22 Dani Alves - 8 out of 10

An imperious performance against his old team. Strong going forward and solid at the back. Could have done better with an injury-time chance, though.

Getty

3/22 Leonardo Bonucci - 7 out of 10

Fantastic at the back alongside Chiellini and confident bringing the ball out from the back.

Getty

4/22 Giorgio Chiellini - 8 out of 10

A rock in defence and a threat going forward to boot. Monstered Mascherano at the backpost to score his side's third.

Getty

5/22 Alex Sandro - 8 out of 10

Sandro's first-half stats: 100% of tackles won, 100% of aerial duels won, 100% of take-ons completed. Immense.

Getty

6/22 Miralem Pjanic - 7 out of 10

A threat driving forward but also so strong when the opposition are in possession. His positional play is superb.

AFP/Getty

7/22 Sami Khedira - 7 out of 10

Unfortunate to be booked and his passing wasn't as good as it usually is. But still a strong performance.

Getty

8/22 Juan Cuadrado - 7 out of 10

A constant nuisance on the wing although his tendency to cut inside after beating his man is frustrating.

Getty

9/22 Paulo Dybala - 9 out of 10

Outstanding. Scored two sublime first-time goals and evidenced why he is one of Europe's most in demand players.

AFP/Getty

10/22 Mario Mandzukic - 7 out of 10

Got under the skin of the opposition and dominated Sergi Roberto down the wing.

Getty

11/22 Gonzalo Higuain - 6 out of 10

Not his finest game. Missed two presentable opportunities although he did link up well with Dybala.

Getty

12/22 Marc-Andre Ter Stegen - 6 out of 10

Not at fault for any of Juventus' goals. But twice parried the ball back into danger when he would have been better turning it around the post for a corner.

AFP/Getty

13/22 Gerard Pique - 6 out of 10

Failed to make a single tackle all match.

AFP/Getty

14/22 Samuel Umtiti - 6 out of 10

Made a number of important clearances although was caught in possession at the start of the second-half.

Getty

15/22 Jeremy Mathieu - 5 out of 10

Arguably Barcelona's poorest player. Successfully targeted by the Juventus attack.

Getty

16/22 Javier Mascherano - 5 out of 10

Failed to mark Chiellini from a corner, which directly led to the third Juventus goal.

Getty

17/22 Sergi Roberto - 6 out of 10

Struggled against Mandzukic. Dani Alves would have done a far better job...

Getty

18/22 Andres Iniesta - 6 out of 10

Spurned Barcelona's best chance of the match. Tired late on.

AFP/Getty

19/22 Ivan Rakitic - 6 out of 10

Largely anonymous. His passing left a lot to be desired.

AFP/Getty

20/22 Lionel Messi - 7 out of 10

Playing in a deeper position, tried in vain to set up one of his team-mates. Played one of the passes of the season to set up Iniesta, whose shot was saved.

AFP/Getty

21/22 Luis Suarez - 6 out of 10

A difficult night for Suarez, who battled hard but lacked his usual quality in the penalty area.

AFP/Getty

22/22 Neymar - 5 out of 10

Needed a big performance after his mindless red-card against Malaga. Didn't deliver.

AFP/Getty
Gonzalo Higuain should have scored a header after just two minutes and, although Marc-Andre ter Stegen held that, he almost lost the ball with his feet moments later when Mario Mandzukic pressed him. That was happening all over the pitch. Barca barely had time on the ball at that point, something that was certainly not the case when Juan Cuadrado picked it up on the right wing. He jinked inside to barely a challenge from Jeremy Mathieu, before picking out Dybala.
The Argentine revelation turned and finished supremely, but the wonder was how Barca could give a player of such reputation and talent so much space. Juve had clearly identified where the space was in Luis Enrique's set-up, as they kept looking to go down the wing.
The one caveat was that Barcelona did look so much better going forward, and Leo Messi still managed to be one of the best players on the pitch in the first half. He was a key part in one of the best passages of play in the game, and one that could yet end up being seen as a decisive moment in this tie. On 21 minutes, Messi cut inside and slipped a glorious ball through for Andres Iniesta. The pass was so inviting, and delivered to player of such intricate technical quality, that it seemed certain they had an equaliser, only for Gigi Buffon to immediately get down and pull off an immensely impressive save.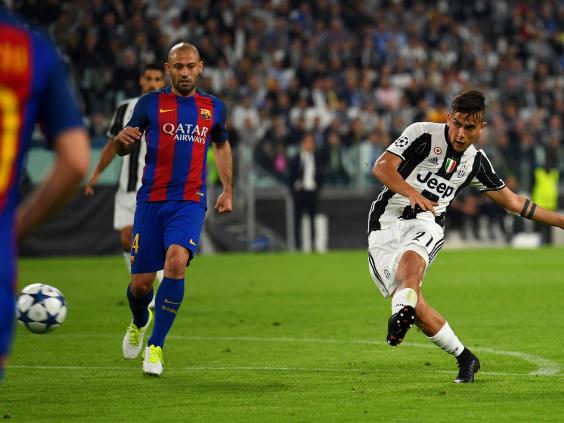 Juve then went straight up the other end and scored an immensely impressive goal. Again, they went down the wings and, again, Dybala was the scorer, but this was a much more difficult and brilliant effort as he curled the ball round a Barca defender to also beat ter Stegen. It was quite an announcement.
There was yet another moment of potentially huge either-or importance just minutes into the first half, when Suarez suddenly looked to get through on goal, only for Leo Bonucci to deny him with an improvised tackle that was probably the equal of Buffon's save. Although he had somehow fairly clipped it back in sensational manner when the Uruguayan was about to break through, the ball wasn't completely cleared, and only went as far as Messi. He tried to delicately roll it past Buffon, only for it to roll past the past.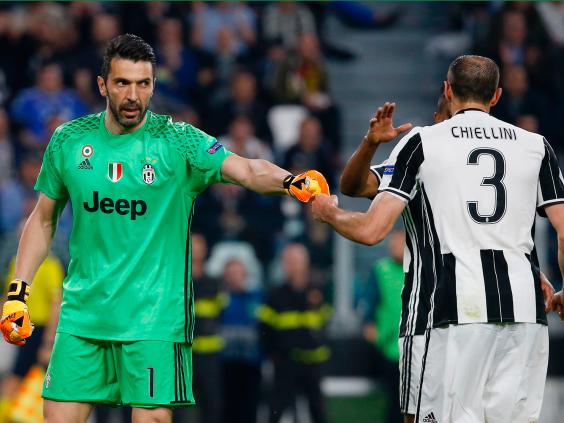 Suarez almost got in again minutes later but, as all this was happening, Juve were still as dangerous as ever. Sami Khedira curled over the bar from distance, and Higuain again only found the hands of ter Stegen.
Allegri's side were just playing like one of those sides who now knew they were better, not to mention with the kind of confidence that comes from such a formidable home record in Serie A, and they soon had the extra goal to embolden them too. On 55 minutes, Chiellini scored the header from a set-piece to make it 3-0.
If the centre-half had made the score so emphatic, he still got very lucky on 68 minutes, when a Suarez shot so clearly hit his hand just inside Juve's 18-yard box. The Barca number-nine had already squandered another big chance just before that.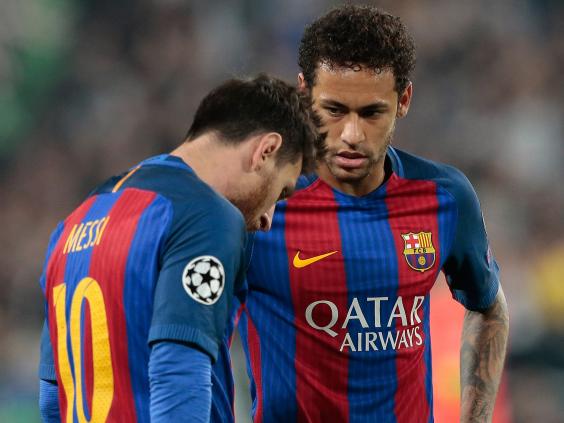 It was the curious irony to this game, as well. Juventus were good value for their win and so much of what they did was deserving of a definitive scoreline given how devastating they had been, but Barcelona had still made and wasted so many chances.
While the Catalan players just couldn't seem to get that crucial final touch in attack, Juve were just about getting it in defence. Chiellini so conspicuously punched the air having made one challenge, while Barca were putting hands to heads, as they endured misses like the ball going just inches over Samuel Umtiti's head.
The gap between the sides, then, is so much greater. Maybe, this time, too great. Juventus look that good, a lot better than Paris Saint-Germain, and now looking so much better than Barca.
Reuse content