It is plausible that the next captain of France will be on the field on Wednesday night, fighting for a place in the quarter-finals of the Champions League. But Kurt Zouma does not play for Paris Saint-Germain, the biggest team in France. They allowed him to pass under their noses. He instead joined Chelsea.
Even in a team full of players who have developed and grown under the tutelage of Jose Mourinho, Zouma still stands out. Chelsea bought him from St Etienne for £12m in January last year and loaned him straight back there. Mourinho admitted at the time that he did not know whether Zouma would spend this  season at Stamford Bridge or elsewhere, but the centre-half has settled and impressed so quickly – starting 15 games – that it is already difficult to imagine him playing for any other team.
When this season started, Zouma was still 19, a lad with the middle name of Happy  just thrilled at the prospect of playing for the team he followed as a boy. He told L'Equipe that he felt he was in "paradise", training with his heroes. When, in Chelsea's haywire 6-3 win at Goodison Park in August, Mourinho asked Zouma to warm up from the subs' bench, possibly to come on and make his debut, he sprinted so hard he nearly pulled a muscle.
Soon enough Zouma was starting games, impressing with his obvious athleticism but also showing a technical and tactical side of the game that some in France thought he lacked. Of course, John Terry and Gary Cahill are the established pair at centre-back, and in January The Independent asked Mourinho if Zouma was close to pushing his way into the first team. "Zouma is getting closer to being a top player, not closer to kicking Gary or John out of the team," Mourinho replied. "That is not the point."
PSG 1 Chelsea 1 player ratings
PSG 1 Chelsea 1 player ratings
1/22 Salvatore Sirigu

Authoritative handling but left helpless for opener. Hung on to Hazard shot and beat Terry to free-kick but underemployed in second period. 6

2/22 Gregory van der Wiel

Enjoyed space to motor forward but often let down by poor deliveries. Beat Azpilicueta too easily a couple of times and added threat for home side. 7

3/22 Marquinhos

Imperious domestic form has seen him linked with Manchester United and played a key part in keeping backline secure in early exchanges. 7

4/22 Thiago Silva

Stood up well to physical challenge of Costa before hosts turned up pressure. Had little to do after break as Chelsea were kept on the back foot. 6

5/22 Maxwell

Linked up well with Verratti and part of composed PSG backline who recovered from shaky spell before interval. Partly to blame for Chelsea's goal. 6

6/22 Marco Verratti

Ceded free-kick to Hazard in dangerous area but later caught by Matic for PSG's own set-piece. Inventive and at times overly combative.7

7/22 David Luiz

Deployed in midfield but badly lost former colleague Ivanovic as the Serb put visitors in front. Better in second half. Creative usage of referee's foam. 6

8/22 Blaise Matuidi

Effervescent midfielder always sought to burst forward and went close with header that Courtois repelled. Delightful cross for the equaliser. 7

9/22 Ezequiel Lavezzi

Effective work on left side but overhit his crosses at times. Pounced after Ibrahimovic effort was saved but had shot blocked by Azpilicueta. 7

10/22 Zlatan Ibrahimovic

Denied from close range and sent another free-kick over Courtois' bar. Slalomed through Chelsea box before being twice denied by strong Courtois stops. 7

11/22 Edinson Cavani

Has revelled in this competition this season and inspired early attacks. Forced Courtois save before powering home leveller. Dribbled effort wide late on. 8

12/22 Chelsea: Thibaut Courtois

Restored to starting line-up and made strong saves from Matuidi and Cavani but left exposed for latter's equaliser. Two superb stops to deny Ibrahimovic. 8

13/22 Branislav Ivanovic

Tireless running but not able to have same impact as PSG counterparts, who were more direct and confident on ball. Could not be faulted for effort. 6

14/22 Gary Cahill

Trusted ahead of the impressive Kurt Zouma despite indifferent form. Inspired flick set up Ivanovic for goal but lost his man for home side's goal. 6

15/22 John Terry

Provided unlikely cross that led to Ivanovic's opener and was hub of Chelsea backline as he tried manfully to prevent a winner for the French side.7

16/22 Cesar Azpilicueta

Usually one of the side's more reliable performers but struggled to settle here. Made a vital clearance from Lavezzi shot after Courtois save. 6

17/22 Ramires

Tireless running but not able to have same impact as PSG counterparts, who were more direct and confident on ball. Could not be faulted for effort. 6

18/22 Nemanja Matic

Habitually saves his better displays for the bigger matches and was impressive. Used size as he dropped back to aid Chelsea's defensive efforts. 7

19/22 Willian

Endless energy but not able to impact greatly as hosts enjoyed better of the middle of the park. Sacrificed for new man Cuadrado in final minutes. 5

20/22 Cesc Fabregas

Pushed forward into number 10 role but not at his creative best as he suffered from heavy cold. Afforded little time on ball and taken off near the end. 6

21/22 Eden Hazard

Relentlessly barracked by Parisian locals and relentlessly marked by home players. Came in for rough treatment and not one of his best showings. 6

22/22 Diego Costa

First appearance in three weeks for the Spaniard and enjoyed muscular battle with Thiago. A little rusty in decision-making and minor scuffle with Luiz. 6
At Wembley, 10 days ago, Mourinho's trust in Zouma was emphatically repaid. With no Nemanja Matic, Chelsea needed a holding midfielder to shut down Tottenham Hotspur in the Capital One Cup final. Two days before the game, Mourinho had told Zouma that he was the man for the job. He did it brilliantly and Chelsea won 2-0.
"When I signed for Chelsea I knew that we had to play in some finals, but I never dreamed that I would be playing in midfield," laughed Zouma afterwards. "But I had to play there. I am a centre-back, but if the manager said I had to play left-back, striker or goalkeeper I would, because I want to help the team."
Mourinho was effusive afterwards, comparing Zouma, without prompting, to Chelsea and France legend Marcel Desailly, praising his hard work on the training ground and quick thinking on the pitch. "That is a lovely thing," said Zouma, "but it is too early to say that."
The comparison with Desailly attracted attention in France, and there is some surprise that he is doing so well. Zouma played three seasons at St Etienne, and his worst moment came when he received at 10-match ban in 2013 for a tackle which broke the leg of Sochaux's Thomas Guerbert. A high point was being part of the France team, along with Paul Pogba and Florian Thauvin, which won the Under-20 World Cup that same year.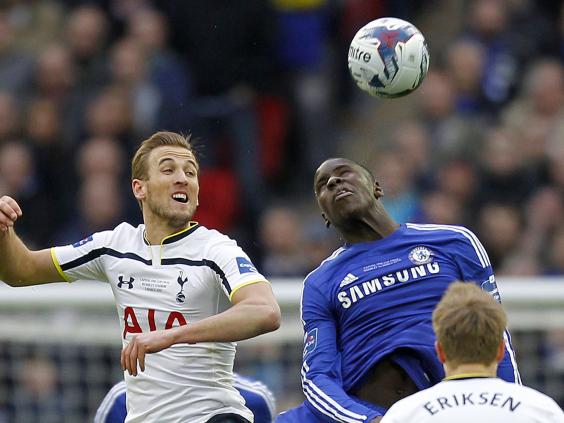 One man who saw this quick progress coming, is Christophe Galtier, the St Etienne manager who first brought a young Zouma into his first-team squad. "When I put Zouma in the first-team squad at 16, my first-choice pair of centre-backs came to me after 15 days and told me, 'if you put Zouma on the pitch, then we would have to worry [for our places]'," Galtier told 20Minutes.fr.
The ease of Zouma's integration off the pitch gave Galtier faith that he would settle in just as quickly at Chelsea. "Kurt has a remarkable ability to fit in," Galtier said. "He is a unifying player in the dressing room, who can make friends even with the rivals for his position. Here, he did not have a locker at the start, nor a squad number nor a shirt with his name on the back. He sought them all without ever demanding anything.
"It doesn't surprise me that everyone agrees about him so quickly at Chelsea. He has improved his positioning and his concentration. He no longer makes mistakes he made in Ligue 1, which he compensated for with his athleticism."
It has all been very impressive and it is not hard to foresee Zouma's continued growth under Mourinho.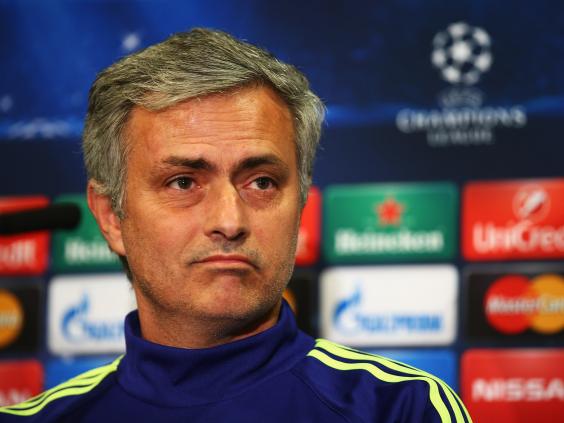 PSG, whose two first-choice centre-backs cost a combined £80m, were never especially keen on Zouma when he was at St Etienne – Monaco were more interested – and so, in January 2014, Chelsea made their move for a relatively cheap £12m. He is already worth far more than that.
Fourteen months ago, Mourinho said of Zouma: "He's a player with good potential, big space for improvement, and physically ready. One thing is to be physically ready. Another to be tactically ready."
Zouma is proving now that he is both.
Reuse content