They were squeezing life out of this night long after it was seemingly dead and gone, which is not the only reason to give thanks for Leicester City. Their journey has been testament to how European nights can be feverish and heady for those who throw everything at them: a message across the miles to Manchester City.
In the long years which will probably unfold before the club is back on this stage, they will always have the Jamie Vardy moments around the hour mark to remember from the last knockings of the European story: the striker's beautiful equalising goal and then his shot which Stefan Savic blocked, with the team needing to score an improbable three. 
'Get into 'em' and 'sing your hearts out' were the anthems from the stands, along with 'Come on Shakespeare's boys' – another sentiment with the English nation at its core. It really looked as if they might have enough to come back in that second half.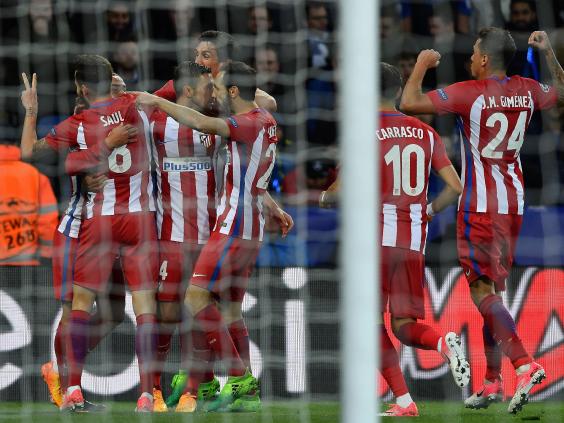 Ultimately, the cold hard truth was that songs and passion made no difference. Leicester were technically and tactically outfought by a side who revealed that class ultimately tells on this stage. Atletico Madrid are scrappers too, revealing a fighting spirit in the ranks, corralled on their way by Diego Simeone, who cut an uncompromising figure in black coat.
The Spaniards' skill in possession shut Leicester out of the game until it was up. Allowing the opposition possession and then striking them on the counter attack only works against those who are vulnerable and that can't be said of the side who emerged with a 2-1 aggregate win.
Craig Shakespeare, the man appointed manager until the end of the season, enhanced his credibility as a longer term leader with a tactical shift which made a difference: the deployment of a three-man defence for the second half which worked impressively. The physical presence of Leonardo Ulloa told and the home side managed to make inroads down the flanks, through Ben Chilwell another Shakespeare introduced. It contradicted the image of Leicester as a side with no Plan B.
Leicester 1 Atletico 1 player ratings
Leicester 1 Atletico 1 player ratings
1/22 Kasper Schmeichel - 6 out of 10

Pipped at his far post for Saul's sublime header. Confident as always between the sticks and assertive under the high ball. Made a number of key saves.

2/22 Danny Simpson - 6

Hard-working but simply lacked the quality and composure for the big occasion.

3/22 Wes Morgan - 7

A captain's performance. Considering Morgan was returning from a seven-game absence, the defender acquitted himself excellently. Physical as ever and put in some crucial challenges and interceptions.

4/22 Yohan Benalouane - 6

Nervy at times but still impressed with an occasional big challenge. Having been absent from Leicester's backline all season long, he's more than paid his dues these last couple of weeks.

5/22 Christan Fuchs - 6

Unafraid to push on and linked up well with Albrighton ahead of him. Struggled at times in his battle with Saul.

6/22 Riyad Mahrez - 6

Clever in his decision-making and passes. Grew into the game, with his mazy runs and silky feet proving a challenge for the experience Atletico backline. Still unable to recreate the magic of last season though.

7/22 Wilfred Ndidi - 7

A future star in the making. The 20-year-old showed all the qualities of a great midfielder tonight. Excellent in his break-up play, assured in his passing and demonstrated a knack to show up in the right places at the right time. Leicester will do well to hold onto him for next season.

8/22 Danny Drinkwater - 6

Tried to force too many balls over the top. Looked a bit overwhelmed at times but persisted nonetheless.

9/22 Marc Albrighton - 6

Tenacious and lively down the left flank. Linked up well with Fuchs and his inside men. Found space for a testing delivery here and there. Lost sight of Saul, though, for Atletico's goal.

10/22 Shinji Okazaki - 7

A tireless performance from the Japanese. Complimented Vardy well, sitting just off the shoulder from the forward. Made the right movements and confident in dropping back in search of the ball.

11/22 Jamie Vardy - 7

Gave as good as he got all game long. Chased every single ball and relentless in his press. Took his goal very well to give Leicester hope.

12/22 Jan Oblak - 6

Did the basics well tonight and stepped up to the mark as he was increasingly called upon as the game wore on.

13/22 Juanfran - 7

Started well but was forced off through injury. Unbalanced Atletico after that.

14/22 Stefan Savić - 7

Won the majority of his challenges, both on the deck and in the air. Looked confident with the ball at feet too. A completely different defender from the one who played for Manchester City.

15/22 Diego Godín - 7

His experience shone through. Led the backline with maturity and composure. Enjoyed his challenges with Vardy all game long.

16/22 Filipe Luis - 7

It was his cross for the first goal. Up and down all game long. Very energetic.

17/22 Saúl Ñíguez - 7

Took his header excellently to put Atletico ahead. Proved to be a real nuisance and seemed to get the better of Fuchs whenever he pushed forward.

18/22 Gabi - 7

Got a lot of help from Gimenez but such a professional in that central role. So experienced. Never looked out of his comfort zone.

19/22 José Giménez - 7

Threatened with a number of direct runs that pushed the Leicester backline to the edge. Linked up well with Gabi.

20/22 Koke - 6

Kept the Atletico Madrid midfield ticking over all game long and got stuck in defensively to keep Leicester from finding a second.

21/22 Yannick Carrasco - 6

Not so dangerous in his running and his delivery was off at points. Unusual for him to feature up front. Nothing stand-out from his performance tonight.

22/22 Antoine Griezmann - 7

Provided a constant source of threat for the visitors but also more than happy to track back and help out his side defensively. A rounded performance that reaffirms why he's one of Europe's most-sought after players.
By half time, there had been four goal attempts, by full-time 25, though only a fifth of that number on target, which was testament to the organisation of Diego Simeone's side.
Leicester had started well. Just three years ago this week they were grinding out a 1-0 win at Bolton in the Championship and now here they were, finding their centre half's fitness a topic of national conversation and unleashing jets of stream from the camera gantries as part of the party.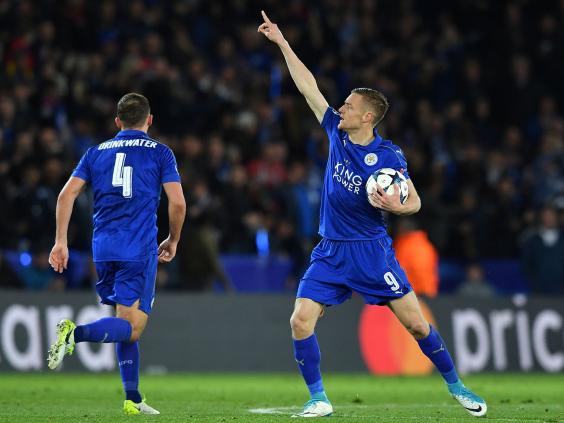 For a time there was jet fuel in the atmosphere, too, as Jamie Vardy was despatched into enemy turf by Riyad Mahrez, and in the early minutes, the dogs of war were howling from the terraces. Saul Niguez leapt into the path of a Danny Drinkwater strike, Diego Godin was enough of a presence to deter Shinki Okazaki running onto a low Vardy cross, and in the kind of European company that Leicester have kept this season , that would have been enough for the opposition to falter and begin to fall.
That never looked like happening. What overwhelmed you about Diego Simeone's side amid that early attrition was the poise. Godin, a monumental defender, shut out Vardy, Marc Albrighton's hoisted deliveries from the left were headed away and when the Spaniards began their own incursions the gulf in class became manifest.
There were individualists - Antoine Griezmann foremost among them as he drifted deep to create a an attacking axis – but Atletico were a collective too, always with time to pause, to look for options and to create space as Leicester sprinted around in front of them. The goal which effectively secured the tie was a metaphor for a team with time to stand and plot: Saul Niguez, 15 yards out, waiting and waiting for the cross Filipe Luis bent to him and straining every sinew to direct it with supreme accuracy beyond the dive of Kasper Schmeichel.
The need for three goals stilled the stadium for a time, though the second half also revealed that extraordinary way in which spirit and mentality can shape the course of this sport.
With their new system, Leicester  began to make inroads and the equaliser came when Chilwell's cross from the left was deflected by a defender into the path of Vardy, who shaped to fire it hard but angled his instep into the ball he sent beyond Jan Oblak on the hour.
Vardy was flat on his back at the end, staring into the night sky. Sorrow did not come into it though. This was an exit like none other: a night to be cherished down the years.
Leicester City (4-2-3-1): Schmeichel; Simpson, Morgan, Benalouane, Fuchs; Ndidi, Drinkwater; Mahrez, Okazaki, Albrighton; Vardy.
Substitutes: Zieler, Chilwell, Musa, King, Amartey, Gray, Ulloa.
Atletico Madrid (4-4-2): Oblak; Juanfran, Savic, Godin, Filipe Luis; Saul Niguez, Gabi, Gimenez, Koke; Carraso, Griezmann.
Substitutes: Moya, Torres, Correa, Hernandez, Gameiro, Thomas, Gaitan.
Reuse content