The banner was in need of a little tidying but it did the job. 'Let slip the dogs of war' were its words - perhaps the first time they've drawn from 'Julius Caesar' for their stadium art here - with an accompanying image of a man called Shakespeare and what vaguely looked like a Rottweiler.
There were no over-complications: that is the point. It was the biggest European night they had known here, light years even from the Atletico Madrid at Filbert Street in the Cup Winners' Cup of '61 but when it came down it, they did the simple things well; did what we remember Leicester City do well.  
The electricity - even before the referee blew his whistle, the fans took the roof off the joint and Leicester joined Bayern Munich, Real Madrid and Borussia Dortmund in the Champions League last eight– was testament to what European nights could be: a message across the miles to Manchester City.
The technical areas telegraphed the basics. Craig Shakespeare was the one who dispensed with the theatrics, in his plain black and white Puma boots and average kit, shuffling back and force a little, hands shoved in inadequately small pockets, while the dapper Jorge Sampaoli leapt around in colourful attire, like a coiled spring.
The Englishman didn't seem to feel a need to shout a lot and neither for that matter, did his players. The accoutrements of Champions League knock-out were back in the depths of the stadium – the souvenir magazine-sized match programme and the new dining space laid on to accommodate more journalists than they've ever known here.
The errors in Leicester possession could be counted on the fingers of one hand, with Robert Huth the bulwark of an almighty defence. Marc Albrighton, Danny Simpson and Shinji Okazaki slid the ball around as if by osmosis; as if back in those Spring days of 2016 when they were striding out towards the title.
Leicester vs Sevilla player ratings
Leicester vs Sevilla player ratings
1/22 Kasper Schmeichel 9 out of 10

Made a superb early save from Nasri which set the tone for Leicester's historic performance. Became the hero of the hour when he saved N'Zonzi's late penalty. Undoubtedly the man of the tie given his equally impressive performance in the first-leg.

AFP/Getty Images

2/22 Danny Simpson 7/10

His distribution left a lot to be desired – just under half of his 18 passes ended up being intercepted – but he made two crucial interceptions and linked up nicely with Mahrez.

Getty Images

3/22 Wes Morgan 7/10

Leicester's captain became the first ever Jamaican to score in the Champions League when he bundled in the opener. Made several crucial clearances and appears utterly transformed from the player that was struggling so desperately under Claudio Ranieri.

Getty Images

4/22 Robert Huth 7/10

Put in a tremendous shift alongside Morgan. Although the thought of the pair of them trying to keep the likes of Lionel Messi, Cristiano Ronaldo and Paulo Dybala is nothing short of terrifying.

Getty Images

5/22 Christian Fuchs 8/10

Fantastic. A real danger going forward, combining nicely with Albrighton, and he had two good chances to get on the score-sheet. Equally impressive at the back where he relentlessly pressed Vitolo, preventing the Spaniard from flourishing.

Getty Images

6/22 Wilfried N'Didi 7/10

Another valiant performance from N'Didi in the middle of the park. Got the better of Steven N'Zonzi and almost got the better of Vicente Iborra, too. Stayed in defensive positions and allowed Drinkwater to get forward.

Getty Images

7/22 Riyad Mahrez 7/10

Repeatedly cut inside from the right-wing where his passes in-between the Sevilla defence impressed. Assisted Morgan's goal, and should have assisted a counter-attacking goal for Islam Slimani, but took too long to pick his pass.

Getty Images

8/22 Danny Drinkwater 6/10

Missed a fine chance to score in the first-half but ultimately a good performance. His passing could have been better, though.

Getty Images

9/22 Marc Albrighton 8/10

A superb performance from the left-winger. Overlapped with Fuchs nicely down the left, so much so that Sampaoli was forced into an early double substitution. Scored a lovely second goal, bringing the ball under control and rifling a low shot past Sergio Rico.

AFP/Getty Images

10/22 Shinji Okazaki 7/10

Did what he usually does. Ran hard, pressed high and never allowed Sevilla's defence the opportunity to build their attacks from the back.

Getty Images

11/22 Jamie Vardy 7/10

Back to his industrious, tenacious, relentless best. Didn't get on the scoresheet but kept creating opportunities for himself. Did well not to react to Samir Nasri's provocations in the second-half, too.

Getty Images

12/22 Sergio Rico 6/10

There was little he could have done to keep out Wes Morgan's header from close range. And Rami should be blamed for Leicester's second, not Rico.

AFP/Getty Images

13/22 Nicolás Pareja 5/10

Not a particularly good night for the Argentinian. Made several important clearances but his distribution left an awful lot to be desired. Too often passed the ball straight to a Leicester player.

Getty Images

14/22 Gabriel Mercado 5/10

Sevilla struggled down the right, with Albrighton and Fuchs both causing a number of problems, and Sampaoli responded at half-time by hauling off his largely ineffective right-back.

AFP/Getty Images

15/22 Adil Rami 6/10

Had been one of Sevilla's better players up until the second goal, which he was at fault for. His headed clearance didn't have enough on it and was directed straight at the feet of Albrighton, who promptly lashed a low shot past Rico.

Getty Images

16/22 Sergio Escudero 6/10

Didn't look as threatening as he in the first-leg in Andalusia. Was incredibly unlucky not to level the score in the second-half, though, with an unconventional, dipping strike which rattled the underside of the crossbar.

AFP/Getty Images

17/22 Steven N'Zonzi 4/10

Typically good in the air, playing in the heart of Sevilla's midfield alongside Iborra. But his passing left a lot to be desired and he looked uncomfortable in possession whenever pressed. Missed a late penalty, his low effort struck nervously and far from the corner.

AFP/Getty Images

18/22 Vicente Iborra 6/10

Calmer and more composed in possession than N'Zonzi. Won a number of crunching tackles and stopped a mazy run from Albrighton early in the second-half with a well-timed challenge.

Getty Images

19/22 Pablo Sarabia 5/10

Posed little threat to Fuchs down the right. Struggled alongside Mercado playing behind him, and was also withdrawn by Sampaoli in a bold double substitution at the break.

Getty Images

20/22 Samir Nasri 5/10

The good: His repeated running in behind Leicester's defence and his range of passing. The bad: Stupidly picking up a second yellow late in the second-half for an altercation with Jamie Vardy before attempting to get the English forward sent off. The ugly: An incandescent Martin O'Neill slamming the Nasri on BT Sport for being overweight.

AFP/Getty Images

21/22 Vitolo 5/10

It tells you everything about the winger's all-action performance that he made the highest number of tackles of any Sevilla player (5). Will have been disappointed not to offer more going forward, however.

AFP/Getty Images

22/22 Wissam Ben Yedder 5/10

Looked dangerous in flashes but was ultimately on the ball too few times to truly threaten. On the occasions he did shoot, he failed to test Schmeichel. Missed a sitter of a rebound in the second-half.

AFP/Getty Images
And ahead of them, was the man who brought something of the night to all of this. Jamie Vardy dived to win the free kick from which Wes Morgan put Leicester ahead and had executed so many more by the game's hour ark that the Italian referee would award no more, on a point of principle. The way Vardy crumpled to earth when Samir Nasri's dropped a forehead into his own – and found himself dismissed - was of the same dramatic proportions. Reeled him in like a fish.
It was not all Vardy brought. He raced, chased, chivvied and if that free-kick was questionable then he can say that when you play the percentages you gain from them. The freekick, the set piece, the scrambled goal: back in the old routine.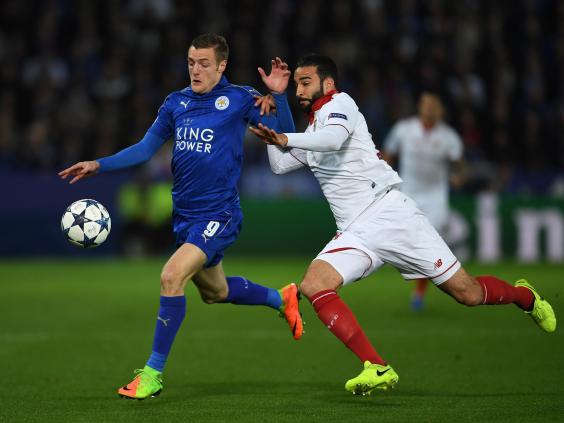 There could have been no better player to be rid of than Nasri, less lean now, though Sevilla's orchestrator and stage-manager; an individual whose capacity for self-destruction is always a ticking clock.
The heart-stopping threats, when they arrived, were brutal – the thumping effort form Sergio Escudero which crashed against the underside of the crossbar and sat up for Nicolas Pareja who thrashed it into the stand. The penalty which Kasper Schmeichel conceded and saved.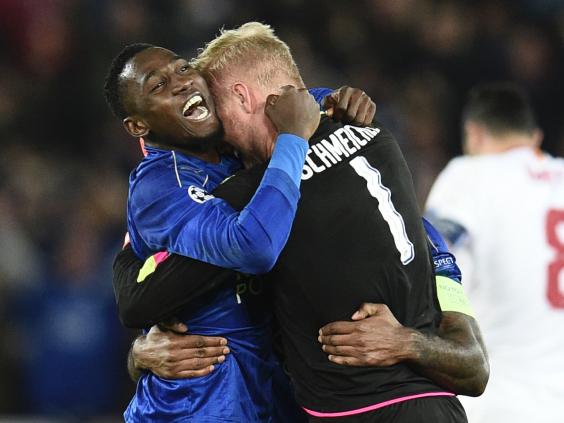 It is sometimes the way of the game that the side which has so narrowly survived will head up the field and make the miss a source of even more regret and the Marc Albrighton goal which followed Pareja's miss did just that.
It was a performance light years from what we saw of Leicester in Sevilla and there will be time when the dust has settled to ponder again the extraordinary aspect of the Leicester story these past eight months: why Claudio Ranieiri unstitched what he had when he knew all along it could offer something like this.
That is for another day. The present is a time to savour the onward journey among the continent's very best and the elixir which on Tuesday night was restored to the city which thought it had lost it for all time. The stadium thundered at the end and the blue and white flags were manically waved. "Champions of England," they sang. "We know what we are."
Reuse content