It was in the first few days of pre-season training last August that Gerard Pique confided in those closest to him that Barcelona were going to win things this year because Leo Messi had returned from the World Cup in Brazil enchufadisimo.
Not just enchufado – plugged-in, ready for action; but with an added isimo – electrifying, super-charged, giving off sparks. Since that summer prophecy, Messi's 43 League goals have helped Barcelona win La Liga while his second-half performance at the Nou Camp in the Champions League against Bayern Munich single-handedly put them in the final.
If he leads Barcelona to victory over Juventus in Berlin in six days, it might be time to admit that he is the greatest footballer in the history of the game. Greater even than Pele and Diego Maradona, the two players generally given that title.
Bayern Munich vs Barcelona player ratings
Bayern Munich vs Barcelona player ratings
1/22 Neuer 5

Far from his impregnable best, the big German was left stranded for Barca's first goal and beaten at his near post for the second.

2/22 Rafinha 5

Was ineffective at both ends of the pitch tonight. The full-back was typically tidy in possession but couldn't get anywhere near the dangerous Neymar.

3/22 Boateng 5

Finished the first leg on his back side and didn't cover himself in glory tonight either. An absolute shadow of his stunning World Cup winning form.

4/22 Benatia 5

His header gave Bayern hope early on but equally killed off their chances with some shocking defending. Failed to assert any control on the Barca front three.

5/22 Bernat 7

Tried to get forward at every opportunity but his attacking exploits left Bayern light at the back when Barca broke away. One of Bayern's better performers.

6/22 Lahm 6

A night to forget for the Germany captain. Largely ineffective in his new central midfield role, Lahm only came into the game when he retreated to wide positions.

7/22 Thiago 7

Looked very busy against his old club and was probably the pick of Bayern's midfield ranks. Tenacious pressing interrupted the probing of Busquets and Iniesta.

8/22 Alonso 6

As always impeccable in possession but failed to create many chances from his deep midfield role. The Spaniard gave next to no support to his defence who were repeatedly overrun

9/22 Schweinsteiger 6

The World Cup winner was tireless in his work ethic but couldn't stamp his authority on the game. The midfielder was a merely a gateway to Barca's counter attacking moves.

10/22 Muller 7

The prolific forward was always a threat and his industrious pressing didn't go unnoticed. Linked up well with Lewandowski on countless occasions.

11/22 Lewandowski 7

The Polish striker looked a class apart once again and restore some pride to the Bayern ranks going forward. Excellent footwork and finish for the second goal.

12/22 Ter Stegen 9

The Barca keeper pulled off countless world class saves to deny the Bayern revival. Outshone his fellow countryman Neuer with ease.

13/22 Dani Alves 7

Gave Barca added width when Messi came inside and was always faultless in possession. Sensational chipped pass to Suarez for the first goal.

14/22 Pique 6

Typically assured at the back even if he struggled to deal with the impressive Lewandowski at times. Kept order at the back Bayern pressed heavily.

15/22 Mascherano 6

Once again showed his quality as a centre back even if he lost out on the physical battles with Lewandowski and Muller. Efficient sweeper.

16/22 Alba 6

Not the best night for the lightning fast left back. Got forward well as always but couldn't deal with the movement and physical presence of Muller.

17/22 Rakitic 6

Showed his ability on the ball finding Messi and Suarez on countless occasions in the first half. His influence dipped after the break though.

18/22 Busquets 7

Classic performance from the Spaniard. Strong, clever and precise, Busquets took the sting out of the game well in the second half. Won his decisive battle with Thiago in the midfield.

19/22 Iniesta 7

Controlled Barca's tempo in the first half unleashing Neymar and co to a devastating effect. Still has an incredible impact at this level.

20/22 Messi 7

Although he played something of an understudy role this time around, Magical Messi was still a class act behind Suarez and Neymar.

21/22 Suarez 8

Despite his early departure, Suarez played his part in ultimately killing the tie off before the break. Put both goals on a plate for Neymar.

22/22 Neymar 8

The Brazilian clinical brace ensured that he took the starring role tonight. He has now scored 8 goals in his last seven games. Deadly.
Surprisingly, it is Messi's fellow countrymen who may need the most persuading, but even in Argentina there is a growing feeling that playing a major part in three European Cup final victories trumps Maradona's 1986 World Cup and makes him the greatest of all time.
The brilliance of this season, encapsulated in those three minutes he took to destroy Manuel Neuer and Jérôme Boateng, comes after last year's campaign when it seemed the weight of the world, or at least of the World Cup, was on his shoulders.
Veronica Brunati has covered Messi as Marca's Buenos Aires correspondent for over a decade. Her late husband Jorge Lopez was also his friend and confidant and Messi dedicated Argentina's semi-final win over Holland to the couple after Jorge's untimely death in Brazil.
"There was so much pressure on Messi before the World Cup," she says. "Everyone was talking about Messi doing what Maradona had done. Even Maradona was talking about Messi doing what he had done before."
Although for many, Argentina under-achieved, that was not the way it was perceived at home where losing narrowly to the team that had beaten the hosts 7-1, and while hampered by injuries, went down as an against-the-odds success. "They didn't win the trophy but nobody saw it as a failure and Messi came out of it refreshed and with the pressure lifted," adds Brunati.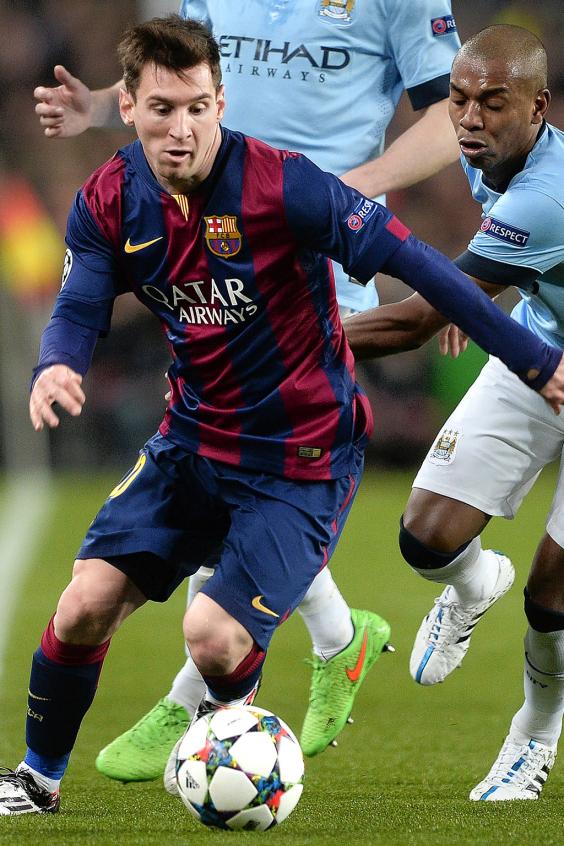 Off the field this season he has looked happy again. He is about to become a father for the second time with partner Antonella Roccuzzo and on the training ground relationships have been good too. The introduction of Luis Suarez has been more successful than anyone could have anticipated. "There has been none of the edge with Suarez that there was with Samuel Eto'o or Zlatan Ibrahimovic," says Brunati. "Leo has gained a friend, not a rival."
Messi has also worked on the fine margins of his game. He began seeing famed Milan Lab nutritionist Francesco Avaldi, who carried out extensive studies on his eating patterns and set out a detailed dietary plan that he has followed to the letter.
"What you can put into your body at 18 or 19 years of age is not the same as what you can put in at 27," Messi said this year when asked about the physical change. He has never hidden the fact that his favoured refuelling options have in the past been a fizzy drink and a Milanesa (a thin fillet of beef shallow-fried in breadcrumbs).Earlier this year former Barcelona player and manager Charly Rexach said that last season Messi had "eaten more pizza than he should have done".
Those bad habits have been put behind him. Sebastian Fest, who wrote the Messi biography Messi Mystery, and works for Argentine daily La Nación, sees the change as much a mental one as a physical one. "Even with his new diet this is still not the Messi with that explosive acceleration that we saw when he was in his early twenties but what we are seeing is just how clever he is," Fest says.
Brunati accredits that intelligence with helping to make the Messi-Neymar-Suarez front three click. "He reads the game so well. He is like a coach on the pitch," she says. "He sees where he can do the most damage and he moves into that area.
"When you have three players like Suarez, Neymar and Messi it would be easy to have them running into the same space but that hasn't happened. I wouldn't go as far as to say we are seeing a Messi who will one day become a coach, but we are seeing one with real football intelligence."
But for some, Messi's lack of a World Cup winner's medal will leave him behind Maradona. Fest says: "There will always be a small minority who see him as a bit 'pecho frio' – cold-hearted – who never produces the same form for country as for club.
"They know Argentina only reached the quarter-finals because of Messi but then he had that great chance in the final and when they see him taking similar opportunities for Barcelona they ask: 'Why didn't he score that one for us? Maradona would have'."
It is more about personalities than playing achievements says Brunati. "Diego is the extrovert and the patriot who never missed a chance to stand up for his country, and Argentines love that. He is the player who dedicated the goals he scored in the 1982 World Cup finals to the troops fighting the British and called the handball goal he scored against England in 1986 an act of revenge. Whenever there was a chance to be political he took it and they love him for that.
"I think Leo has the same level of patriotism but he doesn't like confrontation and he is only interested in what happens on the pitch."
All over Argentina, supporters will watch the Champions League final. It will never mean as much to them because it remains a European competition but it is increasingly being seen as a cleaner, tougher tournament than a World Cup where a team can reach a final without having faced too much serious opposition.
In the Champions League, Messi has overcome the best-laid plans of the best managers in the game with Sir Alex Ferguson, Jose Mourinho and Pep Guardiola all among his victims. And it is still not too late to top it all off by winning a World Cup for Argentina. Brunati considers the World Cup in 2018 a realistic target. "Messi will only be 31 in Russia," she says. "Maradona was 33 at the USA World Cup in 1994."
That famously colder personality of his will play in his favour – there will be none of the scandal or physical implosion that meant Maradona's last tournament ended with a failed drugs test. His ability to re-invent himself will also come into play. The theory, prevalent in Barcelona, is that he will end up playing the Xavi role in midfield when he can no longer zip past defenders. And he could do that for his country too.
For many, he needs to do no more to justify his status as the greatest of all time but in Britain opinion remains divided. Many of our most celebrated sportswriters remain convinced that Messi has not done enough to supplant Pele or, more often, Maradona from top spot. Even that may be changing however. A few weeks ago Michael Calvin wrote in these pages that the Barcelona man's divine display against Bayern had convinced him that football had a new No 1.
Among the game's practitioners – players and managers – the view is more uniform. Messi is the best. Graeme Souness, widely regarded as one of the shrewdest analysers of the game, has no doubt. "Messi has the most advanced radar of any player I've seen," he said.
"He's a problem solver, a game changer, the greatest player to have played the game. I am more than 60 years old now and I don't believe I've seen, or that I'm likely to see, anyone better in my lifetime."
The Liverpool player was quick to shrug off the suggestion from his fellow pundit Jamie Carragher that as a player he might find a way to shackle Messi. I doubt it, replied the former Liverpool captain, whose reputation as a midfield enforcer was legendary. Roy Keane, another midfield player with a formidable physical presence, shares the same view. "I was a big fan of Maradona growing up and of the current crop Ronaldo is good," he said. "But Messi is the best I've ever seen. I don't dish out praise lightly but Messi deserves it. I look for weaknesses in his game and I can't find them."
Wayne Rooney puts it much more succinctly – "Messi is a joke. For me the best ever" – while his former England and Manchester United team-mate Gary Neville is among many to have seen something extra special in the little Argentine this season, even by his own standards.
"The only time when I have ever watched a performance where I have been genuinely mesmerised by a player was Messi for the 20 minutes before half-time in the Nou Camp against Manchester City," Neville  said.
In Spain and across the continent, Messi's pre-eminence is now the prevailing insider's view.
As he came to terms with defeat in the Champions League, Bayern Munich manager Guardiola, who had seen so much of the player in his time at Barcelona paid a tribute that was both dignified and heartfelt. "He is the best player of all time," he said. "I am so happy to see this football."
It is an opinion shared by another former Barcelona player, Hristo Stoichkov. "He is one rung higher on the ladder than Maradona, Cruyff and Pele," he says.
It is the great good fortune of modern football fans that at 27 Lionel Messi keeps on climbing. For him the Olympic Stadium Berlin will be just another step.
Juventus v Barcelona is on ITV and Sky Sports 1 this Saturday, kick-off 7.45pm
Reuse content