Barcelona fans revelled at Lionel Messi's moment of magic to pass a penalty into the path of team-mate Luis Suarez to claim his hat-trick, but it wasn't even meant for the striker to score.
That's the claim of the third cog in the "MSN" machine at Barcelona, with Neymar revealing that both he and Messi practiced the penalty dupe in training and that he was meant to score it.
In the video, Neymar can be seen to charge into the penalty area behind Messi, while Suarez initially makes a run straight-forward before realising the ball was coming towards him and adjusting his movement accordingly.
Suarez reaches the ball just before Neymar to complete his hat-trick, but while the Brazil superstar insisted Messi's cheeky pass was meant for him, he's just happy to see the Catalans leading the way in La Liga after another crushing victory over Celta Vigo.
"It was for me, we had practiced it in training!" he said afterwards with a smile. "Leo and myself had practiced but Luis was closer and he scored it.
"Our friendship is the most important thing. It doesn't matter who scores the goals just that we win the games."
However, Barcelona captain Andres Iniesta admitted that he had never seen any of his team-mates practice the trick in training, and said he had no idea who Messi's delicate pass was meant for.
"I had never seen them do it but I had heard them discuss it," he said. "Perhaps it was for Neymar but Luis was there so he converted it."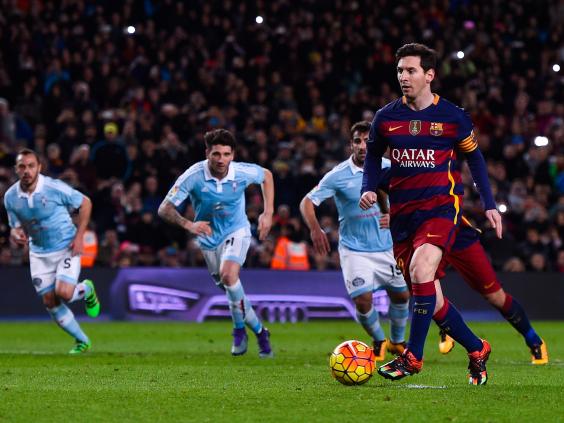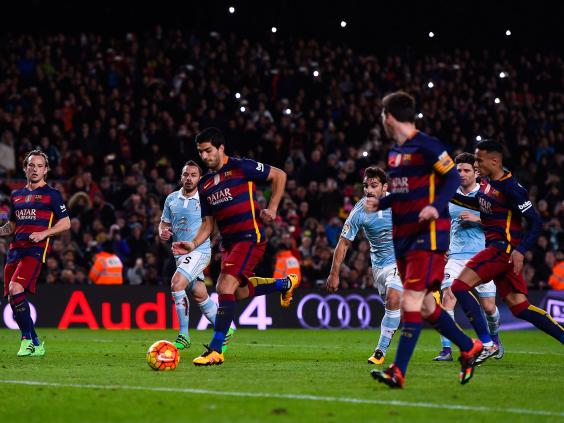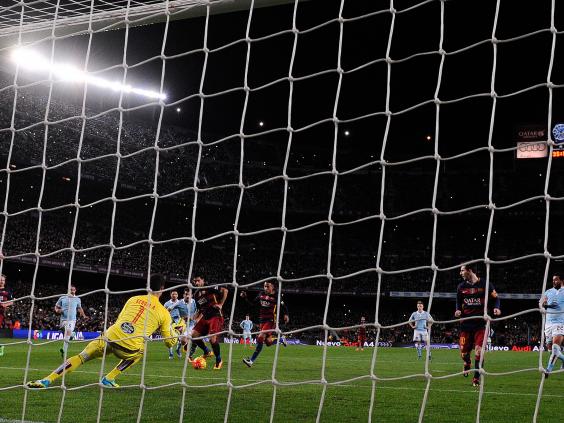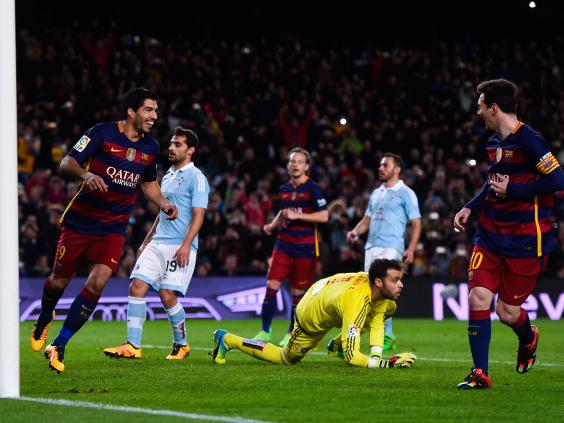 Messi's selfless act was all the more impressive given he stood on 299 La Liga goals when he stood over the ball ahead of the penalty effort, having scored a free-kick earlier in the match. Despite having the chance to reach the 300-goal milestone, he instead chose to give the ball to one of his team-mates to score, allowing Suarez to complete his hat-trick – although Neymar's claim perhaps reveals that it wasn't quite the plan Messi had in mind.
Barcelona manager Luis Enrique played down accusations of disrespect towards Celta Vigo afterwards, and he insisted that football was a game that needed to be enjoyed and that by performing such moments ensured that the fun of the game remained even at the highest level.
In this country a bad tackle is more acceptable than a piece of skill
"There will be a big debate and some will like it, some won't, but as Barca players and members of the club, as well as winning trophies we try to enjoy our football in a spectacular way," Enrique said afterwards.
"What we have to do is enjoy our football, respect our opponents and try and show that we are better at them at football.
"In this country a bad tackle is more acceptable than a piece of skill. We don't care about the criticism. We know where it comes from.
"It's a legal way to take it, and we all remember Cruyff doing it." He added: "I wouldn't have done it as I would have fallen over."
Reuse content