Banned Barcelona striker Luis Suarez will appear before the Court of Arbitration for Sport (CAS) on 8 August after it agreed to fast-track his appeal against the ban for biting Giorgio Chiellini during the World Cup.
Suarez was handed a four-month ban from "all football activity", including training, that leaves him unable to make his debut for his new club until the end of October.
However, the CAS has now summoned Suarez to their headquarters in Lausanne, Switzerland, with a date set for 8 August. The case will be heard at an "express" hearing, with a decision to be made just a few days after the £75m man makes his case.
If successful Suarez, who was also banned for nine international matches and fined 100,000 Swiss Francs, could start training with his club in mid-August.
His ban from playing is likely to be upheld and Suarez could be in line to make his debut against bitter rivals Real Madrid on the weekend of 25 October.
Top 10 most expensive players ever
Top 10 most expensive players ever
1/10 Gareth Bale - £86million

Tottenham to Real Madrid (2013) - Bale became the world's most expensive player ever when he made the switch from Spurs to Spain.

GETTY IMAGES

2/10 Cristiano Ronaldo - £80m

Manchester United to Real Madrid (2009) - Ronaldo smashed the record transfer fee when he left Old Trafford.

GETTY IMAGES

3/10 Luis Suarez - £75m

Liverpool to Barcelona (2014) - The Reds cut ties with Suarez after the 2014 World Cup making a £50m profit.

Barcelona FC

4/10 Neymar - £71.5m

Santos to Barcelona (2013) - The Brazilian finally completed his long awaited move to Europe after a complex deal.

Getty Images

5/10 James Rodriguez - £63m

Monaco to Real Madrid (2014) - After a superb World Cup showing, the Colombian became Real's latest big money signing.

6/10 Zlatan Ibrahimovic - £59m

Inter Milan to Barcelona (2009) - The Swed only spent two seasons at the Nou Camp despite his mammoth price-tag.

GETTY IMAGES

7/10 Kaka - £56m

AC Milan to Real Madrid (2009) - The Brazilian joined in the same summer as Ronaldo but failed to make a real impact at the Bernabeu.

GETTY IMAGES

8/10 Edinson Cavani - £55m

Napoli to PSG (2013) - The Uruguayan's deal made him the most expensive player ever purchased by a French team.

Getty Images

9/10 Zinedine Zidane - £53m

Juventus to Real Madrid (2001) - Became the world's most expensive player when he moved to the Bernabeu and more than paid it back, particularly with his spectacular goal in the 2002 Champions League final against Bayer Leverkusen.

10/10 Radamel Falcao - £51m

Atletico Madrid to Monaco (2013) - The newly funded Monaco signalled their intent by signing the Colombian.

Getty Images
The Uruguayan football federation appealed against the severity of the ban during the tournament in Brazil, but Fifa upheld their original decision.
Suarez was not allowed to be unveiled on the Nou Camp turf as part of his ban.
The international players' union FIFPro has claimed that the terms of the ban infringes Suarez's right to work.
A statement issued in June said: "The fact that Suarez is prohibited from working for a long period must be addressed as it directly infringes his right to work. Luis Suarez deserves all the support he needs including legal support in the appeal case in order to achieve a reduction of the sanctions."
Former Liverpool team-mate Steven Gerrard told Suarez he was "too good" for Arsenal last summer and to wait for either Barca or Real Madrid to make a move.
The Gunners made a £40,000,001 bid for the Uruguayan, who went on to score 37 goals in all competitions for Liverpool as they made an unlikely title bid.
"Last summer when he was out in the cold and training on his own that's the conversation I had with him," the Liverpool captain said.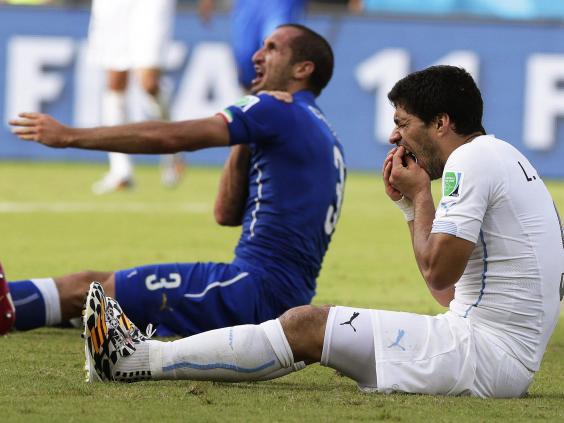 "I said, 'Don't go to Arsenal'. I would have been really sad and disappointed to see Luis go to Arsenal. With all due respect to them, I said to him that he was too good for Arsenal.
"I said if you score 30 goals for us and win the PFA Player of the Year, the press Player of the Year – I knew he was going to win them – I told him Real or Barcelona will come for you."
Barcelona's fellow new signing Jeremy Mathieu believes Suarez is a strong character who will learn from his mistakes, and will show Barca fans his true qualities.
Mathieu said: "We know Luis Suarez has a very strong character and that he is a great player. I think after the ban he will show what he is capable of and that everyone will be very happy to have him at Barcelona."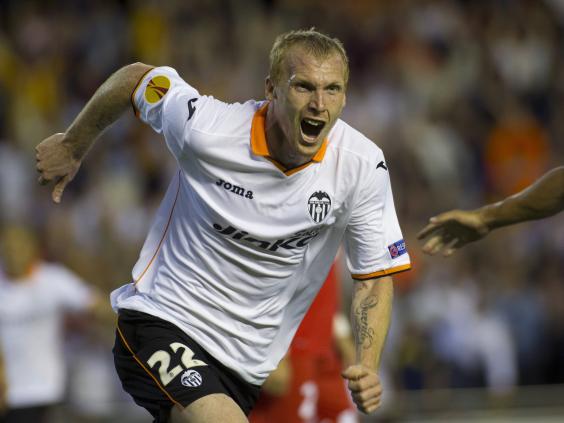 Mathieu, speaking at Barcelona's pre-season training camp at St George's Park near Burton, was asked what he would do if Suarez bit him.
The French defender replied: "To be honest, if he bites me, I will do nothing. But I think he will learn from his mistakes for sure. He is a great player, and hopefully that will never happen again."
Additional reporting from PA