Luis Suarez has told Barcelona fans "not to worry" - assuring them that his biting streak is behind him and it won't happen again.
The Uruguay international made his debut last night, coming off the bench in the 6-0 pre-season friendly win over Leon.
Suarez will not be available to play again until Barcelona's match with bitter rivals Real Madrid on 25 October due to his ban for biting Giorgio Chiellini.
However a semi-successful appeal at the Court of Arbitration for Sport means that while his four month competitive match ban for the attack on the Italy defender during the World Cup remains in place, he can train with his new team-mates and be involved in other football-related activity.
The change to the conditions of the ban handed out by Fifa also means Suarez can now speak to the media, which he did following his official unveiling at the Nou Camp last night.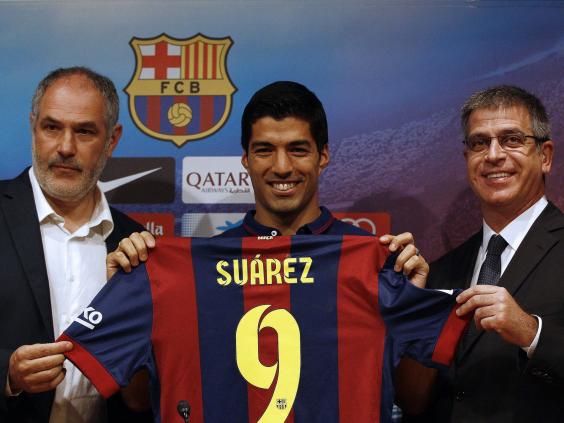 The former Liverpool striker took the opportunity to address concerns about his future conduct and the incident that will delay his impact at Barcelona following his £75m arrival.
"I know I must accept the reality and have apologised. That is something from the past and to be forgotten. When [bite] happened I felt very down, then saw I had to apologise. I prefer not to go back over all I have been through.
"The lesson is clear. The lesson I should take on myself. It was my mistake. But that is the past now. I say to the fans not to worry as it will not happen again."
Suarez had been punished three times during his career for biting offences.
Reuse content