It was nine months ago and in many ways the rivals were Manchester City just as they are at the Etihad. Luis Suarez's final Premier League appearance came last May in a 2-1 win over Newcastle at Anfield with the title race against City going to the wire.
Manuel Pellegrini's team were 50 minutes up the M62 at the time, beating West Ham 2-0 to mean Liverpool's victory was in vain. There would be no league title in Suarez's final season in England.
Liverpool supporters presented the striker with the annual Golden Samba Player of the Season award and he took his two children and wife around the perimeter of the pitch for the last time.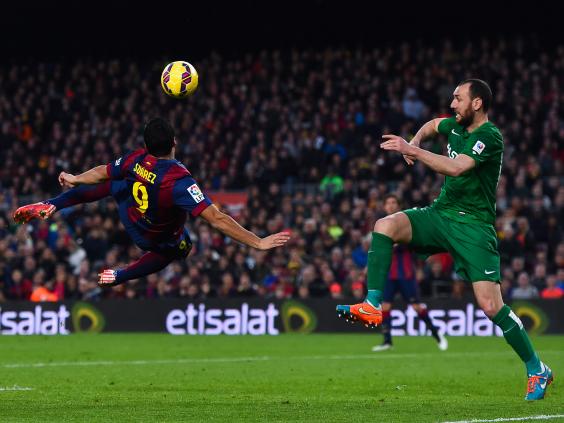 The atmosphere at the Etihad will be a little less subdued and a lot less friendly. City will be the direct rivals this time and Suarez goes up against Vincent Kompany, who he describes in his autobiography Crossing the Line as "probably the hardest defender I faced in the Premier League… one of the best in the world in his position".
He does so after the strangest of starts to his Barcelona career. Suarez has managed to score only seven times in 22 games in total – with only four goals in La Liga – and yet has won over supporters who have looked past the £75m price tag and the missed opportunities, and seen the work-rate, the assists and the fact that while the forward might not be flying, the forward-line most definitely is.
The greatest demonstration of the Nou Camp learning to love the non-scoring Suarez came two weeks ago in a Copa del Rey semi-final first-leg when he chased down Villarreal defender Mateo Musacchio, robbed him of possession and crossed for Lionel Messi to put Barcelona in front.  Supporters chanted the name of the assist-provider and not the goalscorer.
Messi has scored 37 goals and alongside him Neymar has found the net 24 times, but midfielder Sergio Busquets sums up the pro-Suarez feeling in the Barça dressing room when he says: "Since he arrived he has given us a lot more power up front and he opens the space up for other players with his running off the ball."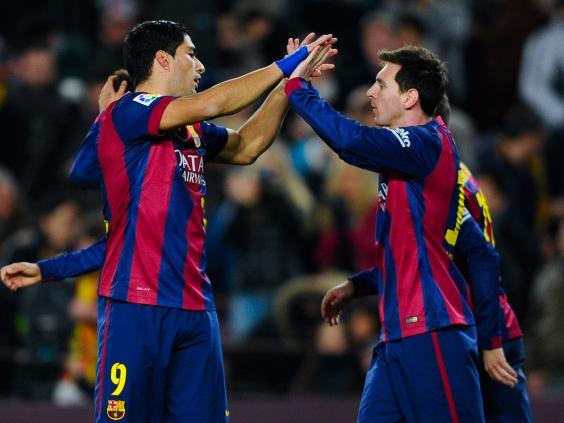 There is even an understanding of the lack of goals. "We don't play the way Liverpool play; he is not receiving the final pass as often,"  Busquets says. The Spain international has made a career toiling for Xavi and Andres Iniesta. There is a sense that Suarez has a similar job to do alongside Messi and Neymar.
His movement across the opposition's defence, bouncing off defenders and showing for passes with his back to goal, has helped clear space for both his strike partners. His runs into right and left channels drag defenders into areas they don't want to occupy and when his markers do not track him, they often end with crosses that finish up in the net. 
No one doubts the goals will start to flow. His acrobatic scissors-kick volley against Levante two weeks ago was one of Barcelona's goals of the season so far. But he looks more like topping the assists chart – he has clocked-up 12 so far in his 22 games. "Perhaps voices outside the team might say: 'Luis needs to score more goals,'" says Busquets. "But I don't care if he doesn't score more goals if he keeps working for the team the way he  has so far."
Even though his new role has satisfied the supporters, Suarez could still have been forgiven for missing being the main man. But the signs were there at Liverpool last season that it is something which is not his greatest concern.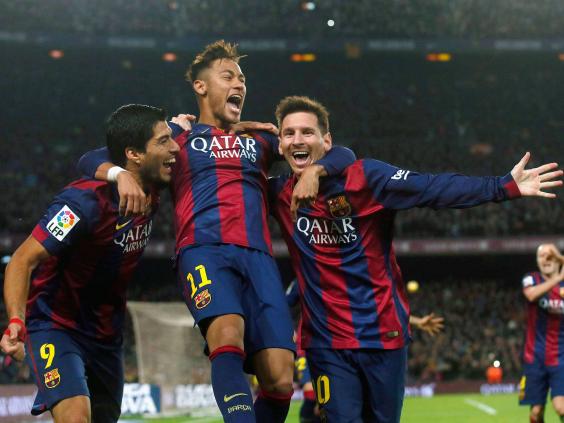 When Brendan Rodgers signed Daniel Sturridge in January 2013, the Liverpool manager sensed the potential for friction between his two centre-forwards and took Suarez to one side for a quiet chat. He explained to him that the arrival of a new forward was in no way a reflection of a lack of faith in the old one.
But there never was any strife. Suarez played deeper or wider when necessary and although they never became friends off the pitch – he never joined in Sturridge's celebratory goal-dance and Sturridge never shared the Uruguayan's favourite herbal tea, mate – together they formed the club's best strike partnership in the Premier League era.
Someone prepared to share the limelight with Sturridge for the good of the Liverpool team was never going to take offence at having to be in Messi's shadow from time to time.
"It helps that they get on well together off the pitch," says coach Luis Enrique.  The mate-sharing sessions with Messi and Javier Mascherano have certainly helped his assimilation. It is also true that he could not have picked two more influential friends; Messi the club's most important player and Mascherano the dressing-room leader – "little boss" by nickname, and little boss by nature.
Suarez has settled into to his new surroundings, too. "He's happy here," says Busquets. "He wanted to come here. Part of his wife's family is from here and he visited a lot when he was at Ajax and Liverpool."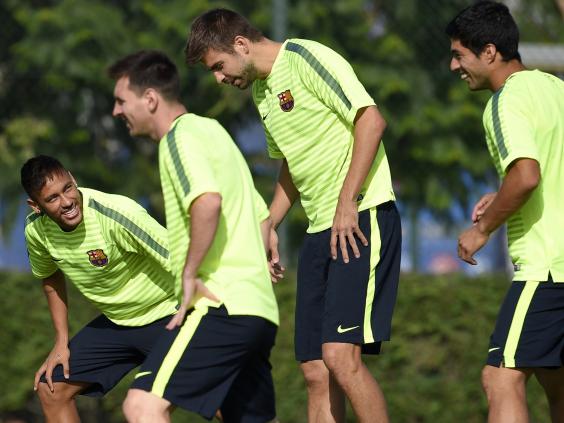 To a certain extent some of the privacy he enjoyed in England has been lost. There were fewer autograph hunters outside of Melwood than there are every day at Barcelona's training ground.
But in the small coastal town of Gava just to the south of Barcelona where Mashcerano, Messi and Luis Enrique are all neighbours, he is happy away from the spotlight, both on and off the pitch
With Messi the king, and Neymar heir to the throne, the focus is often on others once the ball starts rolling. And such are Barcelona's problems with transfer bans, tax investigations and presidential elections, the Uruguayan is rarely the story off the field either.
Manchester City vs Barcelona - combined XI
Manchester City vs Barcelona - combined XI
1/11 GK: Joe Hart

England's No 1 has undergone another mixed season under Pellegrini, but just takes this spot because Barcelona have a bit of confusion between the sticks. Claudio Bravo tends to start in the League and Marc-Andre Ter Stegen in the cup competitions; whether this continues into the last-16 is not yet known.

2/11 RB: Pablo Zabaleta

The city right-back is easily in the top five at his position in the world. Equally capable in defence or attack, Zabaleta plays with a lot of heart and courage, making him a firm favourite among City fans. At one time Dani Alves was considered the best in the world, but the Brazilian has always been a bit of a liability defensively and, at 31, his influence as an attacker is just starting to dwindle.

Getty

3/11 CB: Vincent Kompany

The Belgian has certainly declined from his dominant peak a couple of years ago, but he is certainly good enough to get into a Barcelona team that has used converted midfielders Jeremy Mathieu, Javier Mascherano and Sergio Busquets in defence at times this season.

GETTY IMAGES

4/11 CB: Gerard Pique

Pique remains Barcelona's best defender, though he too is a shell of the player that was arguably the world's best a few years ago. The Spaniard has been in and out of the team this season but usually saves his best performances for the biggest matches.

Getty Images

5/11 LB: Jordi Alba

Jordi Alba is a supreme attacking threat and is now more influential to this side than Dani Alves. Gael Clichy is good enough for City in the League but will be seen as a weak point by the visitors.

Getty Images

6/11 CM: Javier Mascherano

He may not be quite as good as Roy Hodgson (who voted him first in the Ballon d'Or) thinks he is, but Mascherano is still one of the very best defensive midfielders in world football. He also plays a crucial role in Luis Enrique's 3-4-3, acting as another defender when Barca are under pressure. Much better than either Fernando or Fernandinho.

Getty Images

7/11 CM: Ivan Rakitic

If Yaya Toure were not suspended for the first game then this would be his spot but City will have to do without their most influential player for the first leg. Rakitic has been so good this year that the decline of Xavi, who will likely start from the bench, and loss of Cesc Fabregas has barely made an impact.

Getty Images

8/11 CM: Andres Iniesta

Another tough decision to include Iniesta over Samir Nasri, who has been brilliant in recent weeks. The Spanish maestro has been far from his best in this season but still has enough in the tank to be a potential match-winner.

Getty Images

9/11 LW: David Silva

This is where it starts to get tough. Neymar is finally living up to his huge hype and has 24 goals in 30 matches already this season. The Brazilian scored 10 goals in Barca's recent 11 match winning streak, providing a brilliant foil to Lionel Messi. With Toure out, David Silva now has to become City's main creator - his performance will define the first leg. City fans will be hoping he can reproduce what he did against Newcastle.

Getty

10/11 RW: Lionel Messi

Probably the easiest choice in this side, Messi is undoubtedly one of the top two players in the world. There wouldn't be many who don't select Messi in their dream team.

Getty Images

11/11 ST: Sergio Aguero

Last season, choosing Aguero over Luis Suarez would have been blasphemy. But the Uruguayan has really struggled at Barcelona, scoring just seven goals in 22 matches this season and generally failing to gel with his star-studded team-mates. Aguero appears to have gotten over his small slump to fire three goals in his last two matches.

Getty
At the Etihad the lenses will be on him. Just as they were last May as Liverpool's dream of winning the league petered-out but his own chance  of picking up the Golden Shoe for the most European league goals in one season remained alive.
He admits to a rare show of selfishness in that very last Liverpool appearance because he felt his team-mates were running the clock down against Newcastle while he wanted another goal to pip Real Madrid's Cristiano Ronaldo to the prize.
"We were winning and players were gesturing for us just to keep the ball but I was saying the opposite. I wanted us to attack and to go forward," Suarez says. In the end he stayed on 31 goals and shared the prize with Ronaldo.
This season there will be no repeat of that feat. He has only scored four times in the league and currently trails Ronaldo by 25 goals. It will not matter if at the end of the season he ends up with more silverware than the Real player.
Having the Golden Shoe presented to him last November by Kenny Dalglish in Barcelona felt good. But individual honours can never make up for the ultimate failure of not winning the league last season having come so close. Team trophies are what count and for someone who broke records at Ajax and Liverpool, to have won only two domestic cups is a poor return.
A Champions League medal at the end of the season would help restore the balance. And if the winning goal comes from Neymar or Messi after a Suarez pass, neither the player nor the Barcelona supporters will care in the slightest.
--
Suarez's starts with Liverpool and Barcelona
Start to Liverpool career
Scored on debut in 2-0 win over Stoke in February 2011. Struck only three more goals that season, before scoring in first three games of 2011-12
Liverpool record 2011
Starts 20
Substitute appearances 2
Total goals 9
Premier League goals 8
League Cup goals 1
Start to Barcelona career
Failed to score in first five games, his first goal coming against Apoel Nicosia in Europe in November. Scored just twice in last eight games
Barcelona record 2014-15
Starts 20
Substitute appearances 2
Total goals 7
La Liga goals 4
Champions League goals 2
Copa del Rey goals 1
Reuse content