It was not the massacre of Old Trafford that the club might have feared. Catastrophe was averted, Dignity remains intact. Manchester United are still very much alive for the return leg at the Allianz Arena next Wednesday which, in the new era of lowered expectations, is as much as they might have hoped for.
This was Bayern Munich, the supermannschaft who have conquered Europe once and are trying to repeat history with even greater flair under Pep Guardiola. And for long periods of the first half in particular Bayern were reluctant to share the ball with David Moyes' players which meant that Nemanja Vidic's opening goal was celebrated all the more intensely just before the hour.
But in the end, there was to be no miraculous victory to carry to Munich next Wednesday, not even one stolen from behind a parked bus. It was a creditable draw with the added bonus that Bayern's goalscorer Bastian Schweinsteiger was sent off for a dubious second yellow card in injury-time at the end of the game which rules him out the second leg. But it was nothing more than that, and United are accustomed to so much better in the recent past.
Manchester United 1 Bayern Munich 1: Player Ratings
Manchester United 1 Bayern Munich 1: Player Ratings
1/22 David de Gea 7

Spaniard was not called on a great deal despite Bayern's monopolising of possession but made important flying stop from Robben on the half hour

GETTY IMAGES

2/22 Phil Jones 6

England utility man looked woefully out of place up against mesmeric Robben and Ribery before being moved out to left-back when Buttner went off

GETTY IMAGES

3/22 Rio Ferdinand 8

Confident beginning and put in easily his best performance of the season. Calm in possession and won crucial challenges to keep United in contention

GETTY IMAGES

4/22 Nemanja Vidic 8

Important tackle on Muller inside area and back to something resembling his best. Towering header briefly gave United hope of an unlikely first-leg lead

GETTY IMAGES

5/22 Alexander Buttner 7

Brought in to replace the suspended Patrice Evra, not afraid to dive in and conducted himself well. Handled in area but a case of ball to hand

GETTY IMAGES

6/22 Michael Carrick 6

Calm as ever in possession and careful with passing but effect paled at times. Slow to close down Bayern attacks as visitors dominated the middle

GETTY IMAGES

7/22 Ryan Giggs 5

Last night was his 141st appearance in the competition and did most of his meaningful work helping out defence. Taken off at half-time

GETTY IMAGES

8/22 Marouane Fellaini 5

Much-maligned Belgian struggled in both the air and on the ground but stuck to his task. Lost Schweinsteiger for goal that cost United the victory

GETTY IMAGES

9/22 Antonio Valencia 6

Harshly booked for late tackle on Lahm before surviving a second when going in on Boateng. Positive in possession, had one cross-shot deflected over

GETTY IMAGES

10/22 Danny Welbeck 6

Penalised for high feet when finding the net from 15 yards in opening minutes. Endured his Geoff Thomas moment when clean through before break

GETTY IMAGES

11/22 Wayne Rooney 6

As so often this season, left marooned at times as United struggled to keep the ball. Kept to task and corner set up Vidic to open the scoring

GETTY IMAGES

12/22 Manuel Neuer 7

Stood up well to Welbeck when forward was played clean through before the break. Quick off his line but caught wrong footed by Vidic header

GETTY IMAGES

13/22 David Alaba 6

Enjoyed evening in effectively a right wing position and provided steady stream of ammunition for the visitors. Mainly a successful night in defence too

GETTY IMAGES

14/22 Jerome Boateng 7

Offered muscular presence and dealt well with Rooney. Mistake allowed Welbeck clean run on Neuer and caught late by Valencia in the second half

GETTY IMAGES

15/22 Javi Martinez 6

Deployed in relatively unfamiliar role at back. Beaten by Welbeck early on before reprieve. Resorted to dragging Hernandez back late on, earning a ban

GETTY IMAGES

16/22 Rafinha 6

Like his fellow full-back the Brazilian spent much of the evening further forward and it was his arching cross that generated the equaliser

GETTY IMAGES

17/22 Philipp Lahm 6

Caught by Valencia which earned Ecuadorian a booking. Popped up in all the right places, with one vital block on a Rooney effort

GETTY IMAGES

18/22 Bastian Schweinsteiger 7

Easily bossed midfield against weak opposition. Classy finish gave Bayern crucial away goal but blotted copybook with late dismissal, albeit a little harsh

GETTY IMAGES

19/22 Toni Kroos 6

Covered a lot of ground but struggled to influence as he did on his last visit to England at the Emirates in February. Saw shot blocked by Vidic

GETTY IMAGES

20/22 Franck Ribery 6

Happy to sit back on wing and dictate matters, his partnership with Robben was a constant threat. Tired late on as Bayern forced to settle for a draw

GETTY IMAGES

21/22 Arjen Robben 7

Linked up well with Ribery and twice went close in opening exchanges. Forced fine save from De Gea and dragged wide of keeper's post late on

GETTY IMAGES

22/22 Thomas Muller 6

Just beaten to ball by Vidic underneath the United crossbar. Not able to make most of Bayern's midfield promptings before being replaced

GETTY IMAGES
In the aftermath, Moyes talked about his confidence that United could score in the away leg and that might well be the case although it will have to be the best performance of his time at the club to reach the semi-finals. Tonight his team did not let him down but then this was a 1-1 draw at home, and this is Manchester United. They have won the European Cup three times.
One chance for Danny Welbeck before the end of the first half that went begging might have transformed this game but this talented young man is still missing the icey finisher's touch. It came at the end of a first half of dominance for Bayern and the full-time statistics were pretty eye-watering too. Bayern had 70 per cent of the game with 701 completed passes to United's 174.
As for Schweinsteiger's second yellow card, he was unlucky. He went into Rooney with the studs raised and won the ball but the marginal decision did not reflect the Spanish referee's attitude to an earlier challenge from Antonio Valencia. Also on a yellow card he had ploughed into Jerome Boateng but was not dismissed and his challenge was certainly worse than that made by Schweinsteiger's on Wayne Rooney.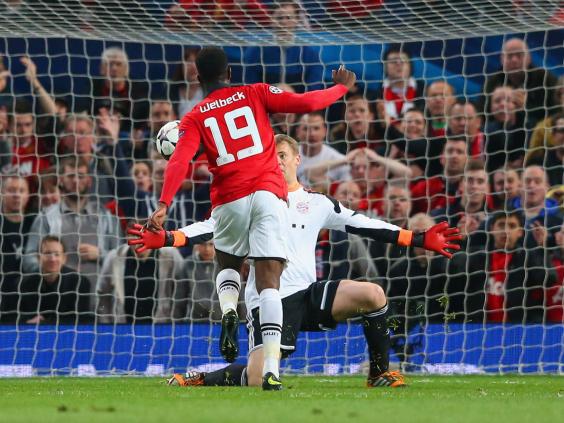 The finger-pointing that followed suggested that Rooney was not entirely comfortable with his part in the incident. Pep Guardiola said that it was "absolutely" not worthy of the punishment.
As for Bayern, they win the ball, they pass the ball and then they win it back. So much so that when Welbeck broke free on the Bayern goal with 40 minutes of the match played it was the first time that evening that the Germans had looked vulnerable. Until then, Welbeck and Rooney had been isolated but for once the latter had been able to find space and pick a pass.
It was a good through-ball although it required a slip from Boateng, initially the correct side of Welbeck, to let the Englishman in on goal. Welbeck slowed as Manuel Neuer came out to close him down and, instead of picking one side of that big German obstacle, Welbeck opted for the most difficult option of all, a chip over the top which needed delicacy, pace and accuracy.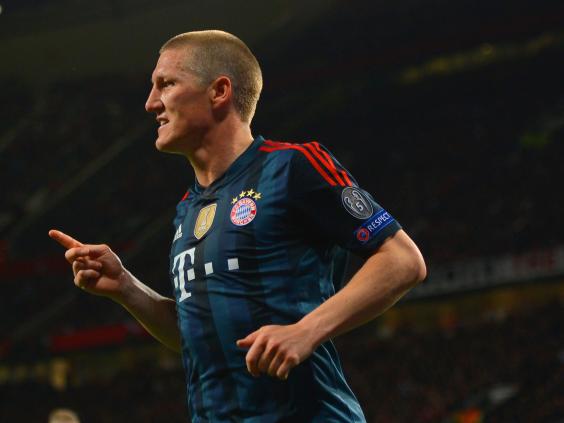 He gave it his best shot but Neuer reached out one of his big hands and clawed the ball down, the speed of his reactions making it look easier than it might have been. There was a gasp and a moan from the home fans at Old Trafford. They had watched a lot of Bayern possession, and survived it and they did not expect to see their side offered a lot of chances. Welbeck's had been a good one and he had missed.
The best you could say about United's first half was that they withstood a lot of pressure without conceding and without, one might say, allowing Bayern a chance as good as the one missed by Welbeck, who also had a goal disallowed. For period of the game it looked much like a defence v attack exercise on the training ground as United sat deep and narrow and allowed Bayern to have far too much of the ball for a side in its home leg of a knockout tie.
In midfield there was no place for Shinji Kagawa, Moyes preferring the triumvirate of Michael Carrick, Marouane Fellaini and Ryan Giggs, supported by Valencia and Welbeck on the wings. For much of the first half they were absorbed by stopping Toni Kroos' passing and Franck Ribery's willingness to run the ball into the United half. The best effort on goal from Bayern was Arjen Robben's curling shot from the left that David De Gea pushed around the post.
There was a commendably solid performance from Rio Ferdinand and Nemanja Vidic with the latter doing well to get a foot to David Alaba's cross on 37 minutes with Thomas Muller lurking nearby. Alex Buttner and Phil Jones, the two full-backs, had an unenviable job and they stuck to it even when the pressure seemed to become intolerable.
A change was required and at half-time Moyes made it by withdrawing Giggs who had been excellent against Olympiakos in the home leg of the previous round but found his opportunities to influence the game drastically reduced against Bayern. On this occasion he found himself passed around once too often.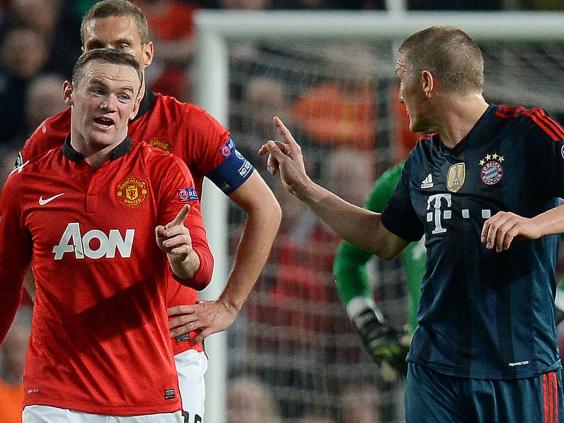 Kagawa came on with a record of having been on the winning side against Bayern during his time at Borussia Dortmund. Moyes tinkered with the formation too, switching to what looked more like a 4-4-1-1 system with Kagawa behind Welbeck and Rooney moved to the left side. Later, after Bayern's equaliser, Rooney took up the central position and dispatched Welbeck out wide.
The goal on 58 minutes came from Rooney's corner and followed a decent period of United play. For once, the Bayern machine let down their demanding coach by failing to track Vidic at all as he came into a central position in the area. Even so, he steered the header beautifully, connecting with the ball somewhere around his right ear and glancing it beyond Neuer and into the far corner.
Hope abounded in Old Trafford as the home crowd felt their team assert themselves. Unfortunately for them it took the Germans seven minutes to equalise. Robben sent Rafinha free down the right, the substitute Mario Mandzukic headed the ball down – another aerial duel lost by Fellaini - and Bastian Schweinsteiger had a relatively simple finish which he thumped past De Gea.
Moyes lost Buttner to injury not long after, which forced him into an awkward re-jigging. With no left-back on the bench he had to move Phil Jones there, bring Valencia back to right-back and insert Ashley Young on the right wing.
Schweinsteiger was less fortunate than Valencia with a strong but clean challenge on Rooney. The German was unimpressed by his opponent's reaction and told him so. One would expect Rooney to defend himself vigorously although against such an allegation but he looked a little embarrassed. For United it was one extra advantage for a second leg in which they will need all the help they can get.
Manchester United (4-3-3): De Gea; Jones, Ferdinand, Vidic, Buttner; Fellaini, Carrick, Giggs; Valencia, Rooney, Welbeck.
Subs: Kagawa/Giggs HT, Young/Buttner 74, Hernandez/Welbeck 84
Subs: Mandzukic/Muller 63, Gotze/Kroos 74
Bayern Munich (4-2-3-1): Neuer; Rafinha, Martinez, Boateng, Alaba; Lahm, Schweinsteiger; Robben, Kroos, Ribery; Muller.
Referee: C Carballo (Spain)
Man of the match: Vidic
Booked: Manchester United Valencia Bayern Schweinsteiger, Mandzukic, Martinez
Sent off: Schweinsteiger
Reuse content