A number of Manchester United fans were arrested in Bruge on Wednesday night after rival fans clashed in the city centre during the Premier League club's 4-0 victory over Club Brugge.
The Daily Mail reports that a hooligan group of Brugge fans descended on the Charlie Rockets pub where a number of United supporters had gathered to watch the match on TV after travelling to Belgium without tickets, with around 15 Brugge fans and 25 United supporters arrested.
While the incident was one of very few reported, a further 25 United fans were arrested at the stadium earlier in the day, some of which for travelling without matchday tickets which remains a criminal offence in Belgium. 17 were arrested on suspicion of breaching the peace, while one fan was held after invading the pitch during the match before being apprehended by stewards inside the stadium.
Club Brugge 0 Manchester United 4 player ratings
Club Brugge 0 Manchester United 4 player ratings
1/13 Sergio Romero

His smart reflexes to whip the ball off Diaby's feet maintained United's first half lead when it was under greatest threat in his only major action. 6

2/13 Matteo Darmian

Has already established himself as a hugely reliable defender and the Italian quickly moved to lock down the right flank. 6

3/13 Chris Smalling

Struggled in the air against the tall and strong De Sutter but continues to be pass the ball smartly and lead a backline he has only recently established himself in. 6

4/13 Daley Blind

As composed as he is on the ball he looks nervy when his opponents attack him. He nearly let Brugge back into the tie with a careless header in the first half and was lucky his opponents merely focused on stopping the rout in the second period. 6

5/13 Luke Shaw

An excellent display by the left-back, who defended well but was even more effective in attack, creating several chances early on. 7

6/13 Ander Herrera

An early booking kickstarted a horror-show of a first-half for the returning midfielder. It didn't get much better than when he fell over the ball, but he recovered well in the second, getting an assist and a goal before being substituted. 6

7/13 Michael Carrick

A solid, calm presence on a night where, early on, United could have given in to nerves when Brugge pressed high. His distribution from deep was as excellent as ever. 6

8/13 Juan Mata

Though his eagerness to pass rather than shoot gave Rooney chances to add to his tally it also made the attacker a touch too predictable, with Brugge able to give him space in shooting positions. Very good, but you still sense he could be better with more goalscoring drive. 7

9/13 Adnan Januzaj

Did little wrong but as his half-time substitution confirmed he did little right either. 6

10/13 Memphis Depay

Looked as full of attacking enthusiasm as he had been in the previous match and played a key role in the important first two goals. 7

11/13 Wayne Rooney

Exploited a tired home side eager to get off the pitch to build some valuable confidence. His first goal opened the floodgates, though don't get carried away when Brugge's defence were shattered in the second half. 8

12/13 Bastien Schweinsteiger

Brought on to shut down the tie but soon embraced the counter-attacking opportunities his hosts provided him. His through-ball for Herrera's goal was spectacular but he nearly trumped it with a delicate chip that floated just wide. 7

GETTY IMAGES

13/13 Javier Hernandez

His chance to impress Van Gaal will be defined by a slip when taking a penalty, but don't forget missing an open goal too. His confidence at United seems irretrievably damaged. 3

GETTY IMAGES
Of the 25 arrested at Charlie Rockets pub, 23 were eventually released without charge while the remaining two were retained in custody after what was thought to have been an arranged meet with Brugge fans, some of whom were believed to be part of a hooligan 'firm'.
A police source told the Daily Mail: "Over two nights there was a really good atmosphere. It is a shame an isolated incident has overshadowed this."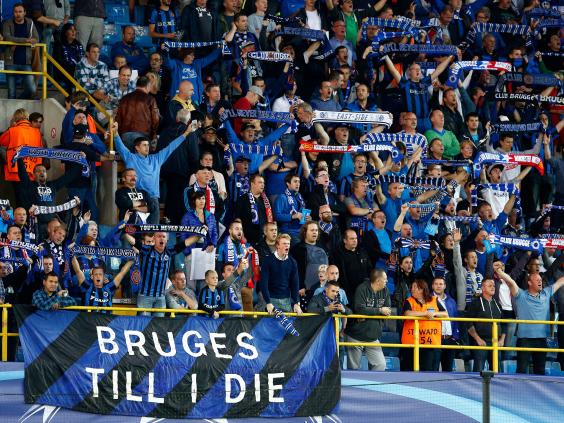 The incidents come after clashes last week between the two sets of fans at Old Trafford marred United's 3-1 first-leg victory. Around 3,000 Brugge fans travelled to Manchester, but video footage showed a minority goading United supporters while they were held outside of the Hotel Football nearby the stadium shortly before kick-off.
Some fans were then seen running towards officers, with footage showing to being wrestled to the ground and nine arrested in total.
Plain clothed officers from Greater Manchester Police also travelled to Bruges for the match on Wednesday in a bid to identify any known and banned football hooligans and prevent them from attending the match.
Reuse content